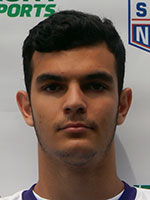 By Tom Robinson, NEPASportsNation.com
SCRANTON – In case there were any doubts while London Montgomery was racking up ridiculous rushing and scoring numbers on offense, the Scranton Prep Cavaliers are making it very clear they can play a little bit of defense, too.
Robert Rossi returned an interception 42 yards for one of his two touchdowns Friday night and the Cavaliers made it back-to-back playoff shutouts after not posting any in the regular season, beating Wyoming Area, 28-0, for the District 2 Class 3A title at Memorial Stadium.
"We work real hard at both sides of the ball," Rossi said. "We don't favor one over the other."
The unbeaten Cavaliers, ranked third in the state among Class 3A teams by PennLive.com, closed out the regular season by holding then-unbeaten Valley View 25 points below its season scoring average in a 17-10 win to decide the Lackawanna Football Conference Division 2 championship.
The Cavaliers did not let Wyoming Area take a snap from inside the Scranton Prep 46 until after a turnover with 1:09 left in the third quarter and Scranton Prep already ahead, 28-0.
That was the second Cavaliers turnover, but it did not come until after Scranton Prep forced four Wyoming Area turnovers in less than 21 minutes from midway through the first quarter until early in the third.
Wyoming Area coach Randy Spencer said the Scranton Prep defense started out by establishing itself up front physically.
"Then, they made plays on the back end when we took our shots down the field," Spencer said.
The Warriors did not manage their initial first down until 3:30 remained in the half and it had already needed a goal-line stand just to remain within 21 points.
When Wyoming Area finally threatened, Rossi made a tackle at the 4-yard line on third down, then Aidan Colleran and Christian Kohut provided the fourth-down pass rush on Wyoming Area's last offensive play with 7:40 left in the game.
Montgomery and the Scranton Prep offense as a whole went through a role reversal with the district title on the line.
Instead of breaking off another of his 17 touchdowns of more than 30 yards this season, Montgomery pounded the ball for a dozen first downs with runs of 25, 18 and 15 yards his longest of the night. Against a sturdy Wyoming Area defense, Montgomery had 14 carries that produced between 4 and 7 yards.
With Montgomery carrying 32 times for 193 yards and a touchdown, the Cavaliers built a 29:15-18:45 time of possession advantage, including 15:40-8:20 in the first half when Scranton Prep took a 21-0 lead.
Scranton Prep started its first three drives within three yards of midfield and turned two into scores.
Joe Marranca's third-down sack for Wyoming Area stopped the first threat.
Scranton Prep's Robert Maguire intercepted on Wyoming Area's third offensive play.
Montgomery carried 3 times for 14 yards before quarterback Sean Monahan faked to him and kept for a 33-yard touchdown run up the middle. Raymond Rinaldi kicked the first of four extra points for a 7-0 lead with 3:29 left in the first quarter.
The Cavaliers forced a punt, then moved 53 yards in 6 plays.
Montgomery carried 4 times for 21 yards before Monahan ran for 14 on the last play of the first quarter.
Montgomery then opened the second quarter with one of his handful of plays taking the snap in wildcat formation. He ran 18 yards for the touchdown and 14-0 lead.
The Cavaliers made it three straight scoring drives, moving 69 yards in 5 plays. Montgomery picked up 23 yards on 3 carries, then Monahan hit two passes for 46 yards. Rossi took a screen 37 yards for the touchdown and 21-0 lead with 7:38 left in the half.
Scranton Prep recovered a fumble on the next play and was in position to put the game away early.
The Cavaliers moved to the 3 before Aaron Crossley made a second-down stop for no gain, Leo Haros made a third-down tackle for a loss with help from Marranca and Jayden Rusyn, then Rocco Pizano picked off a pass in the end zone.
Scranton Prep, which has outscored opponents 355-74 in the first half this season, made up for the missed opportunity by scoring 1:03 into the second half without running a play.
On the second play of the half, Rossi stepped in front of a pass and ran 42 yards for a touchdown.
Wyoming Area cross midfield on the ensuing possession, but Montgomery made an interception.
"They came up with turnovers," Spencer said. "Rossi and London came up with a couple nice plays there. Turnovers hurt us.
"Certainly, credit to their defense, up front. They made it difficult for us to run the ball.
"And, those two are all-around players. They were outstanding tonight."
Montgomery, who has more than 1,000 yards rushing just on his touchdown runs this season, carried five straight times as Scranton Prep began the process of running out the clock on a victory that avenged a shutout loss in the 2019 district final. Wyoming Area used that game as a springboard to a state championship.
Scranton Prep finished with statistical advantages of 20-6 in first downs, 272-66 in rushing yards, and 333-125 in total offense.
Colleran, Andrew Durkin and Montgomery supported Rossi in leading the defense. Colleran had three tackles, including one for a loss, two assists and a pass rush. Durkin had three tackles and a fumble recovery. Montgomery was in on three tackles and broke up a pass in addition to the one he intercepted.
Rusyn, Crossley and Pizano all had busy nights defensively for Wyoming Area, which finished 10-2.
Rusyn had eight tackles, one for a loss, and two assists. Crossley made seven tackles and assisted on five. Pizano had four tackles and an assist to go along with his interception.
Scranton Prep advanced to a state quarterfinal meeting of unbeatens with Wyomissing Saturday at 2 at Governor Mifflin High School in Shillington, near Reading.
MORE FRIDAY FOOTBALL COVERAGE
Old Forge-Williams Valley: https://nepasportsnation.com/old-forge-sets-up-1-2-showdown/.
Valley View-North Pocono: https://nepasportsnation.com/cougars-run-into-state-playoffs/.
State College-Delaware Valley: https://nepasportsnation.com/state-college-stops-del-valley/.
Bulletin recap: https://nepasportsnation.com/bulletins-cavs-cougars-romp/.
Scranton Prep-Wyoming Area Photo Gallery: https://nepasportsnation.com/scranton-prep-wyoming-area-football-photo-gallery/.
Valley View-North Pocono Photo Gallery: https://nepasportsnation.com/north-pocono-valley-view-football-photo-gallery/.
Scoreboard: https://nepasportsnation.com/fridays-football-scoreboard-7/.