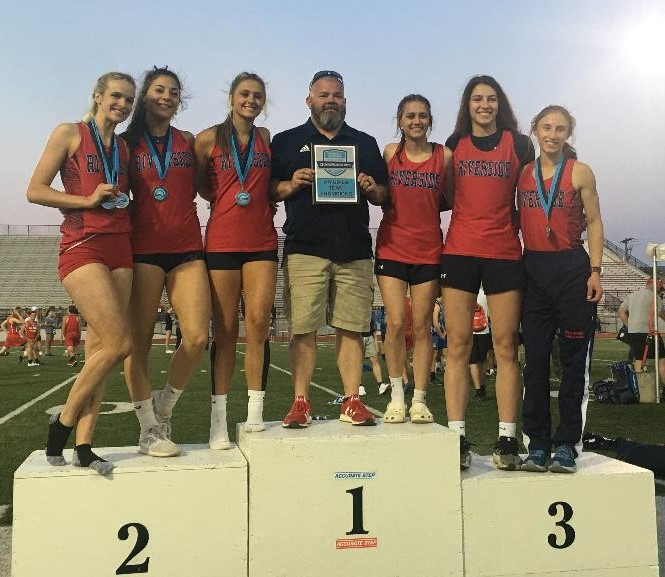 By Tom Robinson, NEPASportsNation.com
SCRANTON – A small roster prevented the Riverside girls from getting past their toughest competition in dual meets.
The ability of every Lady Vikes athlete entered to finish high enough to score points allowed them to pull off the Class 2A girls title of the Robert Spagna Lackawanna Track Conference Championships Tuesday at Memorial Stadium.
"Six girls; everybody got points," Riverside coach Bryan Pica said. "When that happens and everything comes together, I'm proud.
"We struggled this year with just seven girls and no track – ours is in the process of being redone. We're putting it together."
Lacey Danilovitz won the 3200-meter run decisively. Madelyn Perfilio, who produced the most Riverside team points, and Avery Meredick each won two silver medals finishing second to Class 3A standout Anastasia Ioppolo, the four-event winner from Wallenpaupack.
"I was looking at what we could do," said Pica, whose team went 3-2 in Division 3 during the conference season. "I knew Anna from Wallenpaupack was going to be a tough one, but I figured we could get four or five second places."
Paige Olanovich and Braelyn Reed finished in the top five in two events each while first-year field athlete Kylie Lavelle provided the clinching points in the high jump.
Brielle Reed, the seventh team member, was available as an alternate, but did not compete.
The Spagna scoring format where the top eight in the entire conference can score points – and Class 3A athletes secured almost 55 percent of the girls points – increased the possibility of a small Class 2A squad making noise.
Riverside used a similar small group, featuring some of the same athletes, to place third out of 16 teams in last year's District 2 Class 2A Championships.
"This was the perfect meet to get ready for districts," Pica said. "Avery Meredick in the hurdles broke the school record, came in second place; Madelyn Perfilio, out of nowhere, breaks the school record in the triple jump, jumps 36 and a half feet, two feet beyond her PR.
"Also, even though, she didn't medal today, Paige Olanovich runs a 12.99 (in the 100) after never breaking 13 in her whole career. We've got Kylie Lavelle out from the basketball team, her first time around, she places (fifth) in the high jump.
"The overall experience, I'll never forget. I've got three seniors that have been with me since seventh grade and it's an unforgettable moment."
Perfilio, Olanovich and Meredick are the veteran seniors.
Danilovitz won the 3200 by more than 17 seconds with a strong kick to cross the line in 11:21.86. Danilovitz and Carbondale's Kate Korty, the state's third-place Class A finisher in cross country season, were separated by less than three-tenths of a second after each of the first five laps and just 1.14 seconds after six laps.
The Riverside junior pulled away with a bell lap than was at least 8.59 seconds faster than everyone else in the 17-runner field.
Danilovitz also placed eighth in the 1600.
Perfilio was second to Ioppolo in the long jump and triple jump while adding fifth-place finishes in the pole vault and as part of the 400 relay.
Meredick was second behind Ioppolo in both hurdles races and joined Perfilio, Olanovich and Braelyn Reed on the 400 relay.
Reed was third in the long jump and Olanovich took fourth in the 100.
Riverside needed to get its lead to above 10 points going into the closing 1600 relay where Lackawanna League Division 4 and Jordan Relays Class 2A champion Montrose had a dangerous team entered.
Only 3 of the 17 high jump entries went higher than Lavelle, who because of tie-breakers for fewer misses, wound up sharing fifth place. She personally outscored Montrose's two place-winners in the event, boosting Riverside's lead to 11½ points and clinching the title.
Riverside wound up outscoring Montrose, the No. 1 Small School girls team in the Riverfront Sports Super Six Track and Field Power Rankings of District 2 teams, 65½-62.
Western Wayne and Carbondale were well back, tied for third.
Susquehanna, led by sprinter Tatum Norris, was fifth.
Norris, the only two-event overall winner among Class 2A girls, won both the 100- and 200-meter dashes and tied for second in the pole vault.
MORE SPAGNA CHAMPIONSHIPS COVERAGE
All team scores and the top three individual finishers of every event can be found at: https://nepasportsnation.com/spagna-ltc-championship-results/.