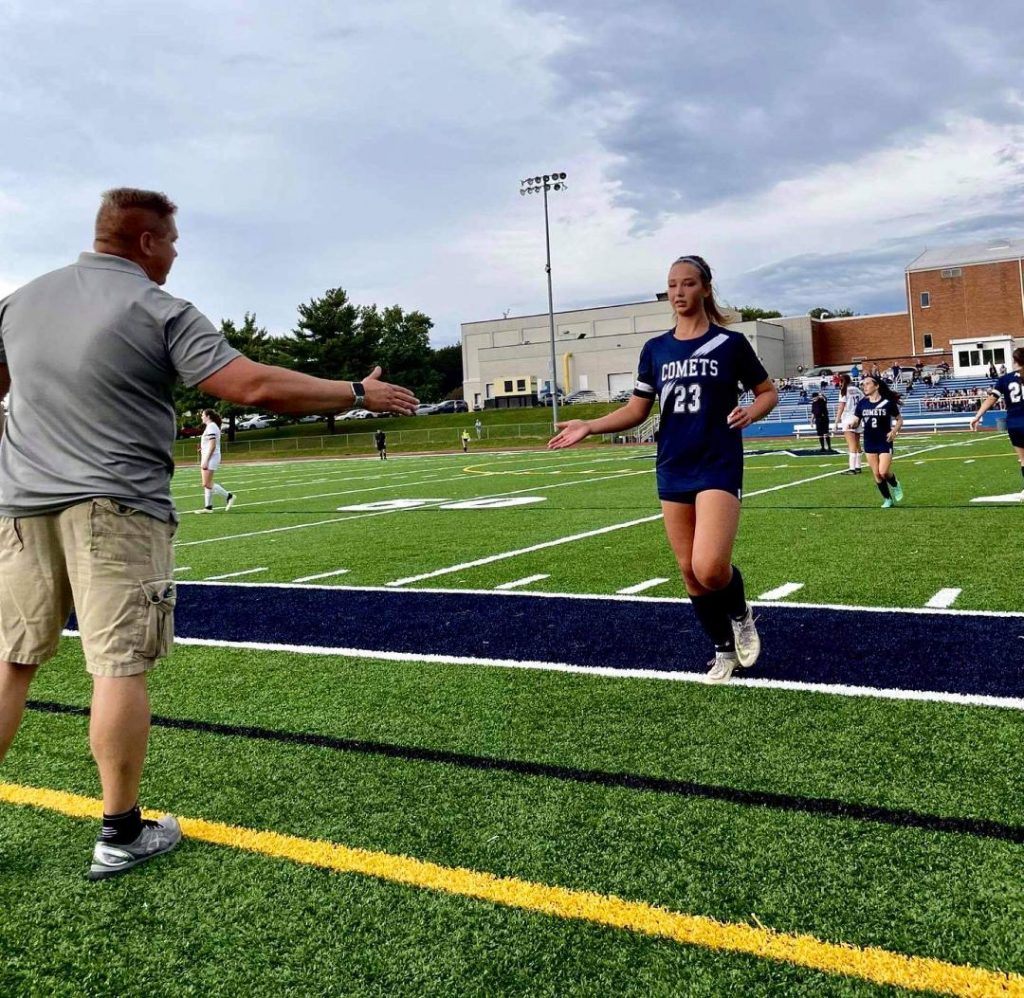 Lauren Lefchak and Regan Curabba led their teams to road wins that helped shape the Lackawanna League Division 1 girls soccer race.
Lefchak scored twice as Abington Heights defeated Scranton Prep, 3-1, and Curabba had a hat trick as Delaware Valley defeated Wallenpaupack, 6-2.
Delaware Valley's win kept the Lady Warriors alone in first place at 4-0 in the division.
Abington Heights is 3-1 after breaking a second-place tie with Scranton Prep and Wallenpaupack.
Alyssa Steenback scored the other goal for Abington Heights, which took a 3-0 lead.
Curabba led Delaware Valley back from an early 2-0 deficit. Theresa Ficken, Katelyn Tants and Sydney Bolles also scored.
North Pocono defeated Scranton, 4-0, in the other Lackawanna Division 1 game.
Aspen Smith assisted six goals and scored one when Montrose defeated Forest City, 9-1, in a Lackawanna Division 2-3 crossover.
Riley Keihl had a hat trick while Chloe Diaz and Cici Adams had two goals each for the Lady Meteors.
In other Division 2-3 crossovers: Western Wayne edged West Scranton, 2-1; Mountain View shut out Mid Valley, 4-0; Lakeland blanked Elk Lake, 10-0; and Dunmore routed Carbondale, 14-0.
Amanda Gravine scored both Western Wayne goals.
Maressa Salansky scored twice for Mountain View.
Nadia Gill had five goals for Lakeland.
Molly Zimmer's three goals led Dunmore.
Jessica Trauger and Nicolina each had two goals and an assist; Kaylie Zimmer had two goals; Alisha Davis had a goal and two assists; and Addy Toole had three assists.
Holy Redeemer posted its fifth shutout and improved to 7-0 overall, but it again was not easy as the Lady Royals won a one-goal game for the third time in their last four outings, winning 1-0 at Wyoming Seminary in a Wyoming Valley Conference Division 2 game.
Isabella Granteed's first-half goal held up.
Kalie Quaglia and Jenessa Ferro strung together consecutive lead passes up the middle of the field and Granteed split the Wyoming Seminary defense to move in and score from about eight yards out with 11:14 left in the half.
All three WVC Division 2 games were shutouts, but the others were not close.
Lake-Lehman routed Tunkhannock, 10-0, and Wyoming Area pounded Hanover Area, 12-0.
Marissa Brdaric scored three goals and assisted on three for Lake-Lehman.
Lilian Raczkowski and Autumn Palka added two goals each and Lake-Lehman's defense held Tunkhannock to one shot.
Halle Kranson scored two goals and assisted on five, including the first three of the game for Wyoming Area.
Maddie Cecil scored three goals while Hannah Fairchild scored twice and assisted on three goals.
BOYS
Connor Mensinger's second-half goal lifted Berwick into a 2-2, WVC Division 1 tie with Pittston Area.
Berwick's Brendan Hinkle had scored first before Adam Musto and Kevin Talipan scored to give Pittston Area a halftime lead.
Dallas held first place in the division while Crestwood broke a second-place tie with Hazleton Area by each posting 2-0 victories.
Dallas (4-0-1 in the division and 5-0-1 overall) downed Wyoming Valley West. Crestwood (4-1, 5-2) defeated Wilkes-Barre Area.
Delaware Valley played to a 1-1 tie with Wallenpaupack in Lackawanna Division 1.
Lincoln Leadership Academy defeated MMI Prep, 3-2, in a non-league game.