Pictured above: free safety Johnny Kauffman.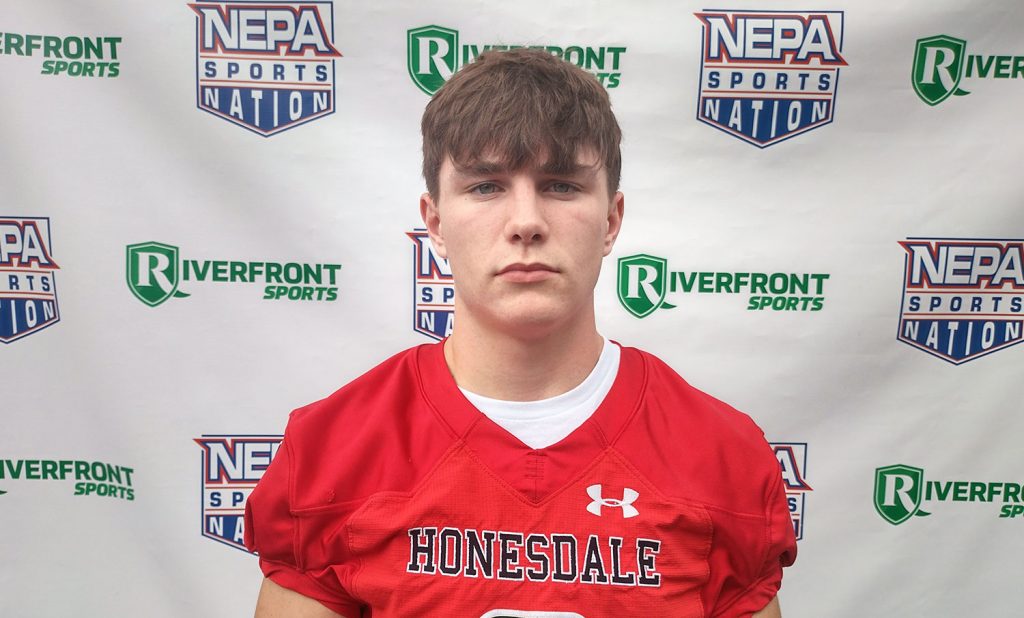 By Tom Robinson, NEPASportsNation.com
OLYPHANT – Honesdale returns nine defensive starters and a dynamic offensive threat as it tries to move up through the ranks of the Lackawanna Football Conference.
Kage Southerton had 45 of the team's 64 catches last season, turning them into 701 yards and 7 touchdowns.
The measure of how well Honesdale was able to get Southerton free in opposing secondaries was often a good barometer of whether the Hornets would be successful.
Southerton caught 24 passes for 535 yards and 6 touchdowns in the team's 4 victories, compared to 21-for-166 and a single score in the other 7 games. He was an honorable mention on both sides of the ball when NEPAFootball.com named its LFC Division 2 all-stars.
"Kage Southerton was a dynamic player for us," third-year head coach Paul Russick said. "We're feeling really good where we're at as a program.
"Now, we're just trying to develop some of those younger guys, find some depth and put the pieces together to complete at the 4A level."
Middle linebacker C.J. Hinton, who shared the team lead in sacks and was second in tackles, also received honorable mention.
Strong safety/outside linebacker Max Mickel, the team tackles leader, and defensive end Rocco Fluck, who shared the sack lead while ranking third in tackles, are among the other returnees on a defense that appears equipped to reduce the 28.2 points per game it allowed a year ago.
Lineman Aaron Phillips, linebackers Tyler Winters and Isaac Carmody, free safety Johnny Kauffman and cornerback Cameron Hedgelon are also returning starters.
"At the high school level, it differs year-to-year," third-year head coach Paul Russick said. "When I took over, we felt really good with the sophomore class, which would now be the senior class.
"They were pretty skill-player dominant and they're all back. There are 17 seniors."
The offense returns six players, filling most of the skill position spots, but needing to rebuild the line around center Bryce Stone and replace 1,000-yard rusher Connor Schmitt.
"We're young up front," Russick said. "We had four graduating offensive linemen. So, as they go, is how we'll go."
Aiden Collins, a 6-foot-2 quarterback, hit more than 47 percent of his passes last season as a freshman while throwing for 872 yards and 8 touchdowns, along with just 5 interceptions.
"It's nice having a quarterback back who started 11 games," Russick said.
Hinton returns at fullback while Winters, Kole Fries and Southerton are all experienced receivers. Winters is making the move from wide receiver to tight end.
MORE COVERAGE
Lackawanna Trail team preview: Young Lions remain a threat – NEPA Sports Nation.