Pictured above: Evan Litwin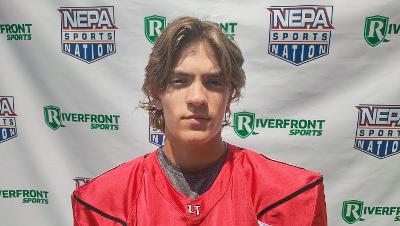 By Tom Robinson, NEPASportsNation.com
Lackawanna Trail has just five seniors on its roster, but a continued, steady influx of quality young players should keep the Lions in their usual position as one of District 2's top small school teams.
The Lions have a 29-player roster. Only three of those players are seniors who were on the team a year ago.
What Lackawanna Trail does have back from its District 2 Class 2A championship team, however, is fullback/linebacker Hunter Patterson, the leader of a strong sophomore class that contributed to the title, and defensive back Max Kimmel, who, as the only freshman on last year's team, was a first-team LFC Division 4 all-star, according to NEPAFootball.com.
"It's always nice having a returning fullback in the wing-T offense," Jervis said. "He's got a lot of quality experience."
Patterson ran for 839 yards and 11 touchdowns.
Kimmel is ready to add offense to his duties, projecting to play as both wingback, which is a significant part of the team's ground game, and wide receiver.
"We will have a nice mix of players returning with quality game experience as well as some young talented players moving up from our junior high team," Jervis said. "Kids have been working hard and expectations are high."
Lackawanna Trail moves from Class 2A back to Class A where it made the Pennsylvania Interscholastic Athletic Association state championship game in 2018 and returned to the semifinals in 2019. It also goes from Division 4 to Division 3 with the LFC's realignment to eliminate its fourth division.
A District 2 Class A championship game with Old Forge is already assured because they are the only two teams. They are also likely to continue their battle for divisional supremacy while again paired with Susquehanna and Holy Cross and adding Carbondale and Riverside to the mix.
Patterson has experienced company among the skill position players.
The Lions return two of their top three rushers, their top two receivers and their second-leading passer.
Halfback Lukas Gumble ran for 590 yards and 8 touchdowns.
Evan Litwin and Patterson each caught eight passes. Litwin converted his catches into 167 yards and 3 touchdowns.
"He's overall our quickest kid; very explosive," Jervis said.
Stephen Jervis, the coach's son, was used steadily as the back-up quarterback last season after also seeing playing time as a freshman in 2020.
Sophomore Demetrius Douglas is the other option at wingback when Kimmel is not there.
Center Gary Shaw, guard Kolbee Soltis and tackle Alex Castellano all return up front. The rest of the line is expected to be filled by seniors – Jacob Noakes at guard, Jacob Breckenridge at tackle and Frankie Cocchini at tight end. Breckenridge is a 245-pounder playing for the first time while Noakes returns to the team after a year away.
Soltis and Patterson return as the inside linebackers in the 4-4 defense. Litwin, another of the team's seniors, is at one cornerback position with Kimmel at safety.
Three freshmen – Cooper Patterson, Lucas Evans and Byron Axtell – are candidates for playing time in the defensive front along with the offensive line starters, sophomores Brian Gow and Will Kilmer and junior Blake Borick.
Gumble, Douglass, sophomore Gavin Mulhern and Cocchini are candidates to fill the outside linebacker spots.
Either Cole Rosengrant or sophomore Wyatt Laytos will be the other cornerback.
Senior Jacob Bartush is among those providing depth at inside linebacker.