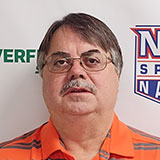 By Tom Robinson, NEPASportsNation.com
Two games sending teams in the Gaughan Auto Store Super Six Power Rankings against each other lead us into the stretch run, beginning Friday night.
In the old days, before district playoff seeding was overemphasized and regular-season championships diminished in value, the games of the next three week would be even bigger events.
Of course, in those old days, teams were not trying to finish first in a five-team division. The conference titles were a case of finishing on top of 10- or 12-team groups over the course of a regular season and, while those groupings changed occasionally, they didn't go through as many overhauls as in recent times.
Having said all that, the final three weeks of the regular season give us the following games that, yes, position teams for district seedings, but also could go a long way in determining what little divisional bragging rights may be on the line.
Friday night features Lakeland at Mid Valley and Wilkes-Barre Area at Hazleton Area.
Lakeland, in Small Schools, and Hazleton Area, in Big Schools, are each No. 4 in the Gaughan Auto Store Super Six, which ranks teams in the Lackawanna Football Conference and the Wyoming Valley Conference. Mid Valley and Wilkes-Barre Area each check in at No. 6.
Next week – which is the next-to-last of the regular season – features Berwick at Dallas.
The schedule-makers succeeded in making the final weekend a good one with Scranton Prep at Valley View, Old Forge at Lackawanna Trail and Delaware Valley at North Pocono. All six of those teams, by the way, are currently ranked, fighting for those division titles and in position to land very high seeds and postseason home games.
But, let's not get ahead of ourselves. First, we need to predict this weekend's games, with home teams in bold italics.
THE SHOWDOWNS
Lakeland may have maintained more of its strength than expected when the season started. Mid Valley probably rose faster than most anticipated. The results are both teams arriving at Friday night's game at Mid Valley with 6-1 overall records. There are still combinations that could bring Dunmore into a three-way tie, but this one is probably for the LFC Division 3 title with Mid Valley at 2-0 and Lakeland 1-0 in the four-game divisional schedule.
Wilkes-Barre Area and Hazleton Area are both 4-3 to share the top of the tight WVC Class 6A/5A Division where teams are ranked on overall records. Any of the four teams could still get to a share of the top, but the winner here takes the lead into the final two weekends.
Lakeland 30, Mid Valley 21
Hazleton Area 37, Wilkes-Barre Area 23
NEXT-BEST THINGS
There are also two games on the schedule in which a winning team plays a team with a .500 record. Expect those winning teams to keep winning.
Lackawanna Trail 23, Dunmore 12
North Pocono 29, Lake-Lehman 10
BATTLE FOR THE BLUESTONE
Montrose (0-6) and Susquehanna (1-6) have two of the worst five records in District 2, but they will play for a trophy Saturday morning when Susquehanna County's only two football programs get together at Susquehanna's William Emminger Memorial Field. The game has been moved up from 1 p.m. to a 10 a.m. start to try to beat some of the potential weather issues. Most of the county is involved with four of the six school districts in action because Montrose co-sponsors football with Elk Lake and Susquehanna does the same with Blue Ridge. Since the trophy was added to the mix, Susquehanna has won eight of the last nine games.
Susquehanna 31, Montrose 12
DEE-FENSE
There are some places where I'm expected points to be tough to score. …
Berwick 22, Pittston Area 0
Delaware Valley 33, Scranton 0
Western Wayne 33, West Scranton 0
Wallenpaupack 17, Abington Heights 3
HIGH-SCORING GAMES
… And, some games where points could be plentiful.
Scranton Prep 57, Tunkhannock 13
Valley View 54, Honesdale 23
Old Forge 41, Holy Cross 13
Williamsport 33, Wyoming Valley West 28
THE REST OF THE SCHEDULE
There are a few games that both have a deserving favorite, but also the potential to stay interesting late.
Dallas 15, Crestwood 10
Carbondale 28, Riverside 12
Nanticoke 26, Holy Redeemer 25
KEEPING SCORE
As any football team that has committed too many turnovers or penalties can attest, getting sloppy or failing to pay attention to details can be costly.
The same is true for my picks here.
Week 7 was the first of the season in which I could not claim victory or a tie in our friendly competition with The Rick's Picks on our partner website, NEPAFootball.com.
I let Rick know by text in advance that I had Hanover Area to his Holy Redeemer in one of our four differences a week ago and that pick, Hanover Area by a 27-24 score, even appeared with another media outlet where I make predictions on some of the same games.
Hanover Area won, 46-38, but there was a problem.
I somehow failed to list that game on my picks on this website last week, meaning I cannot claim that victory here.
That allowed Rick to win one more, instead of us being equal, and I now only have four more wins than him for the season. Based on the evidence above, I will not, however, be counting that game as a loss. So, using sports standings policies as a guide, I'll call it a 4½-game advantage for the season.
The picks that I actually posted here last week were 13-3 (81.3 percent), bringing the season record to 92-28 (76.7 percent), for that 4½-game edge after Notari went 14-3 (82.4 percent) to make his record 88-33 (72.7 percent).
And, yes, I did go back and check to make sure all 16 games are accounted for in this week's predictions.
Congratulations Rick for gaining ground for the first time last week.
Now, here's the bad news.
My season lead is safe for at least one more week since we only disagree once on those 16 games.
To see where Rick disagrees – or to simply enjoy his different take on the predicting of games – check out The Rick's Picks at: https://www.nepafootball.com/2021-the-ricks-picks-week-8/.