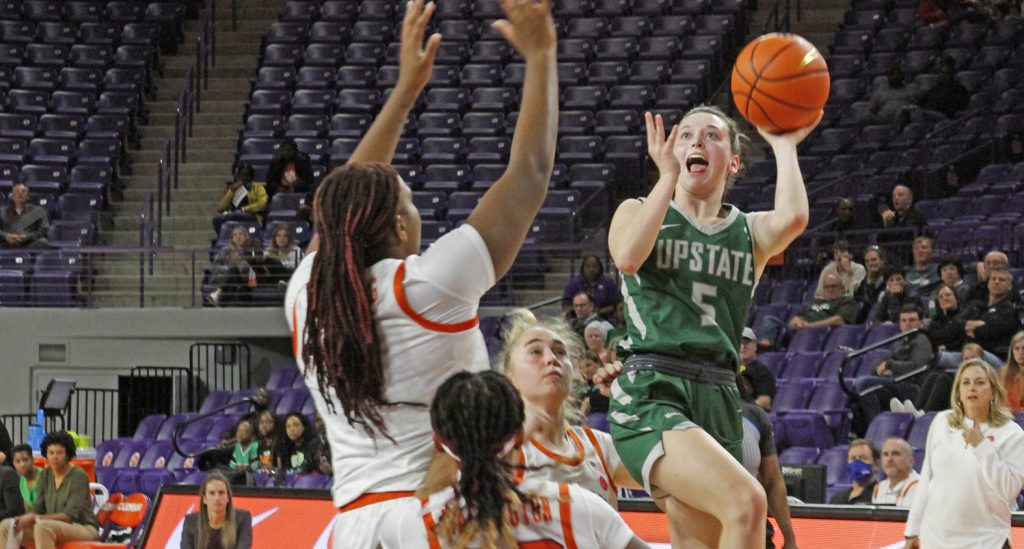 Rachael Rose and Becky Burke got their New Year off to a positive start Saturday afternoon when the University of South Carolina Upstate opened its Big South Conference women's basketball schedule with a 67-53 victory over the visiting University of North Carolina-Asheville.
Rose, a freshman from Scranton Prep, returned from a one-game absence to score 10 points, dish out a team-high 5 assists and grab 4 rebounds in 36 minutes.
At 9-3, the Spartans already surpassed the win total from going 8-13 last season in the debut of Burke, an Abington Heights graduate, as a National Collegiate Athletic Association Division I coach.
Rose is a big reason why.
The former NEPA Elite Clark 17U AAU team and high school all-state point guard is a three-time Big South Rookie of the Week selection already this season.
The most recent weekly award honor came Dec. 20 after Rose made all seven of her 3-point attempts in three games that week.
The week started with her 19-point, 8-rebound, 6-assist game on 5-for-5 shooting to help USC Upstate end an eight-game losing streak in its series with Jacksonville.
In just 11 minutes against Bob Jones University, Rose hit her only 3-point attempt, along with contributing 3 assists and 2 rebounds.
The Spartans tied a school record for most wins in succession in the school's Division I era by making it six straight with a 66-52 victory at Morehead State (Ky.) Dec. 18. Rose hit three 3-pointers while going 5-for-7 overall to finish with 13 points, 4 rebounds and 2 assists in the win.
It was the third time in four games that Rose had at least 10 points in the second half.
Rose sat out the game at Kentucky the next day when USC Upstate lost to the No. 19 Colonels, 67-44.
In Saturday's return, she went 2-for-4 on 3-pointers and 4-for-6 overall from the floor.
Rose is shooting 11-for-14 (76.8 percent) on 3-pointers in the last five games.
On the season, Rose is shooting 56.5 percent on field goals, 56.0 percent on 3-pointers and 81.5 percent on free throws. She averages 12.0 points, 3.8 rebounds, 3.5 assists and 2.0 steals.