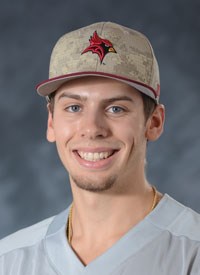 R.J. Kuruts used a start in the second round of the National Collegiate Athletic Association Division III Baseball Tournament to become the first pitcher in St. John Fisher history to strike out 100 batters in a season.
The senior from Forest City held Rowan University scoreless for the first five innings May 28, but wound up taking the loss after giving up six runs, three of them earned, in eight innings during the 6-3 loss.
The durable Kuruts went 11-2, getting a decision in all 13 of his starts, with a 3.33 earned run average, three complete games and a shutout.
The Empire 8 Conference named Kuruts as its Pitcher of the Year after naming him Pitcher of the Week April 26 following his efforts in helping the team clinch the conference title.
Kuruts wound up tied for second in the nation with his 11 wins, one behind leader Matt Mulhearn from Webster. He was eighth in strikeouts with 100 in 75 2/3 innings. His 11.89 strikeouts per nine innings ranked 41st.
The Pitcher of the Week award for Kuruts came when he struck out 28 in 14 innings while winning two starts, including a 16-strikeout performance in a shutout of Elmira.
Kuruts, an All-Region selection by D3baseball.com and the American Baseball Coaches Association, gave up 76 hits and 26 walks this season.
In his four-year career, Kuruts appeared in 42 games, making 37 starts and completing 6 of them. He was 22-7 with a 4.14 ERA and a 225-74, strikeout-to-walks ratio in 217 1/3 innings.
St. John Fisher finished 17-1 in the Empire 8 and 31-7 overall.