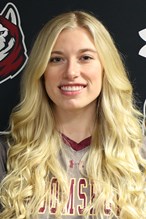 Berwick graduate Sammi Starr collected a series of honors for her performance this spring as a junior shortstop at Bloomsburg University.
Starr was named second-team All-Atlantic Region by both the Division II Conference Commissioners' Association (D2CAA) and the National Fastpitch Coaches Association (NFCA). She was also a second-team Pennsylvania State Athletic Conference East Division all-star.
Starting all 34 games at shortstop, Starr led the team in batting average (.424), hits (50), runs (32) and homers (2). She was second on the team with 11 doubles and tied for second with 2 stolen bases while driving in 21 runs.
Starr began the season with a 10-game hitting streak and ended it with an 8-game streak.
Rebecca Rossi, a junior outfielder from Hazleton Area, played in 26 games, all but 2 as a starter. She batted .348 with 3 doubles, 2 stolen bases, 9 runs and 11 RBI.
Bloomsburg went 15-17 in the PSAC East and 17-17 overall.