By Tom Robinson, NEPASportsNation.com
YATESVILLE – Dallas shut out Pittston Area for nearly 44 minutes Friday night, then Parker Bolesta shut down any last-minute comeback hopes by the Patriots.
Bolesta ran for 150 yards and the game's last touchdown to lead Pittston Area to a 28-6 victory in the Wyoming Valley Conference Class 4A Division football game at Charley Trippi Stadium.
Dallas turned to Bolesta on the next six plays after Pittston Area scored to get within 21-6 with 4:23 left.
"I think we're really starting to recognize our running game," Bolesta said. "In the beginning of the season, we'd hit those two- and three-yard runs, but now we can drive the entire field with the run game."
Defense and special teams made sure the Mountaineers did not need to cover the entire field.
Although they had an 89-yard, second-quarter drive that did not produce any points, the Mountaineers scored on possessions that collectively covered 88 yards.
Dallas moved 31 yards for a score after a short punt in the first quarter and 22 yards after Pittston Area was unable to get off a punt in the second quarter.
Joe Peters returned an interception 32 yards for a touchdown on the first play of the second half.
Then, after Pittston Area scored, Dallas successfully covered an on-side kick and picked up 15 yards on a personal foul to start at the Patriots 35.
Bolesta used the last 5 of his 23 carries, including a 21-yard touchdown run up the middle on his final carry with 1:44 left, to put the game away.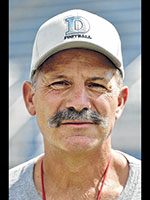 "The run game's developing," Dallas coach Rich Mannello said. "We've got guys shuffled all around in the offensive line.
" … (Bolesta) is a horse. He's a big back."
The 6-foot, 200-pound tailback ran for 91 yards in the first half when Dallas built a 14-0 lead.
Although the Mountaineers were stopped inside the 5 twice, the field position gained on those near-misses led to the short fields after defensive stops by Dallas and punting difficulties by Pittston Area.
Rocco Ormando ran 6 yards for the game's first touchdown with 3:15 left in the quarter. He scored after Bolesta ran the first 4 plays of the possession, covering 30 yards before a penalty move Dallas back 5 yards.
Jackson Wydra threw into the end zone with 31 seconds left in the second quarter and Zach Paczewski got a foot down before going out bounds, making for a quick strike and a 14-0 halftime lead.
Dallas picked off three passes in the third quarter, including the one Peters returned to make it 21-0.
"We had some picks at real opportunistic times," Dallas coach Rich Mannello said. "Obviously, the Pick Six to start the second half was a real big help."
Pittston Area broke the shutout after converting two third-down situations and a fourth down during a 14-play, 50-yard drive.
Harry Pugliese carried 7 times for 31 yards in the drive to set up David Sudo's 2-yard score.
"We were killed with penalties, bad snaps and turnovers, which we haven't done in the last few weeks," Pittston Area coach Nick Barbieri said. "That's what's kept us in games the last few weeks; not having penalties and not having turnovers."
Wydra finished 8-for-10 for Dallas with 79 yards passing.
Peters, Colby Klinetob, Jake DelGaudio and Mark Karcutskie led the defense for Dallas, which won its second straight and fourth in the last five games to improve to 4-2.
Peters had four tackles, an assist and a broken-up pass to go along with Pick Six.
Klinetob, who had two tackles for losses, and DelGaudio had five tackles and two assists each.
Karcutskie intercepted two passes, along with a tackle and an assist.
Pugliese and Robby Barbieri led the Patriots (2-5). Pugliese had 68 yards on 16 carries. Barbieri made six tackles, assisted on three and broke up a pass in the end zone.
MORE FRIDAY FOOTBALL COVERAGE
Crestwood-Abington Heights: https://nepasportsnation.com/schultz-carries-crestwood-to-victory/.
Dallas-Mid Valley: https://nepasportsnation.com/spartans-top-bucks-take-lead/.
Delaware Valley-Williamsport: https://nepasportsnation.com/dv-shuts-out-williamsport-26-0/.
Lakeland-Western Wayne: https://nepasportsnation.com/chiefs-prevail-by-halting-ww-rally/.
Nanticoke-Montrose: https://nepasportsnation.com/trojans-break-loose-against-meteors/.
North Pocono-West Scranton: https://nepasportsnation.com/chiefs-prevail-by-halting-ww-rally/.
Friday scoreboard: https://nepasportsnation.com/fridays-football-scoreboard-4/.