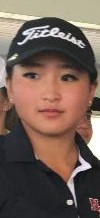 By Tom Robinson, NEPASportsNation.com
EXETER – Defending champions returned in each of the four divisions of the District 2 Individual Golf Championships Oct. 5 at Fox Hill Country Club.
Only North Pocono sophomore Gwendolyn Powell was able to make a successful defense.
Powell shot 7-over-par, 80 was enough for a three-stroke victory over Kayla Benson from Honesdale and a four-shot win over Liz Franchetti from Abington Heights in the District 2-4 Class 3A Subregional.
All three will represent District 2 in the Pennsylvania Interscholastic Athletic Association state championships Oct. 19 at Heritage Hills Golf Resort in York.
District 2 had the top 10 finishers in the tournament, which also included one entry each from District 4 members Williamsport and Shikellamy.
Powell closed out her win, with her only birdie, on the par-3 No. 7, her final hole in the shot-gun start.
"It's a pretty tough hole to finish on," Powell said. "It was nice to birdie it."
Powell had reached three par-5s in two during the round, but three-putted each time.
"I had a few longer putts and didn't have as many birdie opportunities as I would like," said Powell, who shot a 2-under-par, 70 five days earlier during the district girls team tournament.
Scranton Prep won that team event and a state tournament berth that went with it, but the Classics were unable to qualify anyone individually.
Instead, Scranton Prep had the next four players after the three qualifiers.
Gianna Cafarella and Lidia Marranca tied for fourth with 88s. Carolina Stampien shot an 89 and Miranda Karoscik a 93.
"Overall, I'm glad I won and honored to be a two-time district champ," she said. "I met a few new people today and everyone played well."
MORE
District 2 Class 2A girls: https://nepasportsnation.com/tunkhannock-freshman-brown-tops-experienced-2a-girls/.
Complete scores: https://nepasportsnation.com/district-2-individual-golf-championships/.