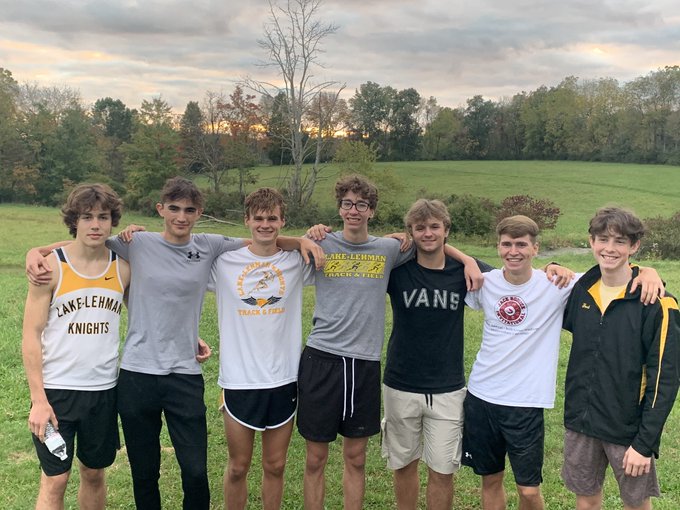 Nick Hockenbury finished first in the six-team cluster Oct. 6 while leading the way for Lake-Lehman as it knocked off the last remaining unbeaten Wyoming Valley Conference boys cross country team, beating Crestwood, 25-30.
Hockenbury finished in 16:42 for a 16-second victory in the meet hosted by Lake-Lehman at Letterkenny Fields in Dallas. The Black Knights swept their three opponents for the day, also beating MMI Prep, 19-44, and Hazleton Area, 15-48.
Crestwood, Wyoming Valley West and Tunkhannock were all 2-1 on the day while MMI Prep and Hazleton Area went 0-3.
Crestwood easily handled the other two opponents with Weston Medvetz and Nash Greene finishing second and third.
MMI Prep's Woobie Kupsky was fourth.
The winning effort by Lake-Lehman was helped by Casey Weaver, Nichael Serafin and Will McCarroll taking fifth, sixth and seventh. Brady Newman completed the five-runner team score in 12th.
Crestwood had James Modrovsky place eighth and Brady Newman 12th.
Brendon Yatsko from Tunkhannock was ninth and Nick Rousseau from Wyoming Valley West 10th.
Berwick and Northwest each went 2-0 by beating Pittston Area and host Wilkes-Barre Area.
Pittston Area and Wilkes-Barre had 1-2 days by losing to those two teams, but both beating Columbia-Montour Vo-Tech.
The day's results left Lake-Lehman, Crestwood and Holy Redeemer all tied for the conference lead at 9-1 while Berwick is 8-1 and Dallas is 7-1.
MORE
For full scores of every dual combination contested Oct. 6, see the scoreboard at: https://nepasportsnation.com/wednesdays-district-2-scores-2/.