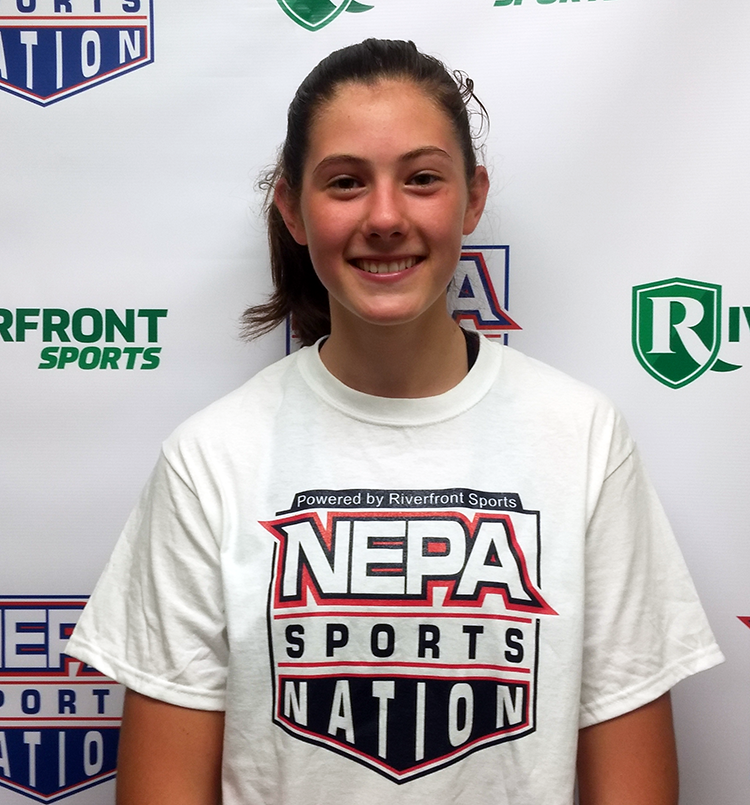 In conjunction with her Monday announcement of a verbal commitment to a scholarship offer to play National Collegiate Athletic Association Division I basketball in the Atlantic Coast Conference with the University of North Carolina, Ciera Toomey submitted to an extended interview with NEPASportsNation.com editor Tom Robinson. Many of the answers by the NEPA Elite 17U and Dunmore High School basketball player were used in the stories about her commitment on this and partner websites. We found the other responses interesting as well and have included them in the question-and-answer feature below.
TR: You are also a two-time state high school medalist in golf. Did you get any golf offers?
CT: In the beginning, my second offer, Bucknell said I could also play golf if I wanted to. No one really contacted me about golf only.
TR: You named eight finalists last fall. Can you explain how UConn and North Carolina wound up being the last two and why it ended up being North Carolina?
CT: There was no specific thing for each of the eight. It was more about North Carolina and how they made me feel about being there. Along the whole process, there were two places that I could really see myself.
Both places, it was a great visit and I just really enjoyed being there. North Carolina, there was something about it, something about the coaching staff and the feeling I got when I was down there.
TR: Was there any particular reason that the decision was made now? Was there a target time or something that made it the right time now?
CT: When I had a feeling toward North Carolina, I was not going to be able to go to all these places and keep leading people on. That was primarily the reason. If I knew I wasn't going to go there, I wasn't going to go through the process of making them think they made the top five or made the top three and just end up going to the place I was going to the whole time.
TR: North Carolina head coach Courtney Banghart and three assistants were in the Dunmore gym for the first round of the state playoffs even though they knew you weren't going to play because of your knee injury. Does that mean anything extra or different to you?
CT: They originally had a coach who was going to come for a home visit because March is that time. It did mean a lot because it kind of showed that's who they are. They surprised me. It showed they care about who they recruit.
TR: Does the season-ending knee injury and impending surgery have anything to do with your decision timing now?
CT: No. It did not. All the schools kept their offers. No one retracted. They were all really supportive. They all offered to help and give me support throughout rehab. That was not a part of it at all.
TR: Do you have any specific timelines for recovery, such as your surgery? Do you have anything mapped out yet?
CT: My surgery was scheduled for Wednesday, but I had an infection that had to be taken care of before surgery, so the timeline is kind of thrown off.
TR: Are you going through the pre-surgery strengthening right now to get the rest of the leg as strong as it can be?
CT: Yeah. They call it prehab. That's what I've been doing and I've been lifting for upper body. That's kind of all I can do. It's a little bit of an adjustment from what I'm usually doing.
TR: There are many examples out there, particularly in female athletes, have you had some people tell you what's ahead in the comeback from an anterior cruciate ligament tear?
CT: I'm in a good position. Everyone wants to help, which is great. There are people who have gone through it that I like to talk to because they know not only the physical aspect of it, but the emotional aspect.
A lot of people are honest that it's going to be hard. That's kind of a given, but until you're in it, you don't fully understand how hard mentally and physically it's going to be.
If you can make it through that, you're going to come back stronger.
Luckily, I have a lot of people in my corner.
TR: Do you know whether you'll ever play another high school game at Dunmore?
CT: I don't know that for certain yet. I think it's really just going to depend on recovery. I do personally want to and think that I will.
I'll probably miss the preseason next year.
Basketball is part of my life, so I can't live in fear for the rest of it.
I can't say 100 percent right now, but I do look forward to doing that and hope that I can.
TR: Was there a favorite part for you from the recruiting process?
CT: Throughout the recruiting process, it might be a broad statement, but getting to know these college coaches. You watch them on TV through your entire life and then, all of a sudden, have their phone number in your phone. You form a relationship with them.
Everyone can't believe how normal of a conversation you have with these people. Probably about 10 percent of the phone call is about basketball.
These people know you can play basketball. They've watched you enough and that's the reason they're talking to you, but they really just want to get to know you. The number of cool conversations I've had with people I've idolized and watched – and, after, to be able to turn on a college game and say, 'oh, I have a call with her tomorrow'."
That aspect was cool to me as someone who was never surrounded by it.
I got to see the process with my sister (Rider University junior Victoria), but the magnitude I didn't realize until I was going through it.
TR: You got to see some of the recruiting process and the start of a college career with your sister, who made such huge strides between her first and second seasons. Now that former NEPA Elite teammates Rachael Rose and Cecelia Collins have gone and played a year of college, and earned conference honors at Division I schools in the process, is there anything you learned from watching Vic, Rachael or Cecelia this year? Is there anything gained from the perspective of where the whole group is at?
CT: From my sister, because I know her so well and talk to her often, I know that you get out what you put in.
That shows with Cecelia and Rachael, too, because they're so hard-working. To have such amazing first years, I think a lot of it is just working hard and the success will follow that.
On that level, the first year of competition gets so much better so fast.
Vic is a junior and has been through a few seasons. It shows how much stronger you get and how you adjust. That's going to be the biggest thing for me, adjusting from that high school level to that college level.
It's going to be a big jump, but everyone goes through it. Not everyone around you has the answers.
It's far away now because I'm a junior, but I'm excited to get down there and become the best version of myself that I can be.
TR: The feel of the recruiting process varies from athlete to athlete. Are there some ways you can describe what it felt like for you?
CT: Playing in front of coaches all of last summer – the summer before they were watching from home because of COVID – I really enjoyed that. Maybe it was because I'm a basketball fan and I know all these people and I've respected them for a while.
That respect, after getting to know them, got even higher.
I guess there was some stress. Sometimes you want to be a 17-year-old, and I was a 16-year-old for a lot of it, but I'm very thankful for it. I also think it allowed me to mature in a significant way.
TR: Was there something that somebody did for you in a recruiting visit that was a real "wow" moment? Are there any stories you can share?
CT: Two, one at Penn State and one at UNC.
When I went to Penn State, I went to a white-out (football) game and I went on the field.
And, at UNC, we didn't mean to do this, but we planned our first trip for the game that UNC was playing Duke (in a men's game). It was a sold-out crowd at the Dean Smith Center on a Saturday night.
It was crazy. They lost, but it was so cool being there.
TR: The very last question and one we should never forget. Do you have a major in mind?
CT: A major in environmental science and a minor in engineering and environmental health.
MORE COVERAGE OF TOOMEY'S COLLEGE DECISION
Main news story on NEPA Sports Nation. https://nepasportsnation.com/toomey/.
Toomey had many to thank in her announcement, as reported on NEPABasketball.com. https://nepabasketball.com/2021-22/Recruiting/ToomeyChoosesUNC.
NEPABasketball.com broke down the process on how more than two dozen offers were whittled down to UConn and North Carolina and then, finally, the Tar Heels. https://nepabasketball.com/2021-22/Recruiting/ToomeyDecisionProcess.
Toomey describes the player after which she patterns her game: https://nepaelite.com/2022/04/toomey-copied-from-best-when-adding-new-moves/.
Victoria and Ciera followed their mother Carrie into basketball. https://nepasportsnation.com/toomeys-share-love-of-basketball/.