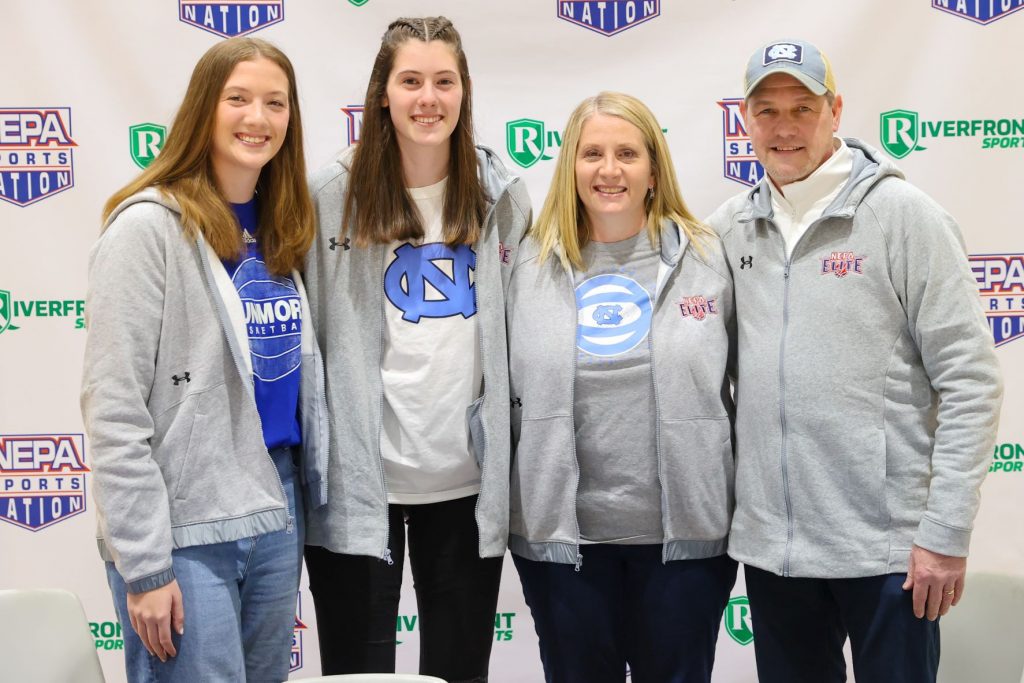 By Tom Robinson, NEPABasketball.com
Ciera Toomey frequently describes her family as a "basketball family."
Specifically, a women's basketball family, one that might watch the men's version of March Madness as much as the women's, but is far more likely to catch a WNBA game than an NBA game and follows regular-season women's basketball intently.
When the Toomeys aren't playing basketball, they're watching basketball.
Live basketball – Ciera's games and those on television – was reduced two years ago by COVID, but just as it is hard to keep the Toomeys off the court, it is difficult to keep them from watching the game.
Ciera knows that among the big reasons she is regarded as one of the best girls basketball players in the country is the influence the women's game has had over her and the boost she has received from women she has followed into the game from her own Dunmore household.
As Ciera learned the game, she often tagged along with older sister Victoria, now a junior who has made 33 starts on the National Collegiate Athletic Association Division I level at Rider University. And, they both learned many of their basketball lessons from the coaching of their mother, Carrie.
Ciera knew her mother understood the game and taught her well and, on some level, grasped that Carrie once played it quite well.
The COVID-imposed breaks that closed gyms taught Ciera just how well.
"During quarantine, when everyone was looking for things to do, I looked through YouTube and found a lot of sports highlights from Dunmore through the years when she was in high school," said Ciera, who Monday announced her verbal commitment to the University of North Carolina.
Just like her daughters, Carrie (Bowen) Toomey was a 1,000-point career scorer at Dunmore. Like very few other high school players then or now, she also grabbed more than 1,000 rebounds.
"I made a short highlight film of her to show my sister and my family how good she was," Ciera said.
The project took her understanding to a new level and helped Ciera picture how her mother became a Hall of Fame player at Franklin & Marshall College. The college is in Lancaster, not far from Spooky Nook Sports where Ciera has played some of her biggest AAU games with the two-time Hoop Group Showcase League champion NEPA Elite Clark 17U team and one of the locations where big-time college coaches observed Ciera's development to the point where ESPN regards her as the third-best prospect in the country from the Class of 2023.
Carrie went from Franklin & Marshall to play a season of professional basketball in England before returning to her Dunmore roots and raising two daughters who have played a big part in making the Lady Bucks the most consistently excellent program in northeastern Pennsylvania. In that time, she has coached AAU and youth teams and been a high school assistant, including now back at Dunmore.
"I've always known she was really good," Ciera said. "She's more competitive than anyone I know, so I always knew that aspect of it was very important.
"And, I've always known just how much knowledge she had to pass on to me and my sister."
CARRIE BOWEN TOOMEY
By The Numbers
(Franklin & Marshall College)
| | |
| --- | --- |
| Points | 1,686 |
| Rebounds | 821 |
| 3-Pointers | 54 |
| Assists | 276 |
| Steals | 226 |
| Blocked Shots | 141 |
| Team Record | 84-23 |
Check out the story on Toomey's announcement at https://nepasportsnation.com/toomey/.
Ciera Toomey recruiting Q&A. https://nepasportsnation.com/ciera-toomey-recruiting-q-a/
Toomey describes the player after which she patterns her game: https://nepaelite.com/2022/04/toomey-copied-from-best-when-adding-new-moves/.
Toomey had many to thank in her announcement, as reported on NEPABasketball.com. https://nepabasketball.com/2021-22/Recruiting/ToomeyChoosesUNC.
NEPABasketball.com broke down the process on how more than two dozen offers were whittled down to UConn and North Carolina and then, finally, the Tar Heels. https://nepabasketball.com/2021-22/Recruiting/ToomeyDecisionProcess.