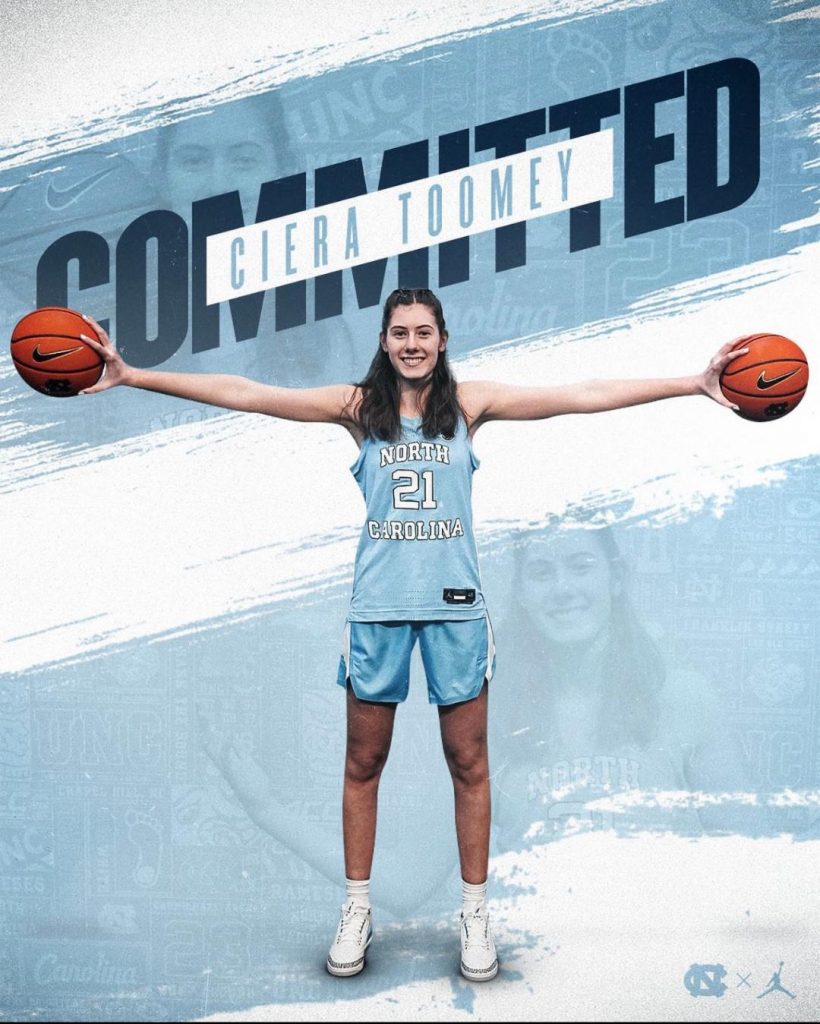 By Tom Robinson, NEPASportsNation.com
SCRANTON – Some of Ciera Toomey's favorite moments in her blossoming basketball career to date have been when she made the longest road trips with teammates.
Toomey will be on the road again in the future when she continues her basketball career in Chapel Hill at the University of North Carolina.
The NEPA Elite Clark 17U player and Dunmore High School junior announced Monday night that she has committed to North Carolina to continue her academic and athletic careers.
Toomey surprised even herself a bit when the farthest distance she traveled from Dunmore for a recruiting visit wound up being the one she decided to call home for four years, beginning in the fall of 2023.
"I really thought I was going to stay much closer," Toomey said. "But, after being down there and going through the process of traveling there, it really wasn't too bad.
"My family is really close, but I think I'm going to be able to form another family down there."
Toomey also made recruiting visits to Connecticut, Maryland, Villanova and Penn State.
"After each visit, all five, I'd get home and think, 'oh, that's where I'm going'," Toomey said. "But after 24 hours, it was more like, 'OK, I liked it there'.
"With North Carolina, that feeling never really went away. That feeling kind of led me to start eliminating people."
Toomey had already trimmed a list of more than 20 scholarship offers, plus additional non-scholarship opportunities to play in the Ivy League, to eight finalists. In addition to those she visited, Duke, Northwestern and Vanderbilt were also on the list of eight.
After visiting North Carolina in early February, Toomey began informing some on her list that she had ruled them out. The list eventually shrunk to two, North Carolina and Connecticut, the team she grew up adoring.
"The hardest one was UConn," she said. "That's why they were my last two."
Toomey enjoyed her first visit to North Carolina so much that she went back to the school Thursday through Sunday. She gave the coaching staff her verbal commitment while there.
That commitment was announced publicly by Toomey Monday night at Riverfront Sports, the home of NEPA Elite.
"It was definitely a quick decision and definitely unexpected for me and my family," said Toomey, who was the Hoop Group Showcase League MVP last summer while playing against players primarily a year older and leading NEPA Elite to the HGSL championship for the second straight year. "But, it was a feeling I couldn't ignore."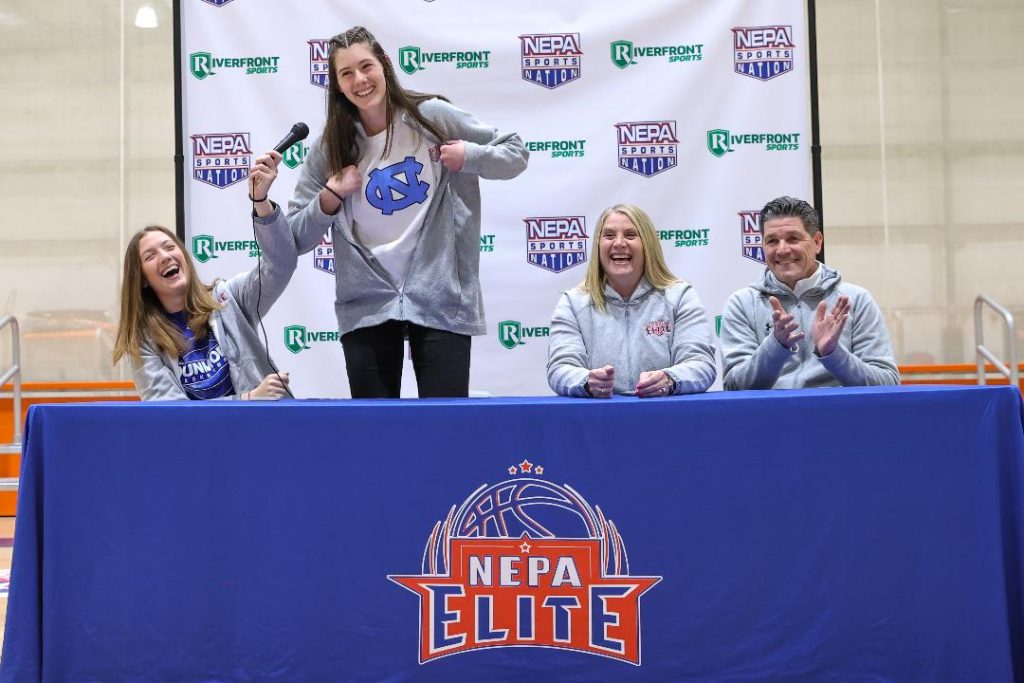 Toomey is currently on a break from basketball, going through "prehab," preparing for upcoming surgery on a torn anterior cruciate ligament, the right knee injury that ended her season in the District 2 Class 4A championship game at the Mohegan Sun Arena at Casey Plaza.
Though she missed out on the state tournament this season, Toomey has already built some memorable moments in basketball.
The nation's number-three women's basketball prospect from the Class of 2023, according to ESPN, chose a trip to northern Virginia with the Lady Bucks and a tournament in Texas with NEPA Elite when asked about her favorites.
Dunmore opened this season with impressive victories against highly regarded teams from Maryland and Kentucky.
"There was just something about those games," Toomey said. "We all just really connected as a group and I thought it was a really good way to start the year.
"It kind of showed us what we were capable of and I think we would have been a team really similar to that if we kept going in the playoffs and I was healthy."
Toomey, a third-team, all-state selection as a freshman and a first-teamer last year, surpassed 1,000 career points in a season that produced Lackawanna League Division 3 and District 2 Class 4A championships. Dunmore lost just twice and only once in-state, falling by one point to Jim Thorpe, a team it had beaten earlier, in the Pennsylvania Interscholastic Athletic Association quarterfinals while playing without Toomey.
The NEPA Elite Clark team traveled last summer to Frisco, Texas where it beat a series of teams sponsored by major sneaker companies before falling, 68-58, to Mavs Elite Strong-Durham, from Arkansas, in the Stanford Bracket championship game of the PBR Hoops Super 64 National Championship.
"You looked around the court and there was nowhere to sit; nowhere to stand," said Toomey, who had 22 points, 9 rebounds and 2 blocked shots in the game. "College coaches were lined up along both baselines and the team we were playing was another independent – not sponsored by anyone.
"We lost the game, which sounds funny that it's one of my favorite memories, but it was just such a good game – to be able to go down there and make it to the championship, when no one thought we'd be able to do anything like that, and to be able to play in front of a crowd like that in AAU."
With a major decision made, Toomey is ready to continue showing the rest of the country what northeastern Pennsylvania girls basketball followers have learned to expect from the 6-foot-4 junior.
The Atlantic Coast Conference and a national contender in one of the nation's basketball hotbeds is the next step. North Carolina went 13-5 in the ACC and 25-7 this season when it reached the Sweet 16 before falling, 69-61, to eventual national champion South Carolina.
"The coaches and players just really have that family atmosphere that allowed me to step out of that 'I want to stay close to home' phase," Toomey said. "I think it will give my parents a reason to go down to North Carolina, so I think it's a win-win."
MORE COVERAGE
The process of selecting North Carolina from more than two dozen offers: https://nepabasketball.com/2021-22/Recruiting/ToomeyDecisionProcess.
Toomey thanked others during her announcement: https://nepabasketball.com/2021-22/Recruiting/ToomeyChoosesUNC.
Toomey describes the player after which she patterns her game: https://nepaelite.com/2022/04/toomey-copied-from-best-when-adding-new-moves/.
Victoria and Ciera followed their mother Carrie into basketball. https://nepasportsnation.com/toomeys-share-love-of-basketball/.
Ciera Toomey recruiting Q&A. https://nepasportsnation.com/ciera-toomey-recruiting-q-a/.