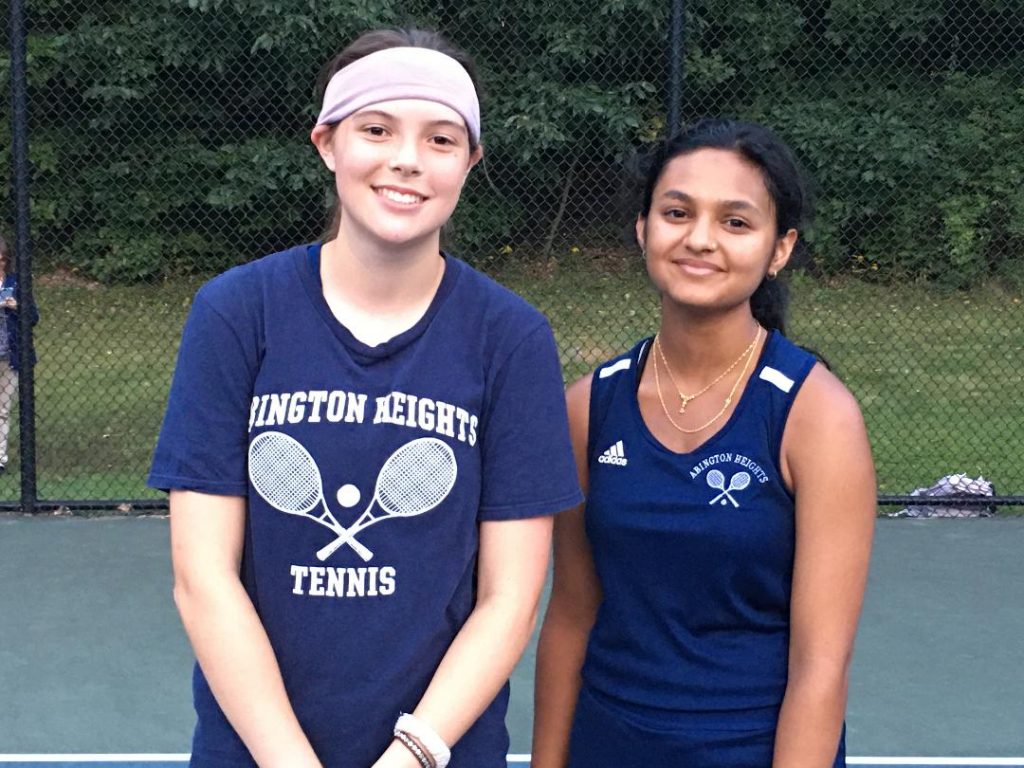 By Tom Robinson, NEPASportsNation.com
NEWTON TWP. – Two freshmen came through, one in singles and another in doubles, Tuesday when Abington Heights fought off visiting Riverside, 3-2, in a meeting between Lackawanna League girls tennis unbeatens.
The team score remained tied for nearly an hour with both teams gathered around to watch the second doubles match in which Elina Joshi and Bernie Mullin rallied from a set and two games down to pull out the decisive, three-set victory.
"We were able to talk through a lot of the critical match points and we were able to tough it out, I guess," said Joshi, who acknowledged there was extra stress with both teams cheering on their match. "I'm so grateful for all the support from my teammates.
"It was a great experience and even though it was really stressful, we did well at the end."
Abington Heights held on to the Lackawanna lead by improving to 10-0 in the match between the two top-ranked teams in the Riverfront Sports Super Six Girls Tennis Rankings of District 2 teams. The Comets are the top-ranked Big School (Class 3A) while the Lady Vikes are the No. 1 Small School (Class 2A).
The result leaves Abington Heights and Scranton Prep (9-0) as the only unbeaten teams in the league.
Joshi-Mullin defeated Madelynn Perfilio-Paige Olanovich, 5-7, 6-4, 6-4, to finish a sweep of doubles by the Comets.
Mullin, a freshman, made several important plays at the net as the match wore on, including reacting quickly to get across the court for a backhand winner to end the second set.
"It was a mixture of excitement and nervousness," Mullin said. "I think both serving at the baseline and sometimes the net, when I have the opportunity to, are my strengths. Those are what I've been working on the past few months."
The doubles sweep by Abington Heights, though difficult, was somewhat expected.
"We were confident that we were going to be able to win the one and two doubles, but their (second) doubles team wound up being a lot more challenging for us than we expected," Abington Heights coach Kelly Arp said.
It was the first time in her high school career that Mullin found herself in a close team match and one where the team was dependent upon her result.
"I heard that it might be a closer match than what we were used to, but I wasn't sure it would be this close," Mullin said.
To get the third point needed for the team victory, the Comets needed to find a way to be the first team to take a team singles point off of the Lady Vikes.
Freshman Susan Arp came up with that point, winning third singles, 6-0, 6-4, over Bella Aniska.
"The second set was a lot more challenging," coach Arp said of her daughter's match. "Bella really cut down on her unforced errors and Susan had to be really careful and make good shots."
Faith Bennett-Hanna Adonizio breezed through the first doubles match, 6-0, 6-0, over Leah Pfeiffer-Elisabeth O'Hora.
Riverside was in control throughout the first two singles matches.
Karissa Ghigiarelli, the 2019 Pennsylvania Interscholastic Athletic Association Class 2A state champion, won the first singles match between three-time District 2 champions, 6-1, 6-0, over Bella Peters.
Madeline DeFaber-Schumacher took second singles, 6-1, 6-1, over Rina Hanumali.
Both Ghigiarelli and DeFaber-Schumacher remained unbeaten on the season.
The Lady Vikes, however, came up a point short.
"It's not the end of the run at all," Riverside coach Robert Thomas said. "Sure, it's a little disappointing. It was a hard loss, but a well-played second doubles match. That was a cliffhanger.
"Three sets. I think there were a couple errors on our part, a couple strong plays by Abington. Missed opportunities here and there, but I'm proud of the girls ultimately."
Riverside is still hoping to contend in a District 2 Class 2A team bracket that includes unbeatens Wyoming Seminary and Scranton Prep and, with one loss, is not necessarily out of the Lackawanna race.
"We have some big goals ahead of us," Thomas said. "We're not giving up.
"This is a speed bump in the road of the ultimate achievement of what we're doing this season."