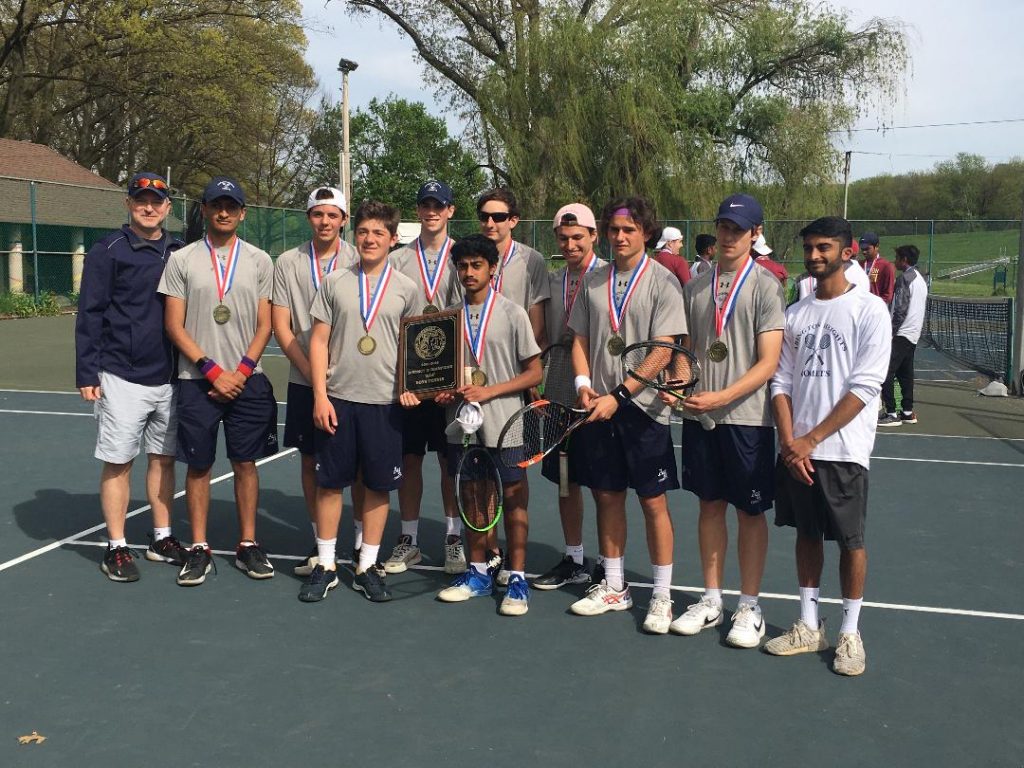 By Tom Robinson, NEPASportsNation.com
WILKES-BARRE – Third singles player Domenic Peters and the first doubles team of Luke Morgan-Ryan Salony won in both rounds Thursday, leading the way as Abington Heights captured its ninth straight District 2 Class 3A boys tennis team championship.
Abington Heights, the Lackawanna League champion and tournament top seed, improved to 16-0 with its 14th and 15th shutouts.
The Comets defeated North Pocono in the semifinals, then Scranton in the final, both by 3-0 scores. Abington Heights was ahead in each of the other two matches in both the semifinals and finals
"The guys were ready to play," said Art Comstock, who is in the first season of his second stint as Abington Heights head coach. "Sometimes when the lights shine on you, some guys step up. All of our guys stepped up, which was nice to see."
While Abington Heights was continuing its dominance of the tournament, Scranton was reaching the district final for the first time in the 21-year history of team championships.
Peters defeated North Pocono's Fred Kloss, 6-2, 6-1, before defeating Scranton's Vraj Patel, 6-0, 6-0, in the final.
"Against Scranton, Domenic Peters played probably one of the better matches I've seen him play all season," Comstock said.
Morgan-Salony downed North Pocono's Ethan Garibaldi-Casey Jones, 6-0, 6-2, then topped Scranton's Harrison Kubilus-Parth Patel, 6-1, 6-1.
Gavin Ross-Connor Clearwater were within two games of a win when the semifinal was stopped with the team victory clinched. The No. 2 doubles team then defeated Jay Patel-Bhabya Patel, 6-1, 6-2, in the Scranton match.
"Doubles is where we spent the most time working this year," Comstock said. "We had so much progress developing doubles players. I'm very happy with how they're moving along."
Sam Christman won the second singles match, dropping just one game, against North Pocono and was up 3-0 in the second set after winning the first against Scranton.
Praneel Mullaiah won the first set at No. 1 singles in both matches and was in front, 5-0, in the second set when the Scranton match was halted.
Scranton posted its historic, 3-1 semifinal win over Delaware Valley by sweeping doubles.
Kubilus-Parth Patel and Jay Patel-Bhabya Patel won the doubles matches while Dhruvruj Parmar rolled over Gavin Buckley, 6-3, 6-0, at second singles.
Abington Heights advances to play the third-place team from District 1 the afternoon of May 17 at the Birchwood Tennis & Fitness Center in Clarks Summit in the first round of the Pennsylvania Interscholastic Athletic Association Class 3A state team tournament.
"The tougher ones are coming up next," Comstock said. "We've got to get ready for that. We're looking forward to that challenge. It's a different level."
MORE COVERAGE
Semifinal and final match results: https://nepasportsnation.com/district-2-boys-tennis-2/.