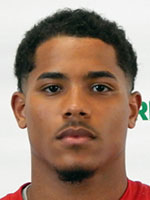 Tyler Wolfe threw for a touchdown and two-point conversion and ran for a score in the second half Friday night while the Hazleton Area defense was shutting out Wilkes-Barre Area, allowing the host Cougars to rally for a 29-10 victory in a game to decide the Wyoming Valley Conference Class 6A/5A Division lead.
Matthew Buchman scored two touchdowns as the Cougars improved to 5-3. They have won five of their last six with only a 14-9 loss to Delaware Valley during that stretch.
Wilkes-Barre Area, which took a 10-8 lead into halftime, had a three-game winning streak broken and fell to 4-4.
Wolfe threw a 46-yard touchdown pass to Connor Shamany with 7:42 left in the third quarter to put the Cougars ahead to stay, 14-10.
Hazleton Area recovered the squib kick after the touchdown and went in for another score just under four minutes later.
Wolfe ran the ball down to the 1 and Buchman scored from there.
Buchman pulled in a 23-yard pass from Wolfe to get the ball to the 5 midway through the fourth quarter. Wolfe scored from the 2.
Buchman led the Cougars ground game with 79 yards on 15 carries. His 26-yard touchdown and two-point conversion midway through the first quarter gave Hazleton Area an 8-0 lead.
Wilkes-Barre Area took the lead in the second quarter.
The Wolfpack scored on a Javant McClary-to-Javon Goodwin touchdown in the first minute of the quarter, then got a go-ahead, 20-yard field goal from Evan Corcoran in the last minute of the half.
Wolfe went 7-for-17 for 141 yards passing and the touchdown to Shamany, who finished with 3 catches for 75 yards.
Brady Mizenko and Jean Valdez each had two sacks to lead a Hazleton Area defense, which got 10 tackles from Raimon Abreu.
MORE FRIDAY FOOTBALL COVERAGE
Berwick-Pittston Area: https://nepasportsnation.com/berwick-extends-football-streak/.
Dallas-Crestwood: https://nepasportsnation.com/bolesta-wydra-lead-dallas-victory/.
Scoreboard: https://nepasportsnation.com/friday-football-scoreboard-2/.