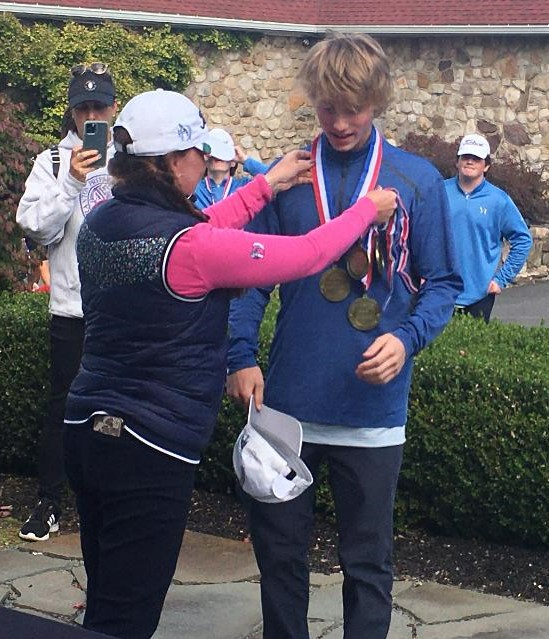 By Tom Robinson, NEPASportsNation.com
ROARING BROOK TWP. – Dallas coach Jane Kilduff-Molino could see the rally beginning to take shape in Friday's District 2 Class 3A golf championship at Elmhurst Country Club, but the Mountaineers had not left all their troubles behind.
"There was a key moment where I knew my players were starting to play better, but then I turned and saw one of my players standing in jungle-like conditions," Kilduff-Molino said. "At that point, I started to laugh, but just thought 'as long as you all never give up, we'll add it up in the end and see what happens'."
What happened was an almost inexplicable comeback.
It was one of those days when Kilduff-Molino found herself repeating "never give up" in between-hole conversations with her players and apologizing for how many times it came up in response to media questions.
Unless totals are being added up, double figures are never a good thing on a golf scorecard, but they were all around the story of the district team championship.
Dallas overcame an 11 on one player's scorecard, a 12 on another and as much as a 13-stroke deficit on the way to beating North Pocono, 331-332, for the district title.
"I know I keep saying that, but if today's story is not a story of never giving up, I don't know one," Kilduff-Molino said.
It was a thought-process Kyle Langan leaned on after an 11 on the seventh hole and a double bogey follow-up at 8.
"Thanks to my coach," Langan said after playing the last 10 holes in even-par, following up a 49 on the front with a 36 on the back to produce an 85 for the second-best Dallas score and match the second-best score by North Pocono. "She was a huge part in my success today. If it wasn't for my coach, I probably wouldn't have shot even on the back.
"Coach's talks are always the best ones."
Logan Paczewski's 5-under-par back nine rallied him to a 5-under, 67 finish and from two down to three strokes up on Billy Pabst Jr. in a battle between district champions in the first spot in the lineup.
That created nearly half of the needed swing and his struggling teammates took care of the rest.
Langan gathered himself after an errant approach shot on 7 led to one attempt to chip backward out of the fescue, two consecutive chips into the pond and a three-putt to top it off.
"Never quit, never give up, no matter how ugly it gets," Kilduff-Molino recalls telling Langan. "There's a lot of holes to play. If you quit right now, we'll never have a chance, but if you grind it out and stay in the moment, we'll have the opportunity to win."
By the time he was done talking to Kilduff-Molino, Langan was back to believing what could be possible.
Then, he went out and shot the second-best back nine score of the 10 players in the match, behind only Paczewski.
"I stayed calm," Langan said. "I focused on the score on the green. I made a lot of nice putts, tried to stay calm, made a nice birdie on 10, which kind of set the tone.
"Then I made seven pars and a bogey on 18 where I was a little nervous."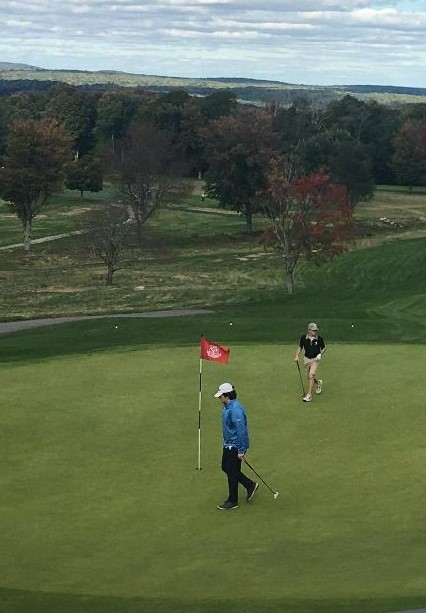 Rhys Bonvie's slick, five-foot downhill putt on 18 in the last group after his long uphill putt hit the back of the cup to keep it from rolling much further past, clinched the win.
In essence, however, the Mountaineers won by 1½ strokes.
That's because, if they wound up tied instead of having a one-stroke advantage, they were positioned to win the tiebreaker, using the last score in a format that otherwise was counting the low four scores out of five.
Austin Finarelli, the player Kilduff-Molino spotted in the jungle conditions, recovered from his 12 on the 11th hole to play the remaining seven holes in 1-over-par, closing with a birdie that meant his team had the tie-breaker advantage if the fifth score, his, came into play.
North Pocono led by 11 strokes among the four players that ultimately counted for each team – 13 among the four best as of the end of the front nine – when the teams made the turn.
Paczewski and Langan led the way while Bonvie and Max Steinruck finished off rounds of 89 and 90 to complete the comeback.
Pabst's 70, which included a 3-under-par, 33 on the front, led North Pocono.
Jack Clancy shot an 85 while Logan Rose, whose putt on the final hole had lifted the Trojans over Abington Heights and into the district final, added an 86.
Paczewski caught Pabst, who bogeyed the hole, when he eagled the par-5, 10th hole. He then added three birdies, including both of the par-3s, on the back nine.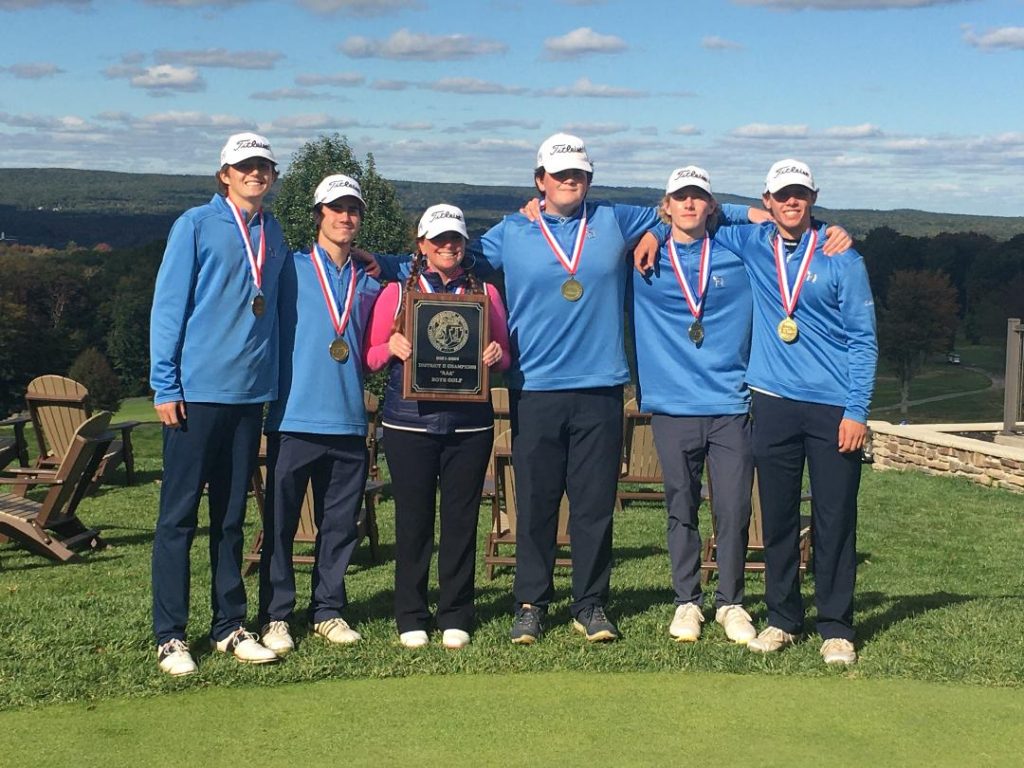 Dallas (331)
| | | | |
| --- | --- | --- | --- |
| Player | Front | Back | Total |
| Logan Paczewski | 36 | 31 | 67 |
| Kyle Langan | 49 | 36 | 85 |
| Rhys Bonvie | 43 | 46 | 89 |
| Max Steinruck | 46 | 44 | 90 |
| Austin Finarelli | 47 | 44 | 91 |
North Pocono (332)
| | | | |
| --- | --- | --- | --- |
| Player | Front | Back | Total |
| Billy Pabst Jr. | 33 | 37 | 70 |
| Jake Clancy | 41 | 44 | 85 |
| Logan Rose | 43 | 43 | 86 |
| Aiden Evans | 44 | 47 | 91 |
| Alex Wilson | 45 | 50 | 95 |