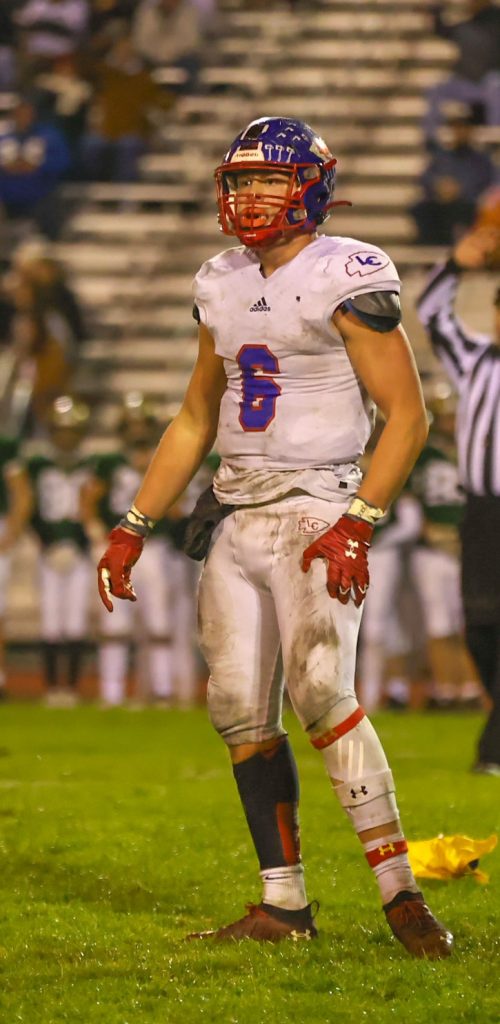 By Tom Robinson, NEPASportsNation.com
CHAPMAN LAKE – Lakeland tight end Lacota Dippre announced his commitment to play football at the College of Holy Cross Wednesday afternoon.
With teammates and young Chiefs fans among those looking on in the Lakeland gym, Dippre revealed his intention to continue his athletic and academic careers as a football player at the Patriot League school and National Collegiate Athletic Association Football Championship Subdivision member in Worcester, Mass. He chose Holy Cross out of an original list of 18 offers and a trio of finalists that included service academies Army and Air Force.
"I took a visit there," Dippre said. "The whole coaching staff really showed their interest in me. They loved me and they stayed on me.
" … Their facilities are just outstanding. You can't ask for better facilities. Their academics are top notch. I've always been told, 'you can only play football for so long'. Having that alumni system that they provide is very fortunate for me."
Dippre is a standout on both sides of the ball. After helping Lakeland to the Lackawanna Football Conference Division 3 title last season, he was named all-state by Pennsylvania Sports Writers as a tight end. NEPAFootball.com, our partner website, chose him as the Defensive Player of the Year for all of District 2.
Recruited as a tight end, Dippre has clearly shown enough to play on the other side of the ball if offense does not work out in college. His multiple-position play at Lakeland has set up options for his future.
"They mainly have me as a tight end," Dippre said. "But, they feel comfortable with me as a 'D' end, so it's really going to be the best fit once I get there.
"I think this senior season of high school football is really going to determine what I do play."
As important as this year could be, the 6-foot-4, 240-pound Dippre knows the opportunity he locked up Wednesday was years in the making.
"It all goes back from Day One playing football younger, like at the age of 10," Dippre said. "And, then getting into high school as a sophomore and getting into the weight room with my father.
"It all goes back to that really. You can't just wait until the last minute on everything. You have to just be consistent throughout."
Dippre caught 49 passes for 541 yards and 4 touchdowns as a junior.
His defensive numbers were even more gaudy. Dippre made 59 tackles, including 26 for losses and 9 sacks. Dippre also had 14 assists. He forced five fumbles, recovered two and intercepted a pass.
Holy Cross is coming off its first 10-win season since 1991. The Crusaders went 10-3 in 2021, including 6-0 in the Patriot League, and reached the second round of the FCS Playoffs before falling to Villanova, 21-16.