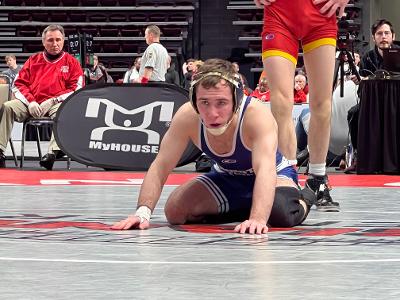 HERSHEY – Pittston Area 132-pounder Julian Everitt, Delaware Valley 113-pounder Zac Jacaruso and Abington Heights 138-pounder Brian Heard all won their only bouts Thursday to advance to the Class 3A quarterfinals of the Pennsylvania Interscholastic Athletic Association Individual Wrestling Championships at the Giant Center.
Six other wrestlers from District 2 went 1-1 on the first day and will be in consolation action Friday, trying to work their way back to finish as high as third place in their weight classes. Four district wrestlers lost two straight bouts Thursday and were eliminated.
Everitt scored a takedown with 14 seconds remaining to defeat Connellsville's Chad Ozias, 7-6.
Jacaruso beat Wilson's James Garcia, 4-2.
Heard, a freshman, took the lead with a first-period takedown, protected it through the second period, then added a third-period reversal for a 4-0 victory over Brett Thompson from Bradford.
Everitt, Jacaruso and Heard are scheduled to be in action in the quarterfinals that begin at 2:15 p.m. Friday.
Delaware Valley's Landon Machado (106), West Scranton's Tyson Cook (106), Wallenpaupack's Gunnar Myers (126) each won in the first round that trims the list of contenders from 20 to 16, but then lost in their second bout.
Myers won by technical fall while Cook posted a major decision.
Luke Sirianni (106) and Caleb Marzolino (172) from Abington Heights and Henry Baranowski (215) from Wallenpaupack recovered from opening losses to win their second bout and advance to Friday.
Austin Smith (145) and Sal Schiavone (152) from Abington Heights, Magnus Bibla (215) from Crestwood and Aiden Black (285) from Delaware Valley each lost twice and were eliminated.
In the only meeting between two District 2 wrestlers, Baranowski pinned Bibla in 2:05 of their consolation bout.
Sirianni came back strong with six takedowns on the way to a technical fall in the consolation round.
Action continues through Saturday's 7 p.m. finals.
NOTE: This story was compiled from the reporting of Ben Magnotta in Hershey.
PHOTO CREDIT: In top photo, Pittston Area's Julian Everitt (right) faces Connellsville's Chad Ozias. (Ben Magnotta Photo)