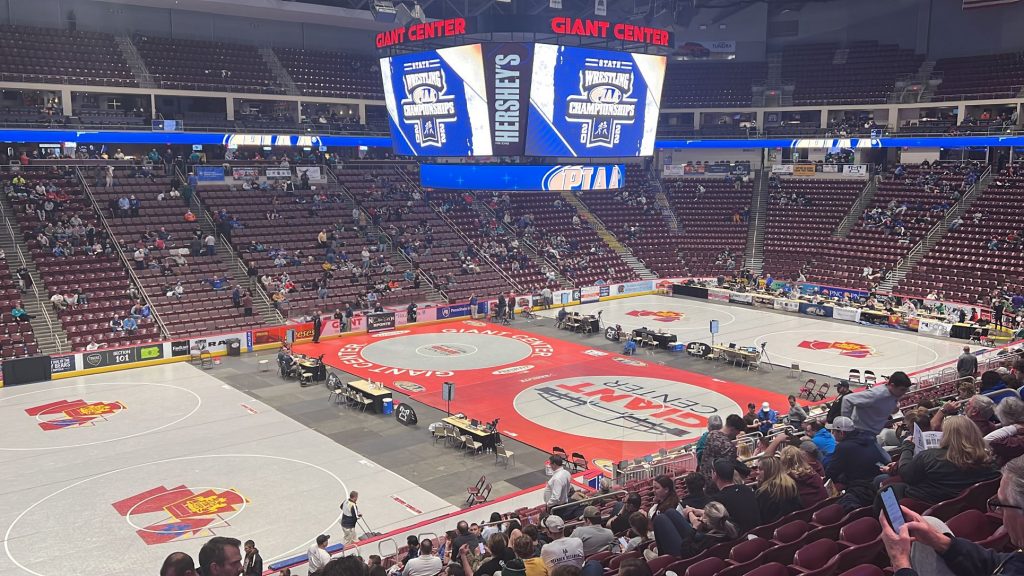 Defending state champion Jaden Pepe and freshman Anthony Evanitsky each won Thursday to advance to the quarterfinals of the Pennsylvania Interscholastic Athletic Association Individual Wrestling Championships at the Giant Center in Hershey.
Pepe, at 120 pounds, and Evanitsky, at 138, each advanced to the Class 2A state quarterfinals, scheduled to begin Friday at 9 a.m.
All four Wyoming Area wrestlers in the tournament won at least once each Thursday.
Cooper Price and Connor Wrobleski bounced back from opening losses to win first-round consolation bouts at 152 and 189.
It was a rougher day for District 2 team champion Lackawanna Trail.
Deegan Ross picked up the only win for the Lions in the first round at 152, but then lost his second bout.
Robbie Schneider lost his only bout at 160 and will have a chance to wrestle in the consolations Friday.
Jonah Houser lost twice at 215 and was eliminated.
Pepe pinned Quaker Valley's Logan Richey in 1:07.
Evanitsky won an 8-4 decision over Hickory's Connor Saylor.
Price was involved in two low-scoring decisions, falling 2-0 to Michael Duggan from Boiling Springs, then defeating Hopewell's Isaiah Pisano, 3-0.
Wrobleski was pinned by Saucon Valley's Ty Csencsits in 1:09, then pinned Burrell's Cole Clark in 1:22.
Ross, the only Lion wrestling in the opening round that trimmed the field of contenders from 20 to 16, pinned Mount Pleasant's Conor Johnson in 52 seconds. He then dropped a 5-1 decision to Bishop McDevitt's Andrew Christie.
Anthony Glessner from Bishop McDevitt shut out Schneider, 2-0, at 160.
Houser lost a pair of third-period pins.