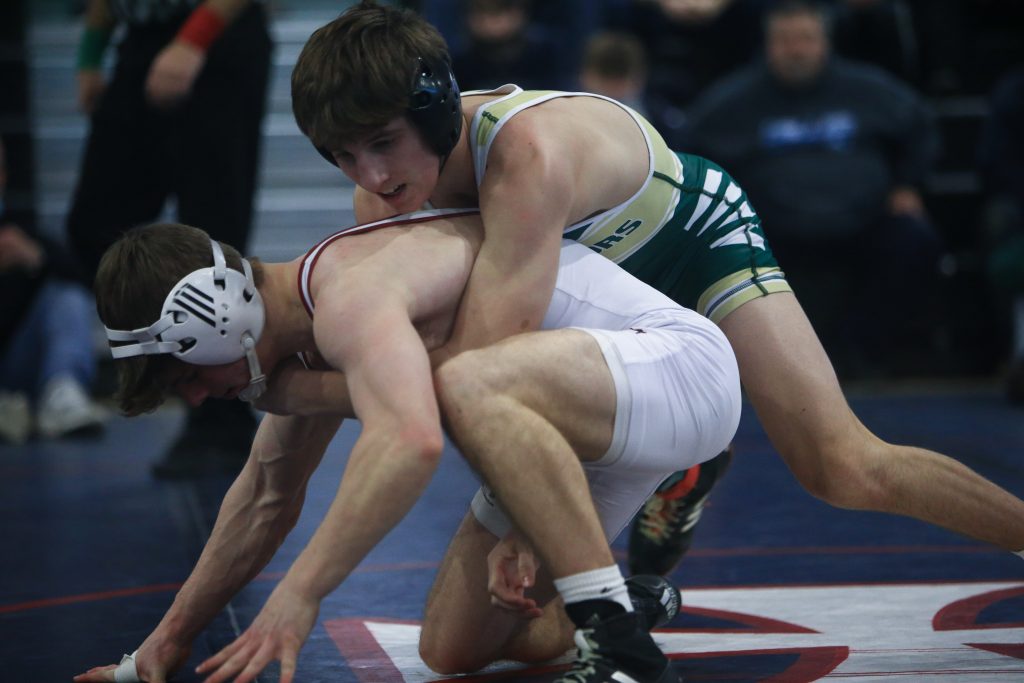 Unbeaten Wyoming Area junior Jaden Pepe won twice Friday at the Giant Center in Hershey to move within one victory of his second state Class 2A at the Pennsylvania Interscholastic Athletic Association Individual Wrestling Championships.
Pepe, the 113-pound champion in 2021, improved to 44-0 on the season and 113-4 for his career with wins in the quarterfinals and semifinals. He will meet Brock Weiss from Jersey Shore in the finals, which are scheduled to begin Saturday at 2 p.m.
The state final is a rematch of the Northeast Regional final in which Pepe posted a major decision, 14-6.
Pepe won another major decision in the state quarterfinals Friday, 12-4, over Cooper Hornack from Burrell before defeating Coen Bainey from Bald Eagle Area, 10-5, in the semifinals.
Wyoming Area also has two wrestlers competing to finish either third or fourth in their weight classes.
That combination has the Warriors in fifth in the team standings out of 110 teams.
Anthony Evanitsky, a freshman 138-pounder, and Cooper Price, wrestling at 152 pounds, each made the consolation finals.
Evanitsky started Friday in the quarterfinals where he lost to Saucon Valley's Ryan Crookham, 9-4.
That loss began a long day in which Evanitsky had four bouts, all of which went the distance, including two that went into overtime.
Evanitsky beat Jamison Poklembo from Mount Pleasant, 7-2, and Easton Toth from Forest Hills, 6-4, in overtime. He then used a reversal with two seconds left in the second overtime to get past Central Valley's Ambrose Boni.
Price worked all the way back from Thursday's loss in the first round, which trims the championship contenders from 20 to 16 in each weight class. He then won five straight consolation bouts, four of them Friday, to earn a shot at third place.
After starting Friday with a 9-0 major decision of Eisenhower's Gannon Jaquay, Price won three more decisions in which he outscored opponents 18-2.
Wyoming Area's Connor Wrobleski lost his only 189-pound bout Friday and was eliminated.
Lackawanna Trail's Robbie Schneider will finish either fifth or sixth in the state at 160 pounds.
Schneider followed up a loss in his only Thursday bout by winning three straight Friday before falling in the consolation semifinals.
Schneider pinned Alan Alexander from Pope John Paul II in 56 seconds. He then decisioned Muncy's Ty Nixon, 5-3, and pinned Derry's Christian Hirak in 1:47.
Glendale's Zeke Dubler pinned Schneider in 4:35 of the consolation semifinal.
Lackawanna Trail's Deegan Ross went 1-1 Friday to finish 2-2 in the tournament. He shut out Notre Dame Green Pond's Keegan Ramsay, 3-0, then was pinned by Michael Duggan from Boiling Springs in 4:10.
Ben Magnotta contributed to this report.