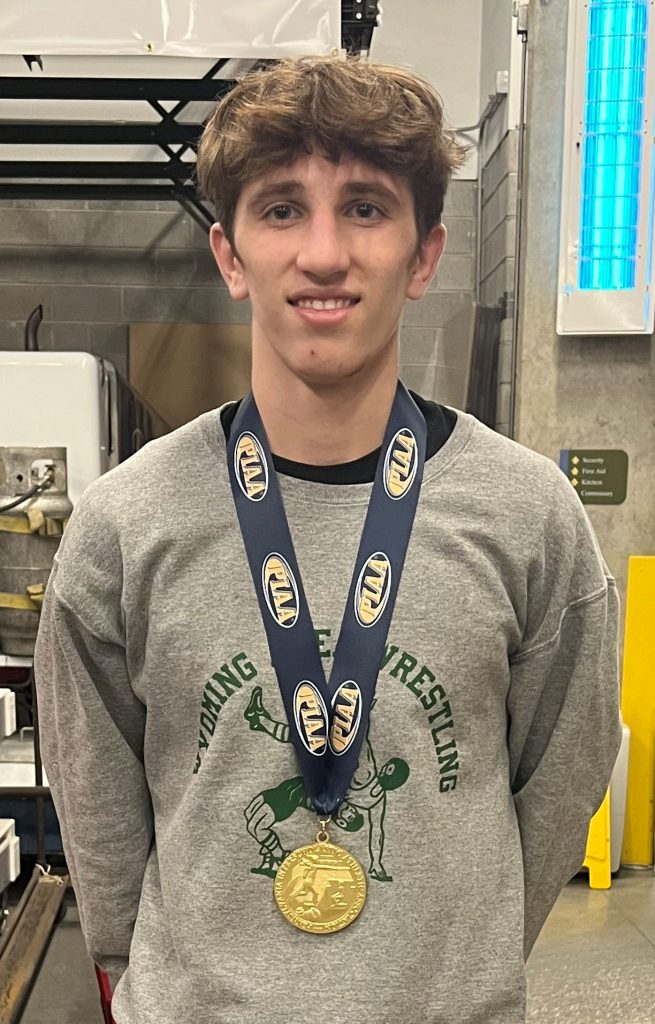 HERSHEY – With a state title repeat and the completion of a perfect season on the line, Wyoming Area junior Jaden Pepe saw no reason to approach anything differently Saturday afternoon.
"I just always try to go out and score my points and get to what I can get to," Pepe said.
Pepe got to Jersey Shore's Brock Weiss early and often, scoring all four of the takedowns in the 120-pound Class 2A championship bout along with turning Weiss twice in a 15-4 victory.
The win was the most decisive of the tournament for Pepe, who decisioned four straight opponents, over three days at the Giant Center in Hershey, by a total of 45-16.
"It feels great," Pepe said. "I'm ready to go out and do it again."
Pepe will have a chance at one more title after finishing this season 45-0 with 18 pins, 6 technical falls and 8 major decisions.
Two of the major decisions came when facing Weiss for both his first Northeast Regional title and second state championship. The three-time District 2 champion was third in the state as a freshman.
Pepe made the latest title look easy after getting through the first period with a 2-0 lead. He hit a five-point move for a 7-1 lead by the midway point in the bout against an opponent he had beaten 14-6 just a week ago in Hershey.
In the third period, Pepe added two more takedowns and his second three-point near fall.
Weiss' only points came on escapes.
Pepe's title was part of a big tournament by the Warriors.
Wyoming Area finished fourth in the 110-team field and was one of just three teams to place three wrestlers in the top four in their weight classes. Notre Dame Green Pond won with 116 points, Saucon Valley had 99, Faith Christian had 68 and Wyoming Area passed Bishop McDevitt Saturday for a 60-58 edge in fourth place.
Freshman Anthony Evanitsky finished third at 138 and Cooper Price was fourth at 152 for the Warriors.
Evanitsky's only bout of the day was his third straight overtime victory in Hershey, scoring the takedown he needed to defeat Cade Wirnsberger from Meadowbrook Christian, 3-1.
Michael Duggan from Boiling Springs defeated Price, 2-0.
Price, a senior making his first state appearance, went 5-2 in the tournament, winning five straight times between a pair of 2-0 losses to Duggan.
Robbie Schneider finished fifth to lead Lackawanna Trail, which tied for ninth in the state dual meet championships, to a tie for 38th in the team scoring at the individual championships.
Schneider posted a major decision, 12-3, over Johnsonburg's Aiden Zimmerman at 160 pounds.
NOTE: This story was compiled from the reporting of Ben Magnotta in Hershey.