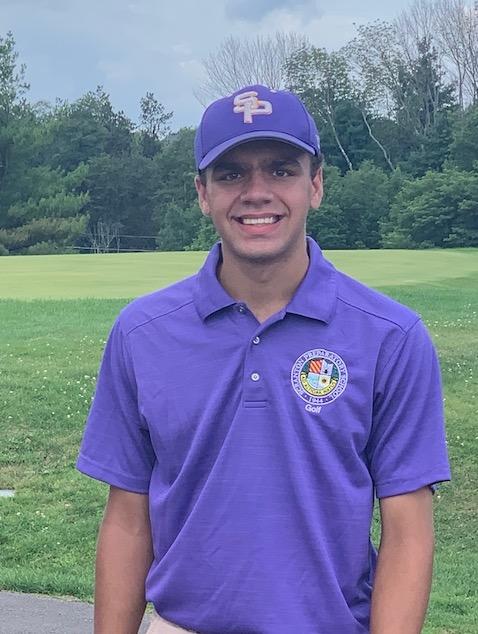 By Tom Robinson, NEPASportsNation.com
ROARING BROOK TWP. – Ben Galko was just looking for a two-putt to finish up a front nine that had beaten up the defending state champion Scranton Prep golf team and threatened to end its season earlier than planned.
Instead, the big bender on the ninth green at Elmhurst Country Club Friday touched off a birdie binge that led a comeback and carried the Cavaliers back to the District 2-4 Class 2A Subregional and within one step of being able to try to defend its Pennsylvania Interscholastic Athletic Association Class 2A title in York.
Galko's birdie at 9 was the first of his four straight and helped Scranton Prep lock up its sixth straight District 2 championship by handing Lake-Lehman its first loss, 306-315.
"It broke about five cups to the right," Galko said of the putt that closed the door on the front nine and started a championship comeback. "I just tried to two-putt it. I knew if I hit it good speed, it would have been close.
"I never really try to birdie any of the holes. I tried to par it because I knew if I parred, it would be good enough. I knew these guys would turn it around."
Playing in the fifth spot in a five-man lineup used in district and state tournament play, Galko had the best back nine score and the second-best round for the Cavaliers, who pulled to within seven strokes at the turn on his first birdie. It wound up being one of six he would register on the next nine holes on the way to a 3-over-par, 75.
Lake-Lehman actually shot just one stroke higher on the back than the front, but all five Scranton Prep players improved, each shooting 38 or better when the second-best score on the front nine had been a 42.
Michael Lynch led the way for the Cavaliers with an even-par, 72.
Galko used his 3-under, 33 on the back nine – and 4-under over the last 10 holes – to match Lake-Lehman's best scores, the 75s turned in by Michael Lugiano and Cael Ropietski.
The way he followed up the birdie putt at 9 made that happen.
Galko considers the par-5, 10th his favorite hole at Elmhurst. After a good second shot, he chipped up to a straight five-foot putt, which he made.
Another chip left a tap-in at 11.
After an errant drive on 12, Galko was thinking just par or even bogey.
"Then I saw I had a good lie," he said. "I was in the fescue, but I knew if I had could make a good swing, I could put in on the green."
Galko did and followed it up with another bender, this time "about two cups" from the 15-20-foot range.
Throughout the day, Galko had limited knowledge of how the team competition was progressing. A stop at the scoreboard at the turn let him know that Lake-Lehman was clearly ahead, then while he was running off birdies – including two more at 16 and 17 – he could only rely on reading reactions as coach Eddie Cimoch moved around the course.
"I had no idea what we were doing," Galko said, "but I could tell by coach's reaction that we were getting better because he was more jubilant as time went on."
By the time, Cimoch made it back to the clubhouse at the end of the day, he was practically giddy, crediting the win with his team remaining hungry – for the feast on wings that was part of the post-match plans, if they won another title.
"It was the pep talk," Cimoch joked, pointing out that it included a reference to dinner plans. " … It was like a light switch, but the thing I kept explaining was 'you have nine more holes. Don't panic. You guys are not playing to your level. Just play your games and we can come back.'
"Every one of my guys played better on the back side."
Michael Lynch shot 35, Michael Sewack 36, Thomas Lynch 37 and Brett Strong 38.
Sewack cut seven strokes off his front nine. Although he did not end up as one of the four team scores that counted, when Thomas Lynch cut eight strokes off his score, he created the insurance of being good enough to secure the win if he was needed. Strong improved from 42 to 38.
"I knew those four guys could turn it around at the drop of a hat," Galko said.
Mike Sholtis added a 76 for Lake-Lehman in the loss.
Scranton Prep (306)
| | | | |
| --- | --- | --- | --- |
| Player | Front | Back | Total |
| Michael Lynch | 37 | 35 | 72 |
| Ben Galko | 42 | 33 | 75 |
| Michael Sewack | 43 | 36 | 79 |
| Brett Strong | 42 | 38 | 80 |
| Thomas Lynch | 45 | 37 | 82 |
Lake-Lehman (315)
| | | | |
| --- | --- | --- | --- |
| Player | Front | Back | Total |
| Michael Lugiano | 37 | 38 | 75 |
| Cael Ropietski | 38 | 37 | 75 |
| Mike Sholtis | 39 | 37 | 76 |
| Joe Maseychik | 43 | 46 | 89 |
| Charlie Weidner | 51 | 44 | 95 |