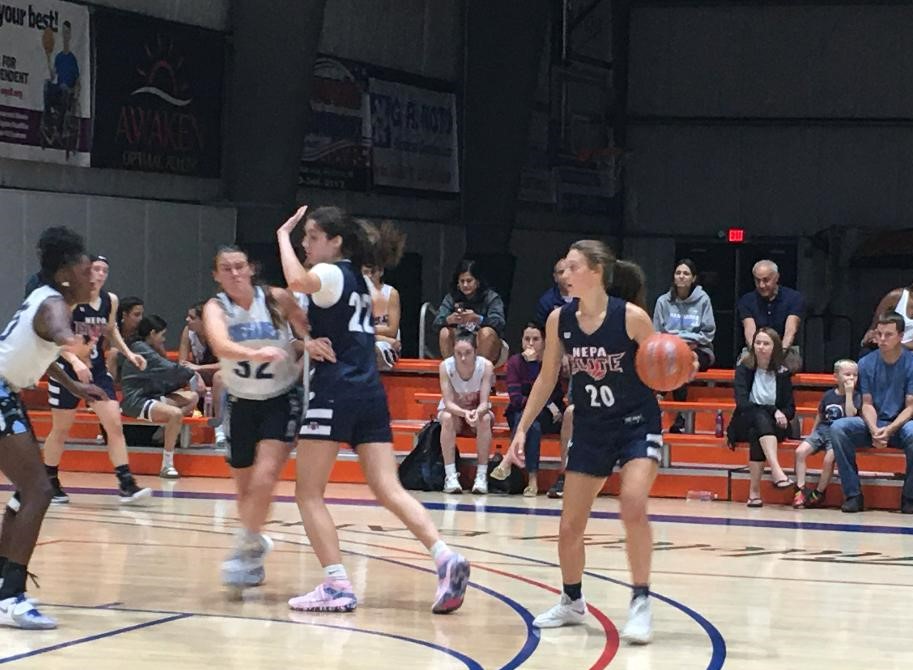 By Tom Robinson, NEPA Elite News
SCRANTON – Leila Hurley led a strong performance from a shortened bench and Kaeli Romanowski came through in an expanded role Sunday afternoon when the NEPA Elite Clark 17U girls team captured the championship of The Ladies Ball Northeast Regional with a 50-39 victory over the Long Island Renegades.
Hurley hit her first five shots, missing just once in the final minute on the way to 11 points to finish as high scorer in a balanced attack.
Playing with just three reserves instead of the usual five with Dunmore all-stater Moriah Murray recovering from an injury and Olivia Smelas, Hurley's Jim Thorpe teammate, unavailable, NEPA Elite got contributions from each player off the bench.
Two of the top three scorers in the game and one of the top three rebounders came off the bench.
Anna Scoblick from Abington Heights scored nine points while Trinity Johnson from Wyoming Valley West grabbed five rebounds.
Dunmore's Ciera Toomey had a double-double of 10 points and 10 rebounds while Western Wayne's Romanowski added 8 points and 5 rebounds while running an offense that committed just 9 turnovers in a 40-minute game.
The victory makes NEPA Elite eligible for The Ladies Ball scheduled for Oct. 7-10 in Knoxville, Tenn., in partnership with the Women's Basketball Hall of Fame. Earlier in the day, on the same homecourt at Riverfront Sports in Scranton, the AAU club's Fenton 13U team had won the 2027 Division to also qualify.
In the 2022 Division final, there were four lead changes and two ties in the first 10 minutes of the 40-minute game.
Hurley entered the game with NEPA Elite facing its biggest deficit at 13-10 and immediately scored the next four points to put the team ahead to stay. She drove baseline in transition then hit from the left wing after Toomey kicked the ball out on an offensive rebound.
"Leila came off the bench and gave us a great game," coach Kevin Clark said. "She passed really well, saw the open player.
"She shot well, but I think her ability to take people off the dribble opened a lot of things for herself and for her teammates."
Hurley's baskets started a 13-point run that included five points by Romanowski and more board work from Toomey.
When Toomey tipped in a shot, it gave her seven points and eight rebounds in the first 13:30. Romanowski followed with a 3-pointer for a 23-13 lead.
The lead remained between 8 and 13 points the rest of the way.
When Hurley re-entered in the second half, she had a similar impact, making a 3-pointer from the left corner on the first possession. Then, she scored the last two baskets of the game on drives, each time restoring the advantage to double figures.
During the nearly 22 minutes Hurley played, NEPA Elite outscored Long Island, 30-14.
The Renegades made nine 3-pointers, including four straight attempts at one point in the second half, but NEPA Elite stayed in control by dominating the inside.
NEPA Elite won the rebounding battle, 27-14, and allowed just three baskets inside the arc the entire game.
With Murray out, instead of splitting ballhandling duties, Romanowski handled the bulk of it while playing additional minutes. She followed up a 13-point, 5-steal effort in Saturday's tournament opener.
"She's such a spark of energy," Clark said. "She really turns the game around for us with her speed and her ability to play defense.
"I think she had a really strong weekend. She played great (Saturday) and (Sunday) she was able to keep their guards in check with her pressure."
NEPA Elite shot 15-for-30 on 3s Saturday when it was 33-for-64 (51.6 percent) from the floor overall.
It came back to hit more than half its shots again Saturday, going 17-for-33 (51.5).
Riverside's Kylie Lavelle helped make that possible with a team-high four assists.
Kaci Kranson from Holy Cross chipped in five points and Maria Belardi from Scranton Prep blocked two shots.
MORE NEPA ELITE COVERAGE
13U championship: https://nepasportsnation.com/13u-girls-team-claims-regional-title/.