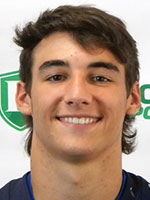 Ben Knorr ran for 200 yards and 3 touchdowns Saturday afternoon to lead Berwick past Wilkes-Barre Area, 28-7, in a non-league football game between Wyoming Valley Conference teams.
Knorr ran for a touchdown in the second quarter and two more in the third to help Berwick open a 28-0 lead before Wilkes-Barre Area scored a late touchdown.
Matt Lonczynski's 12-yard touchdown pass to Spencer Kishbaugh gave Berwick a 7-0 lead after one quarter.
Knorr scored from 4 yards in the second quarter then 37 and 36 in the third.
The Wolfpack's only score came on a 31-yard run by Howie Shiner.
Berwick (6-4) will host Wallenpaupack (4-6) in a quarterfinal game to open the District 2 Class 4A playoffs. Wilkes-Barre Area (4-6) goes to Hazleton Area (7-3) for a District 2 Cass 6A semifinal game.