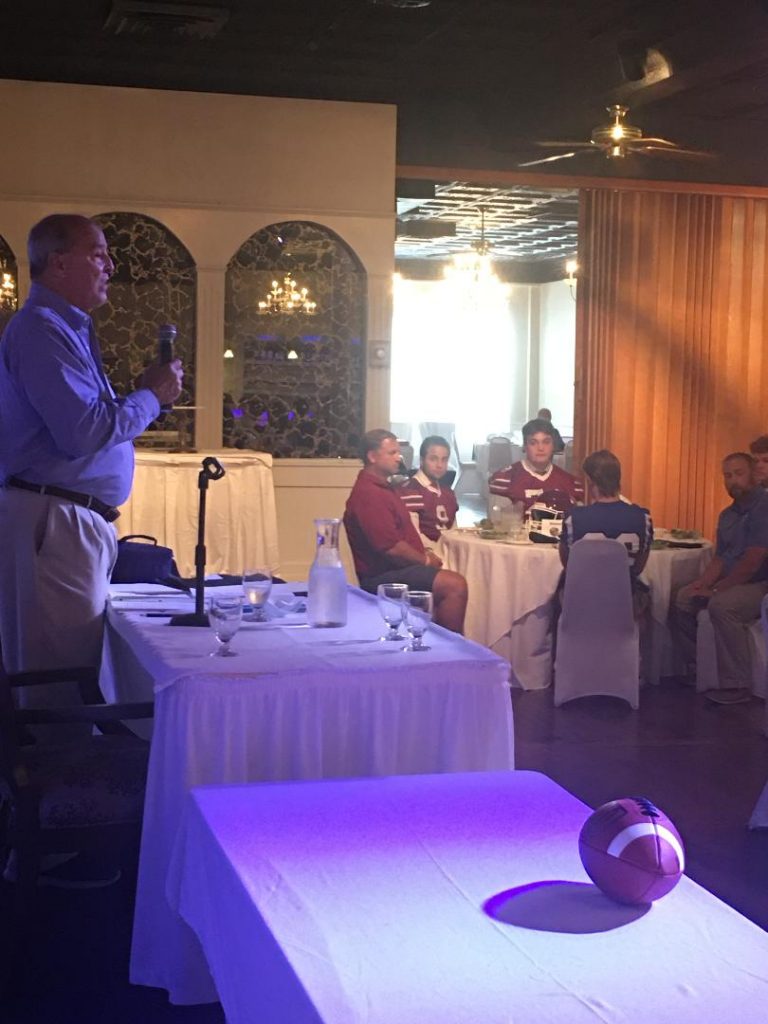 By Tom Robinson, NEPASportsNation.com
OLYPHANT – If the Dream Game is the first sign that the Lackawanna Football Conference season is fast approaching, then Media Day is the second.
The LFC conducted its 11th Media Day Tuesday at the Regal Room, restarting the event after a year off as one of the many coronavirus-related concessions of the 2020 season.
The conference plans a return to a full schedule – as long as public health situations continue to allow.
Many of the interviews and photo sessions were conducted outside, tables were spread farther apart and lunch was served rather than provided buffet style, but those were the only visible differences from Media Days in previous years.
For about a third of the conference, 2021 feels in many ways like starting over.
Two schools did not play at all in 2020, two have new coaches and four more have coaches that took over last season only to have training camp wiped out and their debut season shortened.
Carbondale fits the first two categories.
Abington Heights and Carbondale were the two teams that sat out the entire season as their schools chose the most cautious approach to the pandemic. When the Chargers return, they will do so with one of the new coaches.
Jeff Arthur took over for athletic director Larry Gabriel III in the offseason.
Holy Cross also has a new coach with Joe Giorgio taking over recently for Dave Gatto.
West Scranton joined Holy Cross as the two LFC teams to participate last season, but not win any games in their 5 chances instead of the usual 10.
Invaders coach Dennis Hricenak, one of the four new coaches in 2020, is referring to this as "Year 1½".
Season 1.2 might be more appropriate at Montrose where the Meteors got in just two-tenths of a normal season, splitting their only two games in Kerry Patton's first season.
A rural district with its own on-field struggles in the recent past is trying to overcome low roster numbers and the impact of frequent coaching turnover.
"I look at it as our culture of where we're at needs to quickly change if this program is going to survive," Patton said. "That's going to take the community buy-in; it's going to take the full school.
" … It's not just recruitment, because if it's recruitment, then every year you have to go out and find more kids. We want to change the culture to the point where we have kids coming to find us."
Mid Valley's Stan Yanoski and Honesdale's Paul Russick are the others in their second seasons as head coaches, but first under "normal" conditions.
"With all the restrictions, it seemed like last year didn't even happen," Yanoski said.
Russick concurred.
"I got hired in January of 2020 and I had all these plans in motion that never came to fruition with everything that was going on," Russick said. "Now, all that stuff I wanted to do, we've gotten a good bit of it in.
"We've done our 7 on 7s, our camps, we've hammered the weightroom. It has felt good to be on the path where I wanted us to be a year ago."
Count Old Forge coach Mike Schuback among those who might like a fresh start.
"The best thing that's happened to us right now is that it's a new season," Schuback said.
The only loss by the Blue Devils last season came in the state quarterfinals on an untimed down at the end of the game. After falling to Steelton-Highspire, 39-36, the Blue Devils watched the Rollers win the next two games and the Pennsylvania Interscholastic Athletic Association state title.
"The issue is it's not what you say any more, it's what you do," Schuback said. "The window is closing. This group, as freshmen, was very successful. They had a very successful sophomore campaign for them.
"Their junior year was cut short on the untimed down. For them as seniors, for this group, they have to feel like a lot of stuff was undone. A lot was left unfinished. Hopefully, that resonates with them."
Old Forge had won the LFC Division 4 and District 2 Class A titles and its first-round state game with a 49-0 rout of Bristol.
"We're expecting big things this year," said two-way Blue Devils lineman Nick Rasmus said, an NEPAFootball.com all-District 2 selection last year. "We have a lot of guys coming back that know that the job is not finished."
Delaware Valley and Lakeland matched Old Forge's trio of accomplishments, winning division and district titles along with reaching the state quarterfinals.
The Warriors won LFC Division 1 and District 2 Class 6A, then defeated Altoona, 35-14, in the first round of state play.
The Chiefs won LFC Division 3 and used their 14-11 victory over highly regarded Lake-Lehman to reach the state quarterfinals.
Dunmore gave the LFC a fourth District 2 title, winning in Class 2A.
The other LFC title, Division 2, was split three ways as Scranton Prep, Valley View and Western Wayne went 3-1 in the division, including 1-1 against each other.
Scranton Prep is the only team returning two of the NEPAFootball.com all-District 2 players, running back London Montgomery and tight end Robert Rossi.
"Our goal is to make sure we showcase London's talents and Robert's talents and try to get people out of position because those are elite weapons that we have," Scranton Prep coach Terry Gallagher said.
Western Wayne is the only team in the district with two players already committed to Division I college programs – quarterback/athlete/defensive back Caden Brungard is headed to Army West Point and tight end/linebacker Thomas Chernasky is going to the University of Delaware.
Valley View still plans to be part of the race.
"We have a rich tradition at Valley View; anyone who has been around here for a long time knows that," wide receiver/defensive back Sean Mackinder said. "We hold ourselves to a high standard. We expect to be good this year.
"The offseason has been good. We've been grinding real hard in the weightroom, running, all that. I think it will pay off."
With the Dream Game and Media Day in the rearview mirror, there are more preseason markers ahead.
Heat acclimatization begins Monday and the first full contact practices are Aug. 16, followed by the first scrimmages Aug. 21.
That all leads up to Opening Night, Aug. 27.
Every opener carries a special significance to the teams involved, but there are a couple that stand out.
Abington Heights will play its first home night game against Tunkhannock, but there is something else special about moving from Grove Street Stadium to the newly renovated field at the high school for at least one game.
"We're excited to go out on the new turf field we have," said guard/defensive tackle Christian Lezinski, one of the few Comets with any starting experience from when the team last played in 2019.
Lakeland goes to Lake-Lehman, which will be looking to avenge its three-point road loss in last year's District 2 Class 3A final.
Chiefs coach Dave Piwowarczyk knows that matchup will generate some extra excitement, but he said the next three weeks are also about preparing for the season as a whole.
"Both of us were in the district championship game last year, so both are going to want to come out and perform," Piwowarczyk, "but, we focus on us first."
MORE LFC COVERAGE
New Carbondale coach Jeff Arthur: https://nepasportsnation.com/carbondale-names-arthur-coach/.
New Holy Cross coach Joe Giorgio: https://nepasportsnation.com/giorgio-wants-to-establish-run/.
Honesdale coach Paul Russick video interview: https://www.facebook.com/NEPAFootball/videos/1320018688417079.
West Scranton coach Dennis Hricenak video interview: https://www.facebook.com/NEPAFootball/videos/866712580929783.