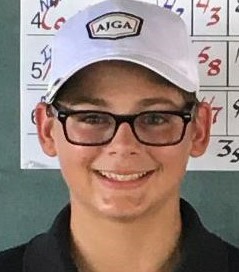 By Tom Robinson, NEPASportsNation.com
EXETER – Michael Lugiano made a strong start hold up for the best round of the day Oct. 5 at Fox Hill Country Club, shooting a 2-under-par, 69 that allowed him to claim the Class 2A boys title at the District 2 Individual Golf Championships.
The Lake-Lehman sophomore built just enough of a cushion that he was able to withstand a three-putt for a bogey on 16, his final hole.
Lugiano needed the start to give him an edge on Wyoming Seminary freshman Nick Werner, who matched the two Class 3A boys playoff participants for the second-best score, shooting 70.
"I three-putted my last hole, but still overall, I played consistent golf throughout the round," said Lugiano, who hit 15 greens in regulation. "It was mostly fairways and greens."
Most of the action took place early.
Lugiano started par-birdie and followed that up with four straight pars.
"On 5 and 6, I went back-to-back birdies and that really kind of built the momentum to just keeping playing consistent golf throughout the round," Lugiano said.
Consistent was a good word for the next six holes – all pars.
Lugiano protected his lead by answering his first of two bogeys on the day by coming right back with a birdie on the next hole, at 14.
When Lugiano and Werner separated themselves from the rest of the field, they created a race for the district's six berths in the Pennsylvania Interscholastic Athletic Association championships Oct. 18.
Because Lugiano will pass up his berth to play in a national event, a top-seven finish was needed to advance.
Scranton Prep's Michael Sewack, last year's champion, made it comfortably, placing third with a 73.
Two more players from Lake-Lehman's team that went unbeaten in the Wyoming Valley Conference were next. Cael Ropietski was fourth with a 74 and Mike Sholtis shot 76 to tie for fifth with Michael Lynch from Scranton Prep's District 2 team champion.
Lackawanna Trail's Gavin June shot 77 to claim the last state spot, recovering from three straight double bogeys that put him at 6-over after just four holes by putting up three birdies to play the final 14 in even par.
June was one shot in front of Scranton Prep's Thomas Lynch and Riverside's Michael Maslanka and two in front of Scranton Prep's Ben Galko and Mid Valley's Eddie Kaufman.
MORE
District 2 Class 3A girls: https://nepasportsnation.com/successful-title-defense-for-powell/.
District 2 Class 2A girls: https://nepasportsnation.com/tunkhannock-freshman-brown-tops-experienced-2a-girls/.
Complete scores: https://nepasportsnation.com/district-2-individual-golf-championships/.