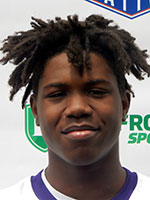 London Montgomery ran for three of his four touchdowns in the first 7:13 and Scranton Prep did all of its scoring in the first half Friday night while rolling over Nanticoke, 49-9, in a non-league football opener at Dunmore Veterans Memorial Stadium.
Montgomery, a returning all-District 2 running back, according to NEPAFootball.com, scored on runs of 5, 26 and 10 yards on the way to a 21-0 lead after one quarter.
With Montgomery surpassing the 100-yard mark rushing and adding another touchdown, the Cavaliers made it 49-0 at halftime.
Sean Monahan's only two pass attempts went for second-quarter touchdowns, one of 47 yards to Robert Rossi, another returning all-district player, and the other covering 9 yards to Tae Weeks.
Jake Gentile returned a fumble for the last Scranton Prep touchdown.
Nanticoke did all its scoring in the fourth quarter.
MORE FRIDAY NIGHT FOOTBALL COVERAGE
Delaware Valley-Gateway: https://nepasportsnation.com/state-ranked-gateway-downs-dv/.
North Pocono-Pittston Area: https://nepasportsnation.com/n-pocono-shuts-out-pittston-area/.
Western Wayne-Dunmore: https://nepasportsnation.com/janiszewski-leads-wildcats-victory/.
Wyoming Area-Hazleton Area: https://nepasportsnation.com/warriors-run-over-cougars-35-7/.
District 2 scoreboard: https://nepasportsnation.com/district-2-football-scoreboard/.