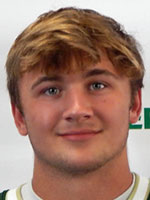 Drew Mruk got Wyoming Area started toward a 300-yard rushing night as the 2019 Class 3A state champions overpowered a Class 6A opponent on the road with a 35-7 romp over Hazleton Area at Harman-Geist Memorial Stadium.
Mruk, who also had the team's only pass reception, ran for the first two touchdowns. He carried 12 times for 107 yards and picked up 23 more on the catch.
With its offensive line in control of the game, Wyoming Area ran for 300 yards on 48 carries.
Leo Haros carried 13 times for 86 yards and a touchdown. Aaron Crossley ran for 52 yards and 2 touchdowns on 8 carries.
Wyoming Area stopped Hazleton Area on the game's first possession and Rocco Pizano took the ensuing punt 48 yards down the left sideline.
Mruk scored from the 23 on the Warriors first offensive play of the season. He scored again from the 1 early in the second quarter, completing a long drive in which he was prominent.
Wyoming Area stopped Hazleton Area's only threat of the first half with a Jayden Rusyn fumble recovery and drove for a 21-0 halftime lead on
The Warriors held the ball for the first 8:31 of the second half before Crossley scored the first of his two third-quarter touchdowns on a 6-yard run.
Mruk followed up the second Crossley touchdown, a 7-yarder, with a two-point conversion for a 35-point with 1:35 left in the third quarter, meaning the remainder of the game was played under the Mercy Rule.
Matthew Buchman from Hazleton Area broke the shutout with a 14-yard touchdown run in the fourth quarter.
MORE FRIDAY NIGHT FOOTBALL COVERAGE
Delaware Valley-Gateway: https://nepasportsnation.com/state-ranked-gateway-downs-dv/.
Dunmore-Western Wayne: https://nepasportsnation.com/janiszewski-leads-wildcats-victory/.
North Pocono-Pittston Area: https://nepasportsnation.com/n-pocono-shuts-out-pittston-area/.
District 2 scoreboard: https://nepasportsnation.com/district-2-football-scoreboard/.