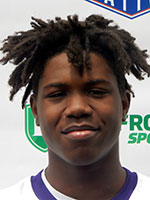 Scranton Prep junior London Montgomery rushed for 373 yards and 6 touchdowns Friday night when the Cavaliers pulled away from Scranton for a 49-14 victory at Dunmore's Veterans Memorial Stadium in a non-league meeting of Lackawanna Football Conference teams.
Montgomery got started fast, but the Cavaliers still needed a big finish from him to break the game open. He rushed for 300 yards in the first half, which ended with Scranton within striking distance at 28-14 in part because Lamiare Saldano returned the kickoff 82 yards for a touchdown immediately after Montgomery's 59-yard run up up the middle had opened the scoring.
The entire fourth quarter was played under the Mercy Rule after Scranton Prep ran off three straight third-quarter touchdowns.
Scranton Prep used its second straight 49-point effort to improve to 2-0.
The Cavaliers, who reached those point totals in the half against Nanticoke last week and in three quarters Friday night, are showing why they are highly ranked. They are the top Small School in the Gaughan Auto Store Super Six Power Ratings of LFC and Wyoming Valley Conference teams on NEPAFootball.com and fifth among the state's Class 3A teams, according to PennLive.com.
Scranton fell to 0-2.
MORE FRIDAY FOOTBALL COVERAGE
Valley View-Delaware Valley: https://nepasportsnation.com/howanitz-hiller-help-halt-streak/.
Scoreboard: https://nepasportsnation.com/district-2-football-scoreboard-3/.