By Tom Robinson, NEPASportsNation.com
PECKVILLE – Valley View combined two punishing drives and two quick strikes into a 28-point halftime lead Friday night.
Forced into needing something more to finish off Delaware Valley, the Cougars just missed on another quick strike attempt, but managed to put together one more drive, clinching a 35-14 victory at John Henzes/Veterans Memorial Stadium.
For the Cougars, the meeting between two of the top three Big Schools in the Gaughan Auto Store Super Six Power Rankings was thankfully unlike other recent meetings in the Valley View-Delaware Valley series and very much like their opening win at Dallas.
Valley View ended a seven-game losing streak against Delaware Valley, the only one of 23 opponents, who have faced the Cougars at least 5 times, to manage a winning record while doing so.
More than the score was similar to the 34-14 victory over Dallas.
The Valley View offensive line of center Danny Vislosky, twin guards James and Jacob Casarin, tackles Jakhai Simmons and Tyler Swartz and tight ends Zack Rudalavage and Rafe Evans was the game's dominant force.
"The offensive line is coming back from last year; everybody thought they were going to be the greatest thing and I think they are," quarterback Adam Howanitz said. "They've shown it. They came in with an edge. The whole team did.
"We wanted to win the district last year and we couldn't get there. We feel like this is just another step on the path in getting there."
Following last week's routine, Howanitz and tailback Connor Hilling complemented each other up while duplicating the season-opening achievements of combining for four touchdowns and putting up at least 120 rushing yards each.
The game broke down into three stages – Valley View's first-half dominance was followed by Delaware Valley's steady, but-not-fast-enough, second-half rally, then the drive the Cougars needed just to make sure their earlier work did not go to waste.
Howanitz had no hesitation when asked which was more impressive, the 28-0 start or the clinching drive?
"When you can jump out to something like that on a team as great as they are, it's just going to make your life easier," the quarterback said. "That last game-sealing drive was awesome, too, but I'll take the 28-nothing."
Valley View, which entered the night in third in the Super Six ratings of Lackawanna Football Conference and Wyoming Valley Conference teams on NEPAFootball.com, improved to 2-0. The Cougars were one of three teams to share the LFC Division 2 title last season.
No. 2 Delaware Valley, the defending LFC Division 1 and District 2 Class 6A champion, slipped to 0-2 with a pair of losses to state-ranked opponents.
Valley View is not just ranked among the best in northeastern Pennsylvania.
PennLive.com has the Cougars ranked sixth among Class 4A teams in the state.
They certainly looked the part in the first half while building up statistical advantages of 11-3 in first downs, 193-43 in rushing yards and 246-65 in total offense.
They were not stopped until deciding not to gamble after regaining possession with 43 seconds left in the half and a four-touchdown lead.
Hilling, who ran for 146 yards on 20 carries, and Howanitz, who ran for three touchdowns and passed for another, went right to work following the opening kickoff.
Valley View drove 60 yards in 12 plays – 10 runs between the tackles, one Hilling sweep and one Howanitz-to-Sean Mackinder pass. Hilling picked up 33 of the yards on 6 carries and Howanitz went in from the 1.
Matt Cole hit the first of five straight extra points for the 7-0 lead.
The second strike was one of the quick ones.
Valley View forced a punt after three plays and Mackinder returned it 11 yards before being hit out of bounds to tack on 15 more.
Howanitz went around right end for 34 yards and a 14-0 lead on the first play.
"When you have a running back like Connor who can make plays, it forces defenses to watch him," said Howanitz, who ran 15 times for 121 yards and hit 5 of his 6 passes for 71 more. "When I can fake there and get outside or cut back inside, people aren't looking at me because he's such a great running back."
The second quarter played out similarly with Valley View adding two touchdowns 23 seconds apart.
The 10-play, 81-yard drive included half of Valley View's passes on the night with Howanitz going 3-for-3 through the air, hitting Colin Skeen for 15 yards and the 23-yard touchdown on consecutive plays.
Mackinder intercepted on Delaware Valley's next play and Hilling showed off his sprinter speed by racing 63 yards for the touchdown with 4:14 left in the half.
Delaware Valley established a ground game to make it competitive in the second half.
The Warriors took the kickoff and used 13 straight runs to cover 60 yards, but also chew up more than half the third-quarter clock before scoring on Joe Sciascia's 1-yard run.
Sciascia wound up with 134 yards and 2 touchdowns on 24 carries. He was 8-for-21 in the first half and 16-for-113 on the ground in the second.
Valley View drove into Delaware Valley territory before being stopped for the first time, but by the time the Cougars punted for the first time this season, the fourth quarter of the second game was already underway.
Sciascia's 7-yard run cut the lead to 28-14 with 7:39 left.
"In the second half, they came out and did a nice job against us," Valley View coach George Howanitz said. "I'm happy we were able to hold on."
Delaware Valley's desperate attempt to avoid another long Valley View touchdown became one of the biggest plays of the final scoring drive.
Skeen broke free behind the defense with five minutes left for a potential 53-yard touchdown on third-and-10. The Warriors defender tackled him before the ball arrived for a 15-yard, pass-interference penalty.
Adam Howanitz took it from there, hitting Mackinder for 18 yards on second-and-23, then running 26 yards for the final score with 2:06 remaining.
"We have so many seniors that have played and I think our kids are football-smart," coach Howanitz said. "They know what it takes to get first downs. We told them we needed to chunk some clock and they did a good job with that making plays and getting the score to seal it."
The final drive forced Delaware Valley to burn all three of its second-half timeouts and still took 5:33 off the clock, not to mention adding seven points to the margin.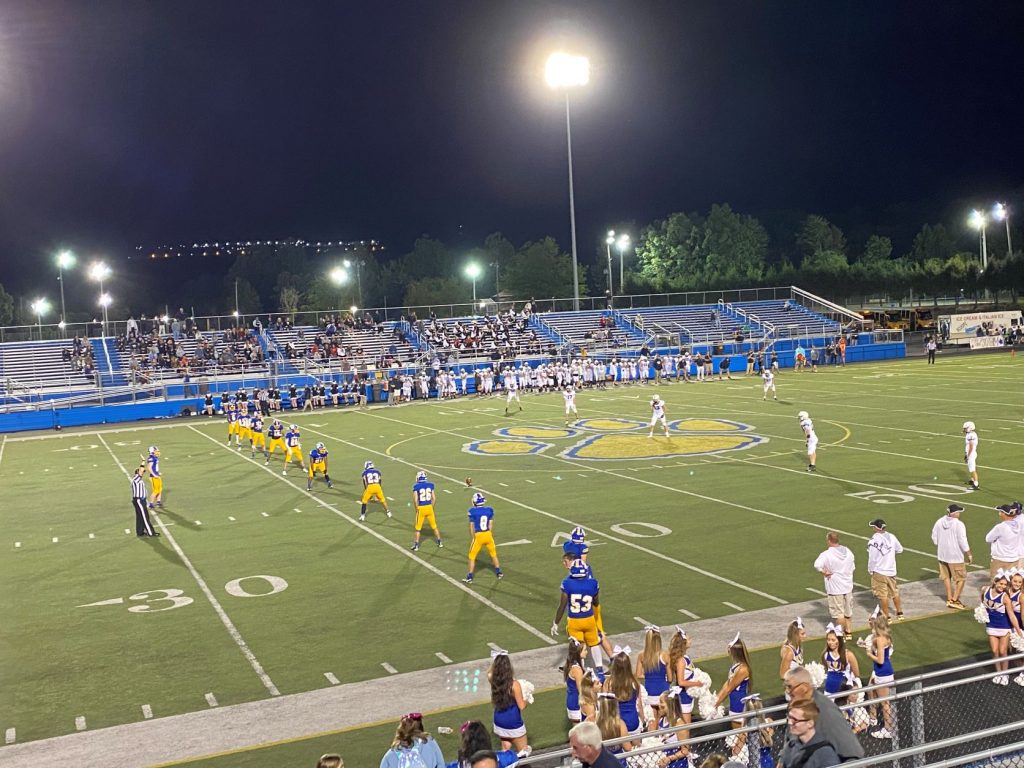 MORE FRIDAY NIGHT FOOTBALL COVERAGE
Berwick-Crestwood: https://nepasportsnation.com/bulldogs-shut-down-comets-14-9/.
Dallas-Wyoming Valley West: https://nepasportsnation.com/wydra-lifts-dallas-to-ot-victory/.
Lake-Lehman/Nanticoke: https://nepasportsnation.com/lake-lehman-blanks-nanticoke/.
Mid Valley-Holy Redeemer: https://nepasportsnation.com/ayala-marcinkevich-lead-spartans/.
Old Forge-Dunmore: https://nepasportsnation.com/old-forge-downs-dunmore-28-7/.
Scranton Prep-Scranton: https://nepasportsnation.com/montgomery-runs-for-373-yards/.
Tunkhannock-Pittston Area: https://nepasportsnation.com/tigers-pull-away-from-patriots/.
Western Wayne-North Pocono: https://nepasportsnation.com/wildcats-turn-back-trojans-27-6/.
Wallenpaupack-West Scranton: https://nepasportsnation.com/schmalzle-levant-agyei-produce-three-tds-each-in-paupack-rout/.
Hazleton Area-Harrisburg: https://nepasportsnation.com/harrisburg-defeats-hazleton-area/.
Scoreboard: https://nepasportsnation.com/district-2-football-scoreboard-3/.