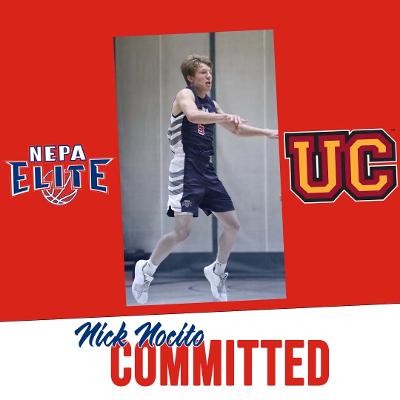 By Tom Robinson, NEPA Elite News
NEPA Elite Coyle 17U guard Nick Nocito has committed to continue his academic and athletic careers as a National Collegiate Athletic Association Division III basketball player at Ursinus College.
Nocito, a rising senior at Dallas, has been in contact with the Ursinus coaches since early in the AAU season. He visited the school, along with Swarthmore and Franklin & Marshall, before making his decision.
"I loved the campus and stayed in touch with the coaches," said Nocito, who committed this week.
Nocito meant some of his future teammates while visiting the school.
"It was all about fit," he said. "The other colleges were great, too. I liked their campuses, but Ursinus really felt like home.
"With the coaches and players there, it just seemed right."
Nocito broke into the Dallas starting lineup as a freshman on a contending team. He was a second-team Wyoming Valley Conference Division 1 all-star, according to NEPABasketball.com, as both a freshman and sophomore. During his sophomore season, Dallas was the only District 2 boys team still standing when the Pennsylvania Interscholastic Athletic Association state tournament was halted in the quarterfinal round because of the coronavirus pandemic.
As a junior, Nocito was a first-team WVC Division 2 all-star.
Ursinus sat out the 2020-21 season because of the pandemic. In 2019-20, the Bears were 7-11 in the Centennial Conference and 12-13 overall.