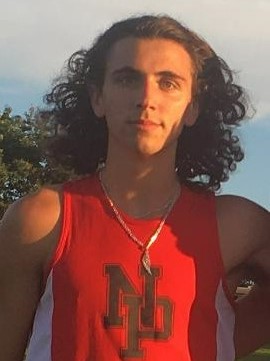 The host North Pocono boys and Abington Heights girls used the same approaches that got them through the Lackawanna League all year to finish unbeaten, championship seasons in cross country with three wins each in the Oct. 19 finale.
Caleb Kenyon and Aiden Horne finished 1-2 in a six-team race as North Pocono came within one point of posting the largest possible victory over all three opponents, beating Mountain View, Susquehanna and Forest City to finish 23-0.
Abington Heights did not have any of the first six finishers in the girls race, but the Comets used their balance to overcome two opponents that had the top two when they were scored head-to-head. The Comets beat the same three schools to also wrap up a 23-0 season.
North Pocono defeated Mountain View, 15-49, and the other two teams, 15-50.
Abington Heights got past Mountain View, 27-32, and Forest City, 25-35, along with a 15-50 win over Susquehanna.
North Pocono actually had both approaches – top-end strength and depth – working for it in the finale and much of a season in which the Trojans won by an average of 26.6 points. A six-point victory over Abington Heights was the only margin of less than 11.
In the title-clinching effort, North Pocono had four of the top six and five of the top eight finishers despite running in a cluster that included second-place Abington Heights and another strong opponent in Valley View.
Kenyon won in 16:59, 10 seconds in front of Horne.
Abington Heights placed Gavin Ross and Thomas Walsh third and fourth before North Pocono grabbed the next two places with Noah Haines and Mason Natalini.
Ethan Williams led Valley View in seventh, then North Pocono's fifth runner, Bruce Haines, came across in eighth.
Abington Heights had four of the next five spots with Nicholas Booth followed by Sean Rooney in ninth and 10th.
The Comets used those finishes to beat Mountain View, 15-48, and both Susquehanna and Forest City, 15-50. They closed the season with a 22-1 record.
Valley View swept the same three teams.
The Valley View and North Pocono girls also had 3-0 days while the Forest City, Mountain View and Susquehanna teams all went 0-3.
North Pocono needed a tiebreaker to edge Mountain View after they finished at 28-28.
Forest City's Katy Korty won the girls race in 19:01.31, more than 38 seconds in front of Mountain View's Carissa Flynn.
Rachel Korty from Forest City was third, also breaking 20 minutes.
North Pocono's Emily Franklin, Mountain View's Kathryn Long and Kaitlyn Newberry were the only other runners to finish in under 21 minutes, occupying the next three spots.
Maia Arcangelo and Reese Morgan finished seventh and eighth for Abington Heights, a second apart.
Valley View's Samantha Adams and Morgan Davis rounded out the top 10.
Abington Heights' championship effort was boosted by Gianna Sabatini in 13th, then Casey Healey, Sophie Breitenoeder and Grace Bath in 17th through 19th.
MORE
For full scores of all the duals scored at North Pocono and in the entire Lackawanna League Oct. 19, see: https://nepasportsnation.com/tuesdays-district-2-scoreboard-9/.