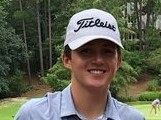 By Tom Robinson, NEPASportsNation.com
EXETER – Logan Paczewski used one win at Fox Hill Country Club to cement his shot at another.
Paczewski won the District 2 Class 3A boys title in 2019, the last time the tournament was played at Fox Hill.
The Dallas senior did not need to win Monday's Wyoming Valley Conference qualifying tournament to get into the District 2 event, but he pronounced himself ready by doing so anyway on a day when a top-16 finish would have been sufficient.
Paczewski and Hazleton Area's Jonathan Joseph tied for the day's best score during qualifying in four divisions – boys and girls, Class 3A and Class 2A – and Paczewski took the conference's Class 3A title with a birdie on the first hole to defeat Joseph in a playoff.
Lake-Lehman's Cael Ropietski, Tunkhannock's Hallie Brown and Hazleton Area's Isabelle Seratch won the other divisions without the drama of a playoff.
That was reserved for the four players who tied for the last two spots in the Class 3A field after shooting 86s.
Karl Pecha from Pittston Area and Isaac Saullo from Crestwood each had pars on the first playoff hole to knock out Wyoming Valley West's Luke Bowen and Pittston Area's Tyler Wassel, who had bogeys.
WVC golfers claimed all 30 available boys spots. Players were allowed to pursue 16 berths in Class 3A and 14 in Class 2A, provided they shot 93 or better. Two weeks earlier, at Elmhurst Country Club, Lackawanna League golfers only claimed 19 of the 30 possible spots they had available in Class 2A because of the existence of more teams. Lackawanna boys did secure their allotted 16 spots in Class 3A.
Where only the target score was on the line, the Lackawanna League, which has more active teams and players, claimed more spots for the district girls tournament.
Wednesday's action allowed 5 Class 2A and 2 Class 3A girls from the WVC to join the 7 Class 2A and 11 Class 3A girls that made it through Lackawanna qualifying at Elkview Country Club.
Unbeaten Lake-Lehman, which will also represent the league in Friday's District 2 Class 2A boys team championship, is sending the most individuals to the district tournament. The Black Knights had five boys and one girl qualify.
Saullo's playoff win allowed Crestwood to match Lake-Lehman with the most boys qualifiers with five.
Two other schools also had five players advance. Hazleton Area had three boys and both Class 3A girls qualifiers. Hanover Area advanced four boys and a girl.
Joseph had the day's best front nine score, a 1-under-par, 34. He led Paczewski by two at the turn, as many as three during the front nine and four with five holes to go.
Playing together, after starting from 1 in the tournament's shot-gun start, they led the field before needing the playoff.
Joseph had back-to-back birdie 3s on 4 and 5, then took his three-stroke lead on Paczewski's only bogey of the front nine, at 7.
When Joseph ran into his first bogey at 9, Paczewski cut the deficit to two.
Joseph picked up a stroke at 10, then gave one back with a double bogey on 11, the shortest hole. He recovered to birdie 12 and par 13, adding a stroke to his lead each time to stretch it to four.
Paczewski got one stroke back on Joseph on four of the last five holes to force the playoff.
Including the playoff, Paczewski closed with a 3-under-par surge over the final six holes to claim the victory. He had birdies on the par-5 14th and par-4 17th before another on 1, the playoff hole.
Paczewski was a district runner-up in Class 3A as a freshman and junior, in addition to the title he won as a sophomore.
Hazleton Area's Jacob Palermo was the only player to match par on the back, using the 36 to finish alone in third place at 75, two shots back.
Sophomore Cael Ropietski also shot 75 while winning in Class 2A boys by one stroke over Wyoming Seminary's Nick Werner.
Eli Ropietski, Cael's brother, finished third in what is considered a league event with a 77, but unlike the other Class 2A players who shot 89 or better, he will not be competing in the district tournament. The junior, who along with Cael played at Holy Redeemer last season, has been ruled ineligible by the Pennsylvania Interscholastic Athletic Association for postseason play this year because of transfer rules that impact older students more than those who transfer earlier.
Those same transfer rules allowed Eli Ropietski to be part of the regular-season competition and help Lake-Lehman win the Wyoming Valley Conference Class Division 3 title.
Brown shot 80 to beat out Hanover Area's Kyleen McCance by two strokes and finish first in Class 2A girls.
Seratch finished at 94, one stroke better than Hazleton Area teammate Ella Oswald in Class 3A girls.
Players return to Fox Hill Oct. 5 for the District 2 tournament in Class 3A and 2A boys and Class 2A girls. The Class 3A girls tournament will be a District 2-4 Subregional with District 4 member Williamsport included in the field.
All four District 2 titles were won by Lackawanna League players last year at Elmhurst Country Club and all four of those champions return.
North Pocono's Billy Pabst Jr. and Gwen Powell, in Class 3A, and Scranton Prep's Michael Sewack and Elk Lake's Chloe Sipe, in Class 2A, are defending champions.
In addition to district titles and medals, players will be competing to advance to the PIAA East Regional.
There are six spots available in Class 2A boys, four spots in Class 3A boys and three each in Class 3A and 2A girls.
Medals will be issued to the same number of top finishers.
Williamsport players cannot knock District 2 players out of a medal position, but they can prevent them from reaching the East Regional by claiming one of those spots.
MORE DISTRICT 2 GOLF
Monday's WVC qualifying scores: https://nepasportsnation.com/wvc-golf-scores/.
WVC team playoffs: https://nepasportsnation.com/dallas-lake-lehman-reach-district-2-team-golf-finals/.
Lackawanna boys story: https://nepasportsnation.com/pabst-michael-lynch-lead-qualifier/.
Lackawanna boys scores: https://nepasportsnation.com/lackawanna-league-boys-golf-scores/.
Lackawanna girls story: https://nepasportsnation.com/powell-toomey-lead-qualifying/.
Lackawanna girls scores: https://nepasportsnation.com/lackawanna-league-golf-scores/.