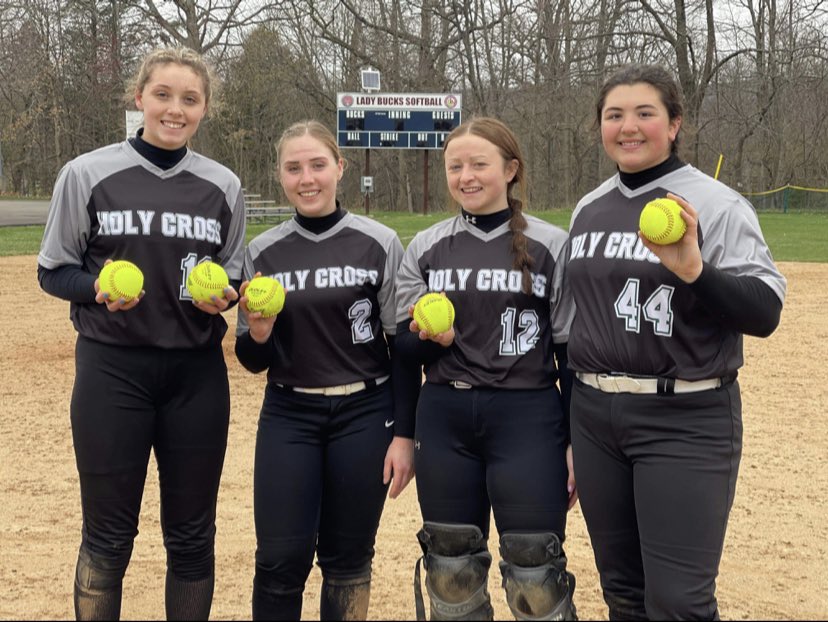 Holy Cross used five home runs to outslug Dunmore, 12-11, in a Lackawanna League Division 3 softball meeting between ranked teams.
Kaci Kranson hit two homers while Carly Wywoda, Meghan McDonnell and freshman Mia Galella had one each as Holy Cross handed Dunmore its first loss.
Holy Cross entered the game ranked third and Dunmore fourth among Small Schools in the Riverfront Sports Super Six Softball Power Rankings of District 2 teams.
The Lady Crusaders improved to 3-1 in the division and 4-1 overall. The Lady Bucks fell to 4-1 and 6-1.
The loss knocked Dunmore out of a first-place tie in the division with Mid Valley, which handled Carbondale, 9-1.
Runco personally matched Carbondale's hit total.
The winning pitcher went 4-for-4 with two homers, four runs and four RBI. Runco also tossed a four-hitter with 12 strikeouts and 4 walks.
Courtney Rebar went 3-for-3 with two doubles, a homer, two runs and four RBI.
Kierra Borosky had two of Carbondale's hits.
Pittston Area and Tunkhannock won Wyoming Valley Conference Division 1 games by shutout.
Gianna Adams tossed a four-hit shutout for Pittston Area, which ended the game on the Mercy Rule with two out in the bottom of the third.
Tori Para and Ava Callahan each had two hits, two runs and two RBI. Bella Giardini matched Para's 2-for-2 effort and also scored twice. Sage Weidlich and Skylar Borthwick each scored twice and drove in two runs.
Pittston Area's division lead is now a full game after Tunkhannock's Kaya Hannon struck out 12 and did not walk a batter in an 8-0 shutout of Dallas, which had been unbeaten in the division.
Ella McNeff and Hannon each had two hits. MacKenzie Hannon, who doubled, and Paige Marabell each drove in two runs.
In other Monday highlights around District 2 sports:
GIRLS LACROSSE
Sofia Sabatini scored four goals as Wyoming Area won its sixth straight and broke Scranton Prep's four-game winning streak with a 9-7, WVC victory.
Wyoming Area's Halle Kranson and Scranton Prep's Claire McGrath, Alexa Kleinberger and Angelesa DeNaples scored two goals each.
BOYS TENNIS
Wallenpaupack picked up two Lackawanna wins, beating Holy Cross, 3-2, and shutting out Western Wayne, 5-0.
MORE MONDAY COVERAGE
Baseball roundup: https://nepasportsnation.com/baseball-comets-take-over-lead/.
Full scoreboard: https://nepasportsnation.com/mondays-district-2-scoreboard-19/.