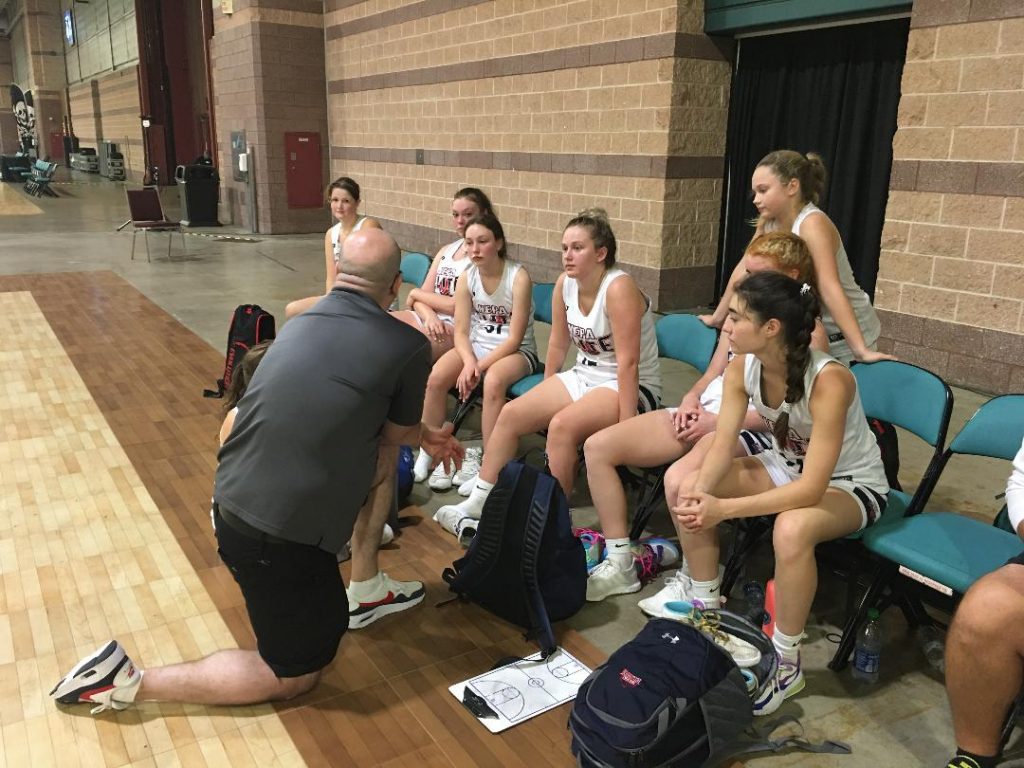 By Tom Robinson, NEPA Elite News
ATLANTIC CITY, N.J. – The NEPA Elite 15U Scoblick girls team lost a pair of close games Monday and finished fourth out of 16 teams pursuing the 15U title in the Hoop Group Championship Weekend at the Atlantic City Convention Center.
NEPA Elite had won its two earlier games to get into Monday's semifinals.
The Staten Island Bulldogs 2024 HGSL team knocked NEPA Elite out of title contention with a 61-59 overtime victory in the semifinals.
The DMV Lady Tigers then edged NEPA Elite, 64-60, in the third-place game.
NEPA Elite overcame a 37-26 halftime deficit to reach overtime in the semifinal. It used a 15-5 run to turn a five-point deficit into a 54-49 lead with 3:45 remaining in regulation.
Staten Island responded with a 10-3 run and led in the final minute.
Emily McDonald hit a driving floater over two defenders with 16 seconds left and NEPA Eilte came up with a defensive stop on the other end to send the game into overtime.
Staten Island scored the only two points of overtime.
Emily Romanowski scored 14 of her game-high 20 points in the second half.
Mackenzie Perluke added 10 points.
Finley Bittenbender, who hit three 3-pointers, and McDonald added nine points each.
McDonald led a balanced attack with 11 points in the final game.
Sophia Talutto hit three 3-pointers while adding 10 points. Ella Wilson scored nine while Romanowski and Elyse Montgomery had eight each.
McDonald is from Abington Heights, Romanowski from Western Wayne, Perluke from Wyoming Valley West, Bittenbender from Scranton, Talutto from Dunmore, Wilson from Lake-Lehman and Montgomery from Honesdale.
A roundup of other NEPA Elite teams on the final day:
Sheehan 16U (1-1)
The NEPA Elite 16U Sheehan team closed out its season on a winning note with a 55-52 consolation victory over Connecticut Attack-Stoddard.
NEPA Elite had lost earlier in the day to O-Zone 16U HGSL from Orlando, 54-49.
The team played the final day with just five players but got production from each.
Molly Murphy scored 13 points while Lexi Corby and Cadie Lewis had 12 each in the win.
NEPA Elite recovered from a 30-24 halftime deficit to pull out the victory.
Murphy made her last six shots.
Corby grabbed 10 rebounds, led the team with three steals and blocked two shots.
Lewis hit two 3-pointers and also had five rebounds and three assists.
Julia Glowacki led the team in rebounds with 12 and assists with 4.
Bella Rebar made two 3-pointers and chipped in with seven rebounds, two steals and two blocks.
Every player on the team made at least one 3-pointer.
Corby had 14 points in the first game of the day while Glowacki added 11.
Glowacki, Murphy and Rebar all made two 3-pointers.
Murphy and Rebar are both from Valley View. Corby is from Tunkhannock, Lewis from Dunmore and Glowacki from Crestwood.
Butler (15U)
I Can (Silence Cancer) from Lancaster defeated the NEPA Elite Butler 15U is a consolation game that was a late alteration to the schedule for the final game of the event for the NEPA Elite teams.
NEPA Elite went 2-1 to finish second of four teams in the 15U Gold Division Pool D.
Its consolation bracket wound up being altered after one Sunday cancellation and another change Monday.
Gabby Marsola scored the game's first two baskets off setups from her teammates for a 4-0 NEPA Elite lead before I Can scored for the first time 5:15 into the game.
Ella Cooper grabbed an offensive rebound and found an open Marsola for a jumper. Elizabeth Viglone then hit her with a lead pass on the fastbreak.
Once I Can scored, it ran off 10 straight points. I can then scored 16 in a row, the last basket of the first half and 14 straight to begin the second half, for a 28-11 lead.
NEPA Elite did not score in the second half until the midway point in the half and did not hit a field goal until Lily Soller converted her own rebound with five minutes left.
Mackenzie Schirg led the way with seven points.
Cooper, Soller and Viglone shared the rebound lead with six each.
Cooper led in assists with three, Schirg in steals with two and Soller in blocked shots with two.
Marsola is from Wyoming Valley West, Cooper from Valley View, Viglone from Dallas, Soller from Pocono Mountain East and Schirg from Lackawanna Trail.
The Butler team won 11 of its last 16 games.