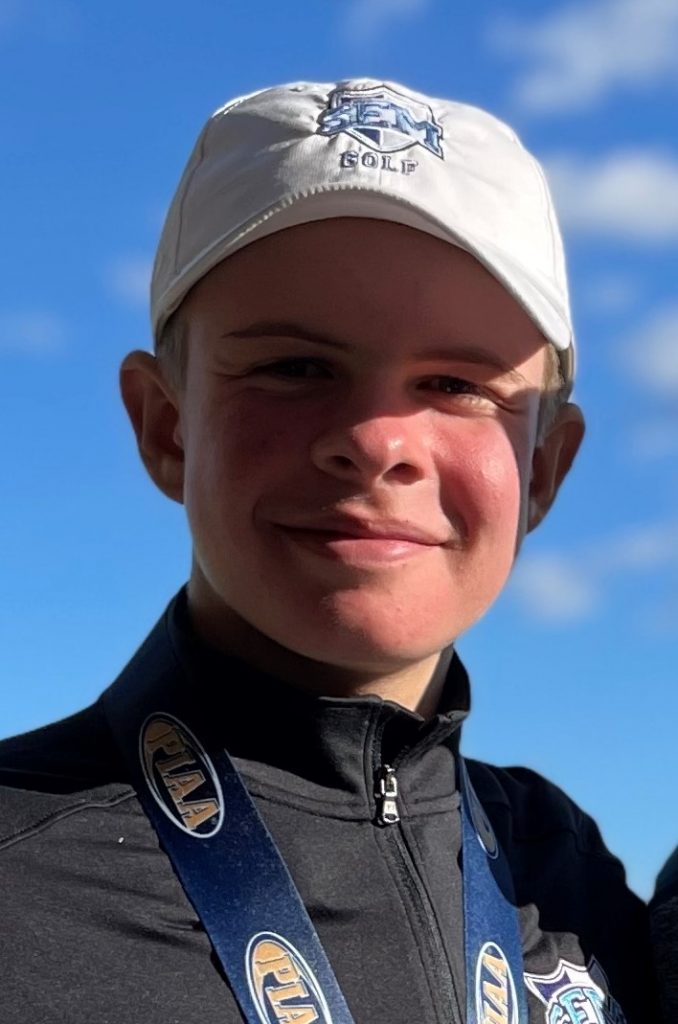 Wyoming Seminary freshman Nick Werner shot a 5-over-par, 76 Monday at Heritage Hills Golf Resort in York to finish tied for sixth in Class 2A boys, earning a state medal for his finish at the Pennsylvania Interscholastic Athletic Association Golf Championships.
Josh James from Union City won with a 1-over-par, 72, two strokes ahead of three other players.
Werner was part of the second-place tie until a double bogey on the 18th hole.
After beginning the day with a birdie at 1, Werner added another at 16 to move into a second-place tie. In between, he had 10 pars and 5 bogeys.
The top 10 finishers and ties in each tournament – Class 3A and 2A, boys and girls – earn state medals.
Werner was the only boys medalist from District 2 Monday, but four of the other five from the district placed 20th or better.
Michael Sewack from Scranton Prep shot a 78 to place 14th out of 70 finishers. There were 72 entries, but one player withdrew prior to the start of the tournament and another was disqualified.
Lake-Lehman's Cael Ropietski and Lackawanna Trail's Gavin June tied for 15th with 79s.
Scranton Prep's Michael Lynch was among seven players tied for 20th with 80s.
Mike Sholtis from Lake-Lehman also finished in the top half of the field, placing in a tie for 29th with an 82.
Sewack had a wild first seven holes with birdies on the par-5 second and seventh holes, but also three bogeys and a double bogey with just one par. He worked through the turn at 3-over with four straight pars before playing the last seven in 4-over.
Ropietski started with three straight pars, then played each side in 4-over. His only birdie came on 11, another par-5.
June, who picked up the last spot from District 2 when champion Michael Lugiano from Lake-Lehman chose to play in a national event out of state, got off to a fast start and was in medal contention for a while. He had more birdies than pars in a rollercoaster round.
Starting on 10, June birdied two of the first four holes to get to 1-under twice. He played the next five holes in 6-over to finish the back side at 5-over, 40.
June heated up again in a round that wound up producing six birdies, including five on par-4s. He birdied 1 and 3 to get back to 3-over total, then added birdies at 7 and 9, sandwiched around his fourth double bogey.
The round was somewhat reminiscent of June's district effort to qualify for his first state tournament. At Fox Hill Country Club, he overcame three straight double bogeys early with three birdies.
Lynch's eagle three at 7 put him among the leaders at 1-under par. He was 10-over for the last 11 holes with three double bogeys.
Sholtis started on 10 where he had a birdie before another at 13 to also get to 1-under for a second time. He made the turn at 4-over, but two of his three double bogeys on the front nine led to a 43 there.
The Class 2A girls tournament was finishing up shortly after the boys.
The Class 3A individuals are playing on the same course Tuesday.
The Dallas boys and Scranton Prep girls are part of the Class 3A field for the team championships, also scheduled to Heritage Hills, Oct. 25.