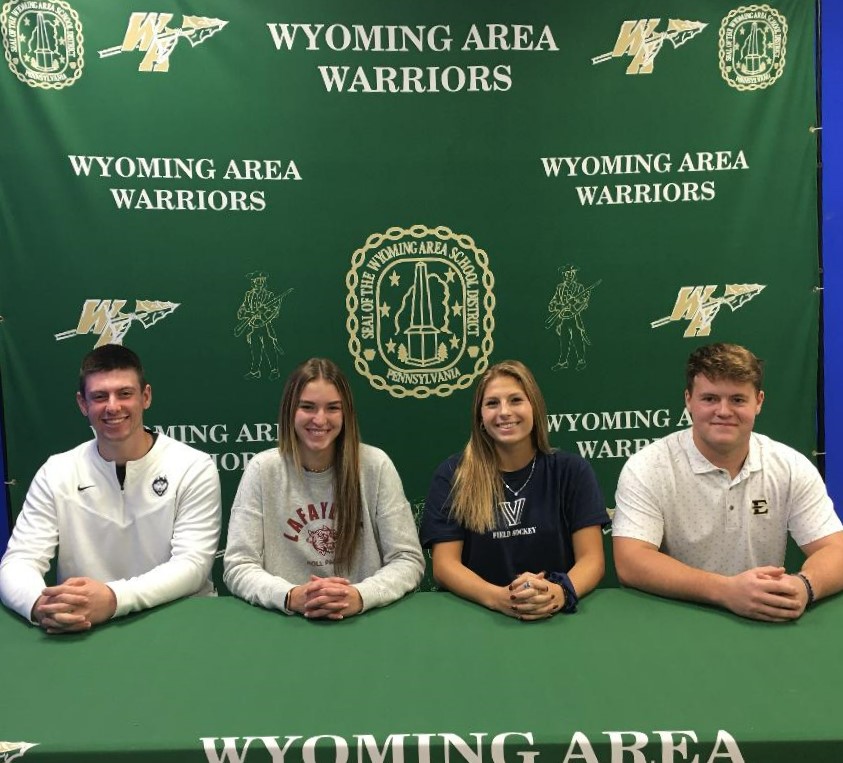 By Tom Robinson, NEPASportsNation.com
EXETER – Makenzie Switzer's senior season on the state-contending Wyoming Area field hockey team was taken away by the misfortune of a serious injury just as it was getting started.
Switzer's early accomplishments with the Lady Warriors and the potential that remains in her athletic career, however, still gave her a senior-year moment to celebrate Wednesday at the school.
The all-state defensive center midfielder was one of four Wyoming Area athletes to sign Letters of Intent for scholarships to National Collegiate Athletic Association Division I schools, formalizing her commitment to Lafayette College.
Pitcher J.J Hood and catcher Jake Kelleher from the state finalist baseball team signed with Connecticut and East Tennessee State. They had each announced verbal commitments prior to the start of their junior seasons.
Toni Minichello, who joined Switzer among the leaders of a 2019 run to the state semifinals as sophomores, signed with Villanova.
When Switzer suffered a torn anterior cruciate ligament and torn meniscus in her right knee in the first scrimmage of the Lake-Lehman Play Day in preparation for this season, she briefly worried about what the reconstructive surgery would mean to her playing career beyond the lost senior season.
The Lafayette coaches have since put her mind at ease.
"I think anyone would be worried about what happens next," said Switzer, who scored 17 goals and assisted on 8 while helping the Lady Warriors allow just 4 goals in the entire 2020 season. "The coaches down at Lafayette are super understanding, but they know I'll work my hardest and I'll be back for the fall season.
"They're not worried."
The injury also jeopardizes lacrosse season where Switzer also excels. She is six weeks out from surgery and into the physical therapy process to rehab the injury as she looks ahead to college.
Wyoming Area, with Minichello as one of the top offensive threats, is in Saturday's state quarterfinals in field hockey.
MORE RECRUITING NEWS
Crestwood runner Molly DeMarzo commits to Temple: https://nepasportsnation.com/crestwoods-demarzo-picks-temple/.
Earlier commitment coverage of Dunmore's Moriah Murray, who officially signed with Drexel: https://nepabasketball.com/2019-20/Articles/MurrayDrexelCommitment.