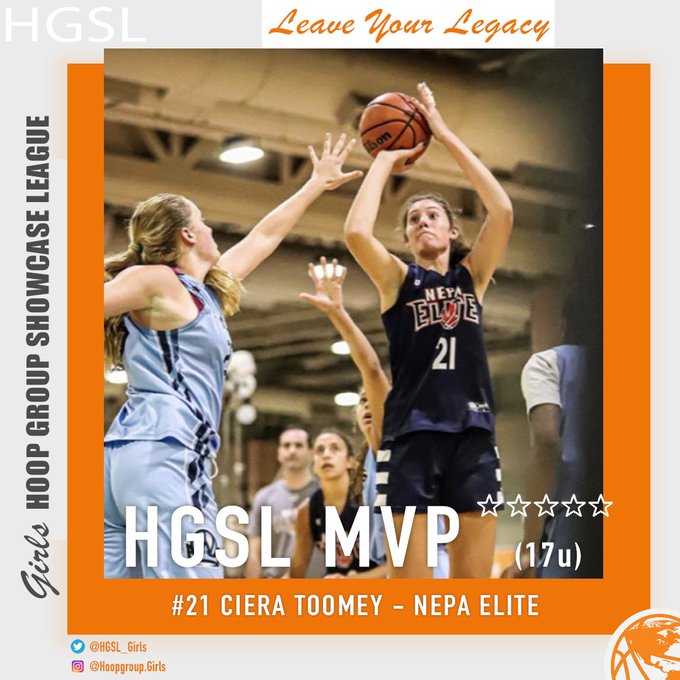 By Tom Robinson, NEPASportsNation.com
Recognition of the effort Ciera Toomey turned in during the spring and summer has come in different forms.
After collecting a series of scholarship offers, including from the country's top women's basketball programs, Toomey was acknowledged in a different way Wednesday.
The Hoop Group Showcase League named Toomey as the Most Valuable Player of its highest age group, the 17U Division.
Toomey led the NEPA Elite Clark 17U team to the HGSL championship for the second straight year.
Playing above her natural age group – something she has done frequently during her emergence as one of the nation's top prospects in the Class of 2023 – Toomey was the leader of the NEPA Elite team's title repeat.
The 6-foot-3 rising junior forward from Dunmore still has another year of eligibility on the AAU level.
Toomey will lead NEPA Elite into this weekend's regional qualifier for The Ladies Ball, an event the team earned entry into and hosting rights at Riverfront Sports in Scranton through its strong performance this summer.
In its award announcement on Twitter, the HGSL referenced the "consistent dominance" by Toomey.
Coach Kevin Clark praised Toomey for being able to do that with many eyes on her as attention increased throughout the season.
"I think Ciera was certainly deserving after the summer that she had, not only on the Hoop Group Showcase League circuit, but throughout the country," Clark said. "Her stock really rose. She lived up to the occasion.
"Hoop Group had a great league this year. They did it the right way with great competition and Ciera certainly helped position us for back-to-back Hoop Group Showcase League titles."
Counting the offers that came in during the days after the HGSL Championships, Toomey now has two dozen National Collegiate Athletic Association Division I programs from which to choose, with others continuing to monitor her progress.
The University of Connecticut, which has won the most national titles with 11, and Notre Dame, the program that has had the most success battling UConn during its championship era, are among those that extended offers this summer.
Toomey is also a first-team, all-state high school player.
MORE
For more coverage of the recruiting race for Toomey, visit https://nepabasketball.com/2020-21/articles/ToomeyOfferOverviewAugust.