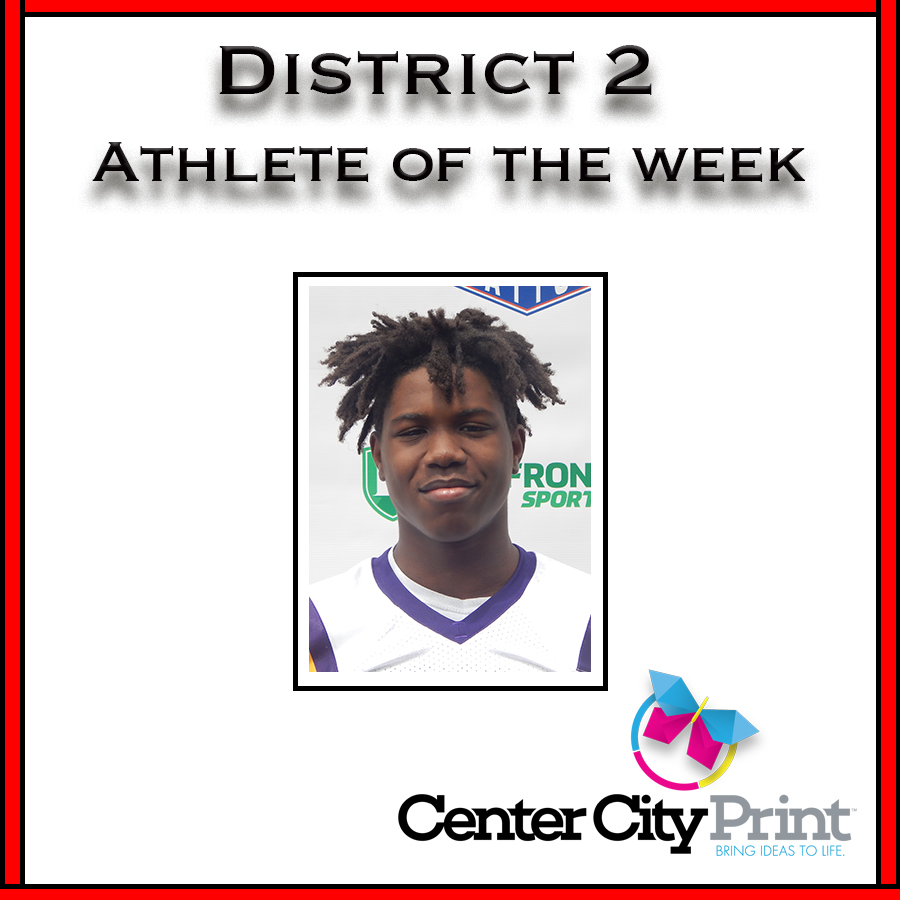 By Tom Robinson, NEPASportsNation.com
London Montgomery was going to go out of bounds.
Instead, he went to the end zone – again – for the longest of his six touchdowns.
The 75-yard run for the last of Montgomery's four first-half touchdowns was his personal favorite of a memorable night in which the Scranton Prep junior carried 22 times for 373 yards in a 49-14 victory over Scranton.
The effort made Montgomery the selection as the Center City Print District 2 Athlete of the Week for the period ending Sept. 5.
"I was running toward their bench," Montgomery said of the run around the left side late in the second quarter.
With defenders closing in from various angles, Montgomery realized taking his momentum out of bounds and settling for a 20-25-yard gain was a viable option.
But, as he ran through the arms of one defender with another bearing down on him just a stride away from the sideline, instincts gave Montgomery another option.
"I made a spin move and was able to go for the touchdown," Montgomery said.
Instead of continuing across the sideline, Montgomery came out of the spin and into a sprint up the sideline, splitting the last two defenders and turning it into a race.
Montgomery does not lose many races.
Already a third-year running back at Scranton Prep, after getting started with years of Pee Wee football with the North Scranton Vikings, Montgomery is coming off his first spring of competing in track and field. He finished third in the state in both the 100-and 200-meter dashes, producing the most team points while Scranton Prep was finishing second in the state as a team in Class 2A at the Pennsylvania Interscholastic Athletic Association Championships.
Montgomery set Scranton Prep's school record in the 100 at 10.99 in the district meet. As if to show that was not a fluke, he put up times of 11.00 and 11.01 at Shippensburg University in the state meet. He set another school record at 22.00 in the 200 during his qualifying heat at the state meet.
The debut in track was delayed one year.
Montgomery had started practicing for the team as a freshman when the season was canceled because of COVID-19.
"My first track meet I was pretty nervous," Montgomery said. "My teammates calmed me down. In my first race, I ran an 11.3 in the 100 and I knew I had it."
There were no such delays in Montgomery's high school football career.
The impact was immediate.
Montgomery came into this season averaging more than 100 yards per game rushing at Scranton Prep.
That average is going up.
Montgomery ran for 762 yards and 8 touchdowns in 10 games as a freshman. He picked up 864 yards and 14 touchdowns in just 5 games in the pandemic-shortened sophomore season.
And, he's getting better, as the most recent effort showed.
The stopwatch says he's a little faster and the program height and weight confirm he is growing bigger, but there is more to making him a more effective runner.
"The way I'm different is experience and my physical body," Montgomery said. "The way experience helps is I know the plays off the top of my head. I listen to the play calls and I know what I'm doing immediately. As a freshman, I struggled with that.
"And, I weigh more now and I'm taller. I'm able to run with more power."
Montgomery did not run over would-be tacklers as much as he sprinted through their grasps before they could wrap him up on a night that included 300 first-half rushing yards and 5 touchdowns of at least 31 yards.
With the obvious help of a line surge and a lead blocker, Montgomery was off and running, like when he sprinted right up the middle of the field to cover 59 yards on his first touchdown.
The Week Two effort already pushed Montgomery past 500 yards for this season and 2,000 for his career with more than a year and a half still ahead.
Montgomery is one of the reason the Cavaliers are ranked fifth in the state in Class 3A, according to PennLive.com.
London, from Scranton, is the son of Herb Williams, Diamond Montgomery and Angela Gray.
CENTER CITY PRINT DISTRICT 2 ATHLETE OF THE WEEK
Aug. 19-29: Chloe Sipe, Elk Lake girls golf. https://nepasportsnation.com/preparation-paid-off-for-sipe/.
MORE
DISTRICT 2 HONOR ROLL: Montgomery's big game was just one of the impressive efforts in the second week of the season. Check out more at https://nepasportsnation.com/district-2-honor-roll-2/.