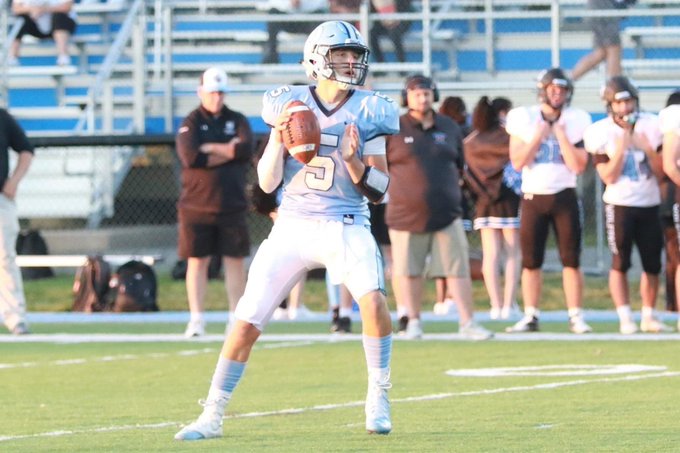 Jackson Wydra produced five touchdowns in the first 17:35 Friday night as Dallas pounded visiting Wilkes-Barre Area, 45-0, in a non-league game between Wyoming Valley Conference football teams.
Both teams entered the game with 1-1 records, coming off opposite ends of one-point decisions a week ago.
But, this one was never close.
Wydra threw for four touchdowns and ran for another, all while the Mountaineers were running out to a 35-0 lead with 7:25 left in the second quarter.
The lead reached 38-0 at halftime and Rocco Ormando completed the scoring when he returned a fumble 43 yards for his third touchdown just 3:08 into the second half.
Wydra finished 10-for-14 for 166 yards passing.
Ormando caught the game's first touchdown pass, a 21-yarder, and caught another, for 30 yards, in the second quarter.
Jace Chopyak went 6-for-6 on extra points and made a 19-yard field goal.
The first three Dallas touchdowns came in a span of 5:36 in the first quarter.
After throwing to Ormando, Wydra ran 3 yards, then hit Joe Peters for a 9-yard touchdown.
The second touchdown pass to Ormando was followed by a 14-yarder to Zach Paczewski.
Dallas has won two straight since an opening loss to unbeaten Valley View.
Wilkes-Barre Area has dropped two straight.
MORE FRIDAY NIGHT FOOTBALL COVERAGE
Dunmore/Lake-Lehman: https://nepasportsnation.com/ruggerio-defense-lead-bucks/.
Hazleton Area-Berwick: https://nepasportsnation.com/wolfe-leads-cougars-rally-to-first-win/.
Holy Cross-Hanover Area: https://nepasportsnation.com/tierney-leads-win-by-crusaders/.
Pittston Area-Wyoming Valley West: https://nepasportsnation.com/pittston-area-ends-slide/.
Tunkhannock-Crestwood: https://nepasportsnation.com/strong-start-carries-tunkhannock/.
Scoreboard: https://nepasportsnation.com/fridays-district-2-scoreboard-4/.