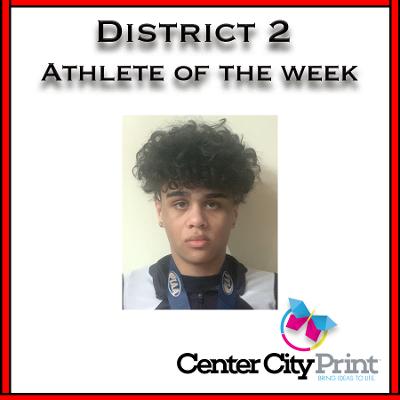 By Tom Robinson, NEPASportsNation.com
Double-doubles no longer belong exclusively to basketball during the winter.
Delaware Valley's Zac Jacaruso put a new twist on the term during the Escape the Rock, a 59-team tournament at Council Rock South High School Jan. 15-16.
Facing nationally ranked opponents in each of the last two rounds, Jacaruso used the same winning formula twice. The junior 113-pounder finished a late double-leg takedown to force overtime, then hit another double-leg in overtime to produce a 6-4 win over Malvern Prep's Tommy Link in the semifinals. Against Anthony Knox, ranked at the time as the nation's top high school 113-pounder, Jacaruso followed the exact same steps to another, 6-4 overtime win.
"I don't know how to describe it," Jacaruso said. "I just feel it out and when the time is right, I make it when the shot's open."
Jacaruso knows the closing seconds of regulation and the short sudden-death periods make it a time when hesitation must be avoided.
"A lot of wrestlers wrestle defensively because they know that legs are blocked off and it makes it difficult to make shots and they require a lot of set up," said Jacaruso, whose tournament performance made him the Center City Print District 2 Athlete of the Week selection for the time period of Jan. 10-16.
"Sometimes, when it's coming down to the wire, you don't have that time to do those two-to-four set-ups and the reshot to get to your shot.
"You've just got to have that one move that you're going to be able to hit when you need it."
Jacaruso recognized that he had that move.
"The double was just there," he said. "I felt it out and I was just able to execute."
The two overtime victories capped a tournament performance in which Jacaruso won five times over two days, starting with a 36-second pin and following it up with a technical fall and a decision by shutout.
Tournament success is nothing new to Jacaruso, who went all the way to the state final with a perfect record as a sophomore in the COVID-shortened 2021 season.
Jacaruso was 18-0 before falling to Erie Cathedral Prep's Jacob Van Dee, 3-1, in overtime in the 113-pound state Class 3A final. He won a prestigious Northeast Regional title along the way and added two wins in dual meet tournament competition after the individual championship to complete a 20-1 season.
A December loss spoiled the perfect record earlier this season, but Jacaruso has been untouched since.
The award-winning week also included a first-period pin against West Scranton at 120 pounds in a Lackawanna League Division 1 dual.
The Escape the Rock title improved his record to 19-1 with eight first-period pins.
The first-period pins show Jacaruso's ability to dominate some opponents, but he thrives on the opportunities like Escape the Rock where he challenges himself against the best competition available.
Much of his training outside of the high school season takes place in the Lehigh Valley with District 11 wrestlers from schools like Northampton and Easton that make the area just south of District 2 one of the nation's hotbeds in the sport.
"I knew I could go with the most elite guys," said Jacaruso, who began the sport as a 7-year-old and has been following that routine since late in his elementary school days. " … I wrestle with the most elite guys during the summer, the preseason, the postseason.
"I wrestle year-round so I've seen these guys in other tough tournaments around the country."
Jacaruso finished third and fourth in the state in the Pennsylvania Junior Wrestling championships for junior high wrestlers when he was a seventh- and eighth-grader.
Since earning the weekly award, Jacaruso has added a third District 2 Class 3A championship and a second straight Northeast Regional title to put himself in position to contend for a Pennsylvania Interscholastic Athletic Association state title in Hershey.
Jaden is the son of Tom Jacaruso and Bethmari Ragin-Jacaruso from Milford.
OTHER WEEKLY HONOREES
Honor Roll: https://nepasportsnation.com/district-2-honor-roll-20/.
Key Contributors: https://nepasportsnation.com/key-contributors-20/.
PREVIOUS WINTER ATHLETES
Dec. 10-12, Austin Finarelli, Dallas boys basketball: https://nepasportsnation.com/finarellis-career-best-effort-cited/.
Dec. 13-19: Deegan Ross, Lackawanna Trail wrestling: https://nepasportsnation.com/quick-pins-by-ross-fuel-title-push/.
Dec. 20-26: Kylie Lavelle, Riverside girls basketball: https://nepasportsnation.com/lavelle-leads-new-look-lady-vikes/.
Dec. 27-Jan. 2: Jason Shields, Scranton boys basketball: https://nepasportsnation.com/shields-finds-a-way-to-produce-wins/.
Jan. 3-9: Jaden Pepe, Wyoming Area wrestling: https://nepasportsnation.com/pepe-created-outstanding-finish/.