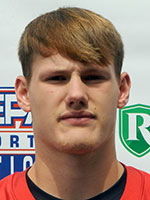 Kage Southerton caught 5 passes for 142 yards and 2 touchdowns Friday night when Honesdale wrapped up the regular season with a 47-0 shutout of visiting West Scranton in a Lackawanna Football Conference Division 2 game.
Aiden Collins passed for 137 yards and the 2 Southerton touchdowns.
Connor Schmitt carried 28 times for 179 yards as Honesdale improved to 4-6 and prepared to move into the District 2 Class 4A playoffs where it will play at North Pocono in the quarterfinals.
The teams entered the game tied for last in the division.
Honesdale finished 1-3 in the division. West Scranton ended its season 0-4 in the division and 0-10 overall.
The Hornets had statistical advantages of 288-62 in rushing yards, 137-34 in passing yards and 425-96 in total offense.
Jack Kelleher led the defense with a sack, another tackle for a loss and a combined tackle for a loss with Logan Demutiis.
Bennett Fritz recovered a fumble, forced by Demutiis, inside the 5 to protect the shutout.
Honesdale led 14-0 after one quarter and 35-0 at the half.
The game reached the Mercy Rule for the second half when Collins hit Southerton on a third-and-12 fly pattern. He dropped the pass over the shoulder of a defender running nearly stride-for-stride with Southerton, who continued down the right sideline for a 52-yard touchdown.
Collins also hit Southerton for a 25-yard score on fourth-and-six with 1:05 left in the third quarter.
MORE THURSDAY FOOTBALL COVERAGE
Old Forge, Lakeland win titles: https://nepasportsnation.com/bulletin-devils-chiefs-win-titles/.
Old Forge-Lackawanna Trail Photo Gallery: https://nepasportsnation.com/old-forge-lackawanna-trail-photo-gallery/.
Mid Valley-Carbondale game: https://nepasportsnation.com/riccardo-ayala-lead-mid-valley-win/.
Nanticoke-Hanover Area: https://nepasportsnation.com/fox-fine-help-trojans-pound-hawks/.
Scoreboard: https://nepasportsnation.com/thursdays-district-2-football-scores/.