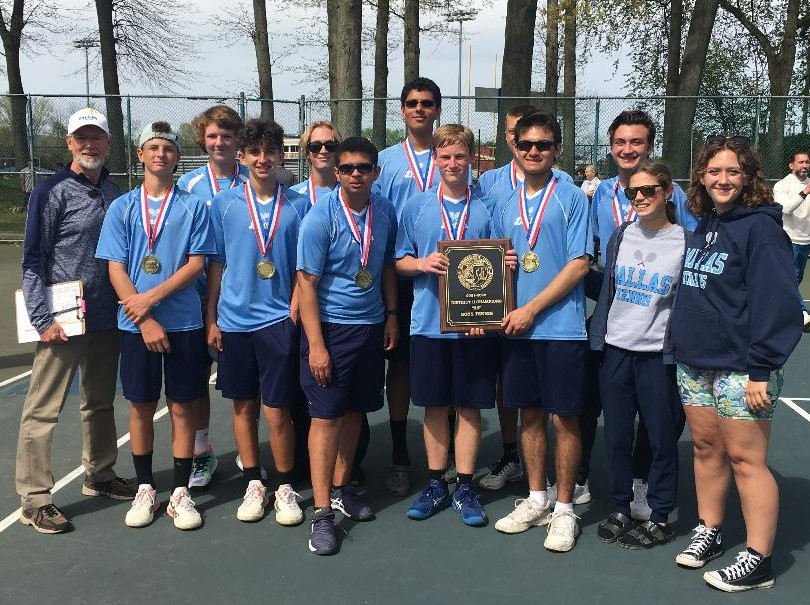 By Tom Robinson, NEPASportsNation.com
WILKES-BARRE – Tucker Chesman lost just one game in four sets Thursday and provided the clinching team point as Dallas secured the District 2 Class 2A boys tennis team championship, remaining unbeaten with a 3-0 victory over Scranton Prep.
Dallas had already swept doubles when Tucker Chesman, the sophomore No. 2 singles player, and Kyle Chesman, the freshman No. 1 player, closed in on the third point needed to secure the championship.
Tucker Chesman got there first, winning 6-0, 6-0, over Ethan Borick, ending the match.
"I was just like, 'let's wrap it up'," Tucker Chesman said. "I was so excited. I was in the moment.
"It felt great."
Dallas posted a 3-0 semifinal victory over Wyoming Seminary, the same opponent it had to get past to win the Wyoming Valley Conference championship, earlier Thursday.
As Tucker Chesman controlled his match, it was evident to him that things were progressing well for his team on the Kirby Park courts.
"I could tell we were sharp," he said. "Our doubles was off the court quick. I could tell Kyle was playing well.
"Our three singles, Lucas Carver, was in some long rallies."
Carver fell behind Scranton Prep's unbeaten No. 3 singles player Gianluca Argenio, who was getting close to a point for the Cavaliers, but the Chesman brothers gave the Mountaineers two shots, and plenty of margin for error, in their pursuit of the last point needed.
Kyle Chesman, who downed Wyoming Seminary's Vaughn Kutish, 6-0, 6-0, in the semifinals, had a 6-0, 5-1 lead on Akhilesh Velaga when the final against Scranton Prep was halted with the outcome determined.
Both Tucker Chesman and the first doubles team of Jason Joshi-Luca DeRome provided team points in both of Thursday's victories. Joshi-DeRome lost just six games in four sets.
Mihur Mikul-Jon Florencio were two games from a doubles win when the semifinal ended, then won, 6-0, 6-0, over Owen Christianson-Cooper Rusak at the No. 2 spot in the final.
"The doubles had a little tougher time and tougher matches (in the semifinal), but when they pulled them out," Dallas coach Joe Pugliese said. "It gave them more confidence going into the finals and you could see by the scores that they played very well there."
Dallas improved to 12-0 on the season with 11 shutouts and a 4-1 victory.
That dominance has the Mountaineers hoping there is more ahead.
They open the state tournament May 17 at Birchwood Racquet Club in Clarks Summit, likely in the early afternoon, against the District 11 champion Allentown Central Catholic (12-7).
The winner moves to Hershey for the May 20 quarterfinals that are followed the next day by the semifinals and final.
Dallas reached the state quarterfinals last season even though two of the team's players were unavailable and Kyle Chesman was not yet in high school.
"This group worked all summer long," Dallas coach Joe Pugliese said. "They put in the work."
Scranton Prep, the Lackawanna League's third-place team and tournament's third seed, avenged a regular-season loss to Lackawanna runner-up and second-seed Valley View.
The Cavaliers used a singles sweep to beat the Cougars, 3-2.
While Valley View had similar control of doubles with the teams of Liam Harrison-A.J. Tomassoni and Sam Rosetti-Zak Sova, Scranton Prep's Velaga, Borick and Argenio combined to win all but four games in their semifinal singles matches.
MORE TEAM TENNIS COVERAGE
Class 3A story: https://nepasportsnation.com/comets-win-ninth-straight-title/.
Class 3A scores: https://nepasportsnation.com/district-2-boys-tennis-2/.
Class 2A scores: https://nepasportsnation.com/district-2-boys-tennis-3/.
Latest Riverfront Sports Super Six Power Rankings: https://nepasportsnation.com/2-champs-stay-unbeaten-add-titles/.