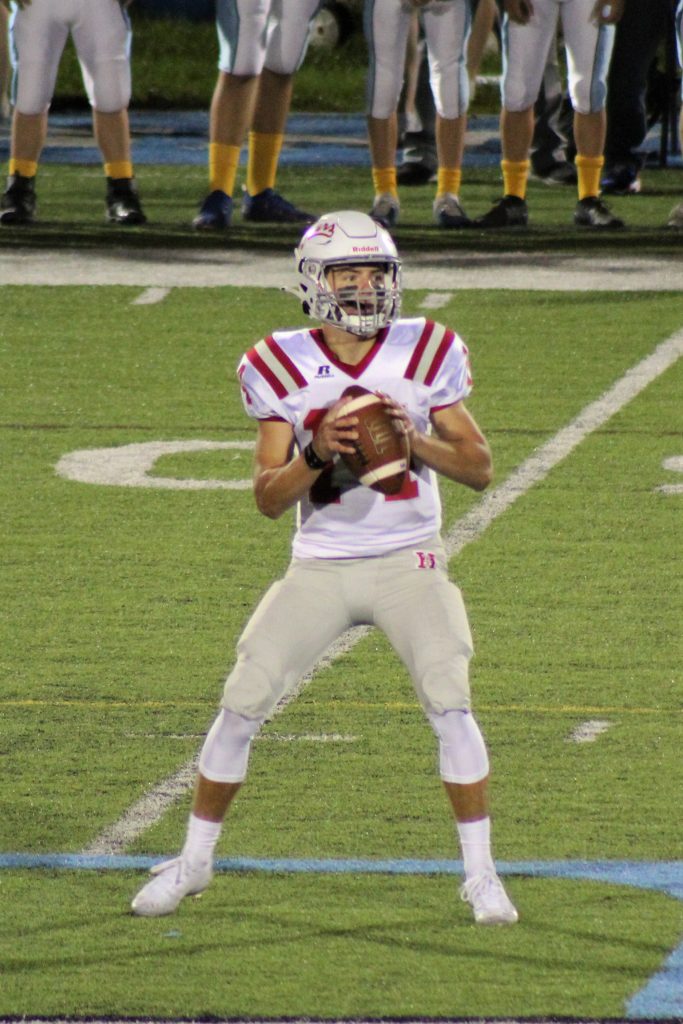 The Hazleton Area football team used its passing and its ability to stop the pass to keep rolling Friday night.
Tyler Wolfe passed for four touchdowns and the Cougars picked off half of Wyoming Valley West's six pass attempts while pulling away for a 55-19, Wyoming Valley Conference Class 6A/5A Division road victory.
Hazleton Area has won three straight and six of its last season. The latest win assures the Cougars (6-3) of finishing no worse than a tie for first in the division. The Cougars will be alone in first if they can win at Williamsport in the regular-season finale or share the best record with the Millionaires if they lose.
Wolfe went 12-for-19 for 249 yards while running a balanced offense that generated 494 yards.
Matthew Buchman carried 20 times for 134 of his team's 245 rushing yards and 2 touchdowns.
Connor Shamany caught 7 passes for 100 yards and also scored twice.
Matthew Cusatis scored on an 80-yard pass reception and had two of Hazleton Area's three interceptions.
Wyoming Valley West, which lost its fourth straight to fall to 3-6, led twice early before Hazleton Area scored the game's next 41 points.
Starmel Haskins opened the scoring for the Spartans on an 11-yard run just 2:16 into the game.
Hazleton Area tied the game 7-7 after one quarter on a 2-yard Wolfe-to-Shamany pass.
Isaiah Cobb returned from missing last week's game to carry 20 times for 131 yards and a 19-yard touchdown that put the Spartans up, 13-7, in the first minute of the second quarter.
Cobb has run for more than 100 yards in all 8 games, giving him 1,371 yards and 15 touchdowns on 247 carries.
Buchman scored the next two touchdowns on runs of 5 and 1 yard.
The second Buchman touchdown started a game-breaking stretch in which the Cougars scored three touchdowns in the last 3:13 of the half for a 35-13 lead.
Wolfe found Cusatis for 80 yards and Shamany for 45 before halftime.
Shamany scored again from 13 yards on another pass from Wolfe before Connor Kundrat's 28-yard touchdown on the last play of the third quarter made it a Mercy Rule game at 48-13.
Wyoming Valley West's Zach Tomascik and Hazleton Area's Kevin Guzman each ran 15 yards for touchdowns midway through the fourth quarter.
Qay'von Minor led Hazleton Area with nine tackles, including one for a loss. Mitchell Masten made eight, including two for losses.
Ryan Matyas had the other Hazleton Area interception.
Cobb kept busy as Wyoming Valley West's top tackler. He had four tackles and six assists.
The Spartans suffered their first four losses by a total of 11 points, but have been beaten by 33 and 36 the last two weeks.
MORE FRIDAY FOOTBALL COVERAGE
Abington Heights-West Scranton: https://nepasportsnation.com/marzolino-defense-lead-ah-to-win/.
Honesdale-Nanticoke: https://nepasportsnation.com/hornets-rally-past-trojans-12-7/.
Lakeland-Riverside: https://nepasportsnation.com/shutout-allows-chiefs-to-clinch-tie/.
Tunkhannock-Towanda: https://nepasportsnation.com/konen-leads-tunkhannock-victory/.
Wyoming Area-Dunmore: https://nepasportsnation.com/pizano-paces-wyoming-area-rout/.
Scoreboard: https://nepasportsnation.com/fridays-football-scoreboard-5/.