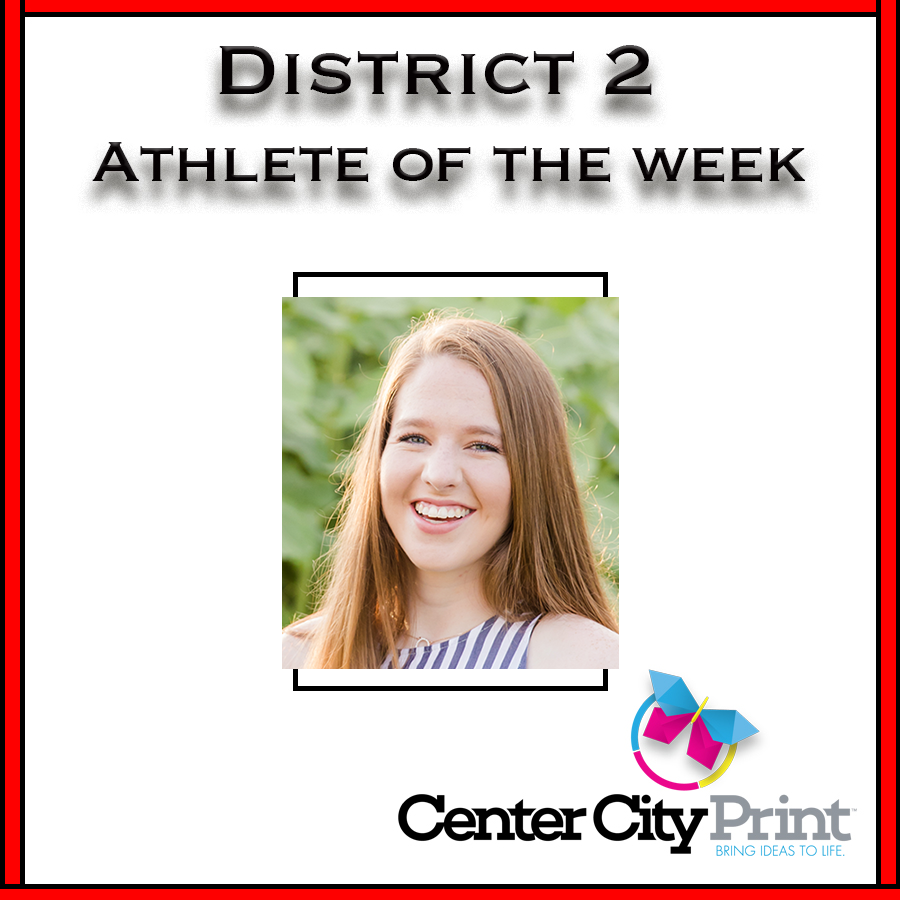 By Tom Robinson, NEPASportsNation.com
At this point in her career, Krista Jones has more than one approach she can use to win a race.
The Elk Lake senior cross country runner used a couple last week while finishing first in the Lackawanna League's most top-heavy cluster meet then again three days later while winning an invitational title.
Those efforts make Jones the Center City Print District 2 Athlete of the Week for the period ending Sept. 19.
Jones waited for her opening while running in a field of five established state medal winners and District 2's top freshman during a win on Blue Ridge's home course Sept. 14.
"I definitely would say I handle a field like that differently than I would just any race," Jones said. "As we were walking the course (in advance of the race), I made a plan of what I wanted to do to take over the race at a certain point.
"And, really, it just depended on how the other people ran the race. I knew I wanted to go out a little slower because that course is pretty hard. I wanted to make sure I had enough to go up the hill twice."
The race went as planned and Jones had plenty left at the end, pulling away to complete the course in 19:57, 35 seconds ahead of Forest City freshman Kate Korty in a dual between competitors from two large families full of accomplished distance runners.
"The second time up the hill, as we went across the flat part up at the top, is when I went by Kate Korty," Jones said.
There were fewer established runners in Wyalusing Friday when Jones won the individual championship and led Elk Lake to the team title at the Lasagna Invitational. Her finish of 19:52.9 beat each of the other 57 entrants by more than two minutes, a margin of victory Jones could not remember producing previously in a high school career full of winning efforts.
"I really didn't know what type of competition I would be facing," Jones said. "Two years ago, I ran there and I did have one girl to run against. … This year, I wasn't really sure what to expect."
Jones is running well and excited about her senior year. That excitement goes beyond it being the last chance to compete on the high school level for the two-time District 2 champion and two-time state medalist, who fell a bit short of those accomplishments during the odd, COVID-altered 2020 season.
Friday's team win was something Jones could not pursue the last two seasons when Elk Lake did not have enough runners for a team score in invitationals and championship meets.
"So far, it has been more normal than last year, so I'm really just excited to have the opportunity to race and achieve goals," Jones said.
In a sport where it is not uncommon for young athletes to make an immediate impact, Jones is the veteran presence in a strong group of state-contending girls runners from District 2 as a whole and Susquehanna County in particular.
"I think it definitely does give me an advantage to have experience that I have had," Jones said. "I am a senior and I've been racing since seventh grade, but I've also been watching my siblings ever since I can remember.
"I just feel like I have extra experience."
The Jones siblings have collected district individual medals, including golds, and team championships on the league, district and even state levels. Three have preceded Krista in running in college, something she is hoping for while narrowing her college choices.
Luke, a three-time district champion and the leader of a state championship team, is the oldest of Krista's siblings.
Kenzie, Keri and Peyton followed and went to varying degrees of college success at Mansfield, Lebanon Valley and SUNY Morrisville where Peyton is continuing a school record-setting career.
On the same day Krista won the varsity girls title at the Lasagna Invitational, eighth-grader Kendall, the last of the six siblings to come through the Elk Lake program, was winning the junior high boys title.
Krista is also a top-10 finisher in the state as a track distance runner and an all-star guard in basketball season. She is the daughter of Bill and Abby Jones from Friendsville.
CENTER CITY PRINT DISTRICT 2 ATHLETE OF THE WEEK
Sept. 6-12: Ron Prislupski, Holy Cross boys soccer. https://nepasportsnation.com/prislupski-doubles-up-on-hat-tricks/.
Aug. 30-Sept. 5: London Montgomery, Scranton Prep football. https://nepasportsnation.com/montgomery-sprints-to-award/.
Aug. 19-29: Chloe Sipe, Elk Lake girls golf. https://nepasportsnation.com/preparation-paid-off-for-sipe/.