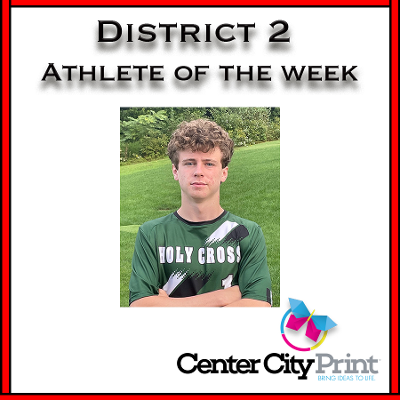 By Tom Robinson, NEPASportsNation.com
When Ron Prislupski opened his junior soccer season at Holy Cross with a six-goal game, it immediately became evident that his latest career-high total would be tough to top.
He did not top it.
Instead, Prislupski matched it on the first try.
For turning the Lackawanna League Division 2 opener into his second straight six-goal game, Prislupski has been named Center City Print District 2 Athlete of the Week for the period ending Sept. 12.
The two-time, first-team division all-star used the dozen goals in the first two outings to reach another milestone. After leading the team in scoring each of his first two seasons, he is at 50 goals for his career while helping Holy Cross start 2-0 by a combined 18-1 margin.
Prislupski is often the only forward the Crusaders use, choosing to attack from different angle out of a five-midfielder alignment.
"We've only let up one goal in two games and that obviously makes my job easier," said Prislupski, who led a 10-0 rout of rival Holy Redeemer in the non-league opener, then an 8-1 victory over Gregory the Great in the first Lackawanna game. "And me scoring makes their job a lot easier."
Prislupski acknowledges that he has had help in becoming District 2's most prolific scorer for the first two weeks of the season.
"My teammates' passes have been so on point," he said. "Throughout the year, they've landed right on my foot."
That's a good place for the Holy Cross offense to put its trust.
Prislupski, who began playing in the Tri-Boro Rec Soccer League before kindergarten, advanced to the Olympic Development Team level by the time he was 10. He was playing for the Nitro, a local travel club, before recently switching to the PA Dominion, one of the state's top-ranked teams in his age group. That leaves both his travel team commitment and his ODP training, which takes place every other Sunday, based in the Philadelphia suburbs.
"He's really a great athlete and a good kid to coach," Holy Cross coach Joe Dodgson said.
Dodgson said he knew to expect big things from Prislupski from the moment he arrived at the school as a freshman.
"He didn't have quite those numbers the first two years, but he's a very good player," Dodgson said. "I expected him to be able to do what he's doing."
Prislupski managed to be able to possess and shoot the ball despite having the full attention from opposing defenses.
"We're attacking from the wings with him in the front," Dodgson said. "We try to draw a lot of attention from the sides and then he just works his magic in the middle.
"Through the last couple years, his shooting has gotten much better. He has a stronger foot than he had before."
Prislupski said he would like to play in college and some early recruiting attention began to come his way this summer. For now, he has the Crusaders setting their sites on the goal of a District 2 title that has eluded the program since 2009.
"We've been close the last two years," Prislupski said. "This year, going into preseason practices, we were really clicking.
"We knew that this was going to be our year and we started off that way."
The Crusaders are the early leaders in the race for the top seed in the nine-team District 2 Class A playoffs. Defending champion Mountain View, which knocked out Holy Cross with a 2-1 victory in last year's semifinals, remains a threat, starting with three straight wins.
Ron is the son of Ron Sr. and Katie Prislupski of Moosic.
CENTER CITY PRINT DISTRICT 2 ATHLETE OF THE WEEK
Aug. 30-Sept. 5: London Montgomery, Scranton Prep football. https://nepasportsnation.com/montgomery-sprints-to-award/.
Aug. 19-29: Chloe Sipe, Elk Lake girls golf. https://nepasportsnation.com/preparation-paid-off-for-sipe/.