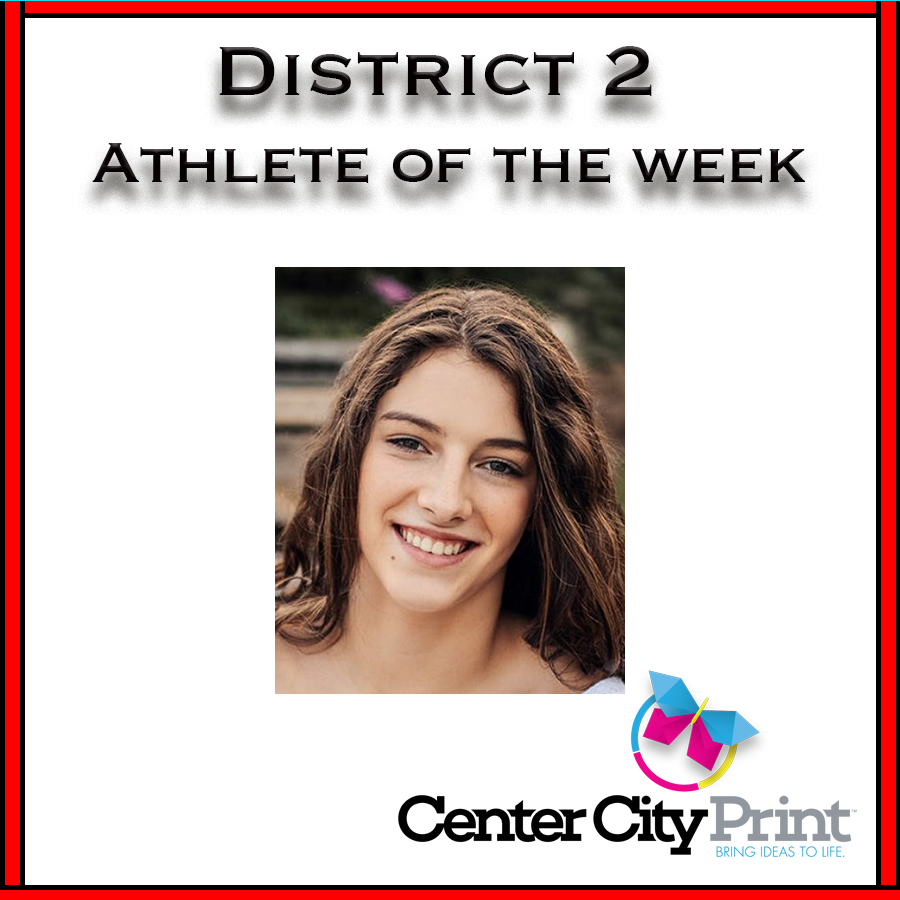 By Tom Robinson, NEPASportsNation.com
Kylie Lavelle excelled in her first three seasons at Riverside while playing with a primarily older group of teammates.
Graduation has significantly changed the make-up of the Riverside lineup, but with Lavelle leading the way, the Lady Vikes have remained at the top of District 2's group of Small School teams early this season.
"I haven't really played with them since I was in eighth grade," Lavelle said of the classmates and younger girls that now join her on the floor. "I think everybody is just getting used to what we can do and I feel like we're just getting better every game."
With Lavelle scoring 75 points and making contributions in other areas as well, Riverside recovered from its only loss of the season by winning the next 3 games by a total of 115 points.
That effort has landed Lavelle recognition as the Center City Print District 2 Athlete of the Week for Dec. 20-26.
"Kylie has a very high basketball IQ and she has done a great job of helping her teammates get settled," Riverside coach Jack Mekilo said. "Early in the season, she elevated her scoring and allowed her team to get some confidence. Over the holiday, she was getting her teammates involved and they responded with two great games.
"That's what a true leader does and her and Morgan Antoniacci, along with our other seniors, have excelled with that."
With another win since, Riverside takes a four-game winning streak and 6-1 record into the start of Lackawanna League Division 3 play.
The 6-foot-2 senior, who made an early commitment to a National Collegiate Athletic Association Division I scholarship to play at Drexel University, is averaging 25.9 points per game.
The three wins during the award-winning week provide an example of her other contributions.
Lavelle started the week by going 9-for-13 from the floor Dec. 21 at North Pocono when she produced 26 points, 12 rebounds and 4 steals in a 59-18 romp. She had 22 points, 8 rebounds, 5 steals and 3 blocked shots in a 55-28 win over host Montrose, the defending Lackawanna League Division 4 champion. The two-time, first-team, all-state selection finished up the week with 27 points, 11 rebounds and 4 steals in a 56-9 rout of West Scranton.
The win over West Scranton was the first of two in the Taylor Lions Tournament where Riverside won the championship and Lavelle made it 3-for-3 in landing tournament Most Valuable Player awards.
Lavelle, last season's NEPABasketball.com selection for Lackawanna Division 3 Player of the Year, helped the NEPA Elite Clark 17U team win a Hoop Group Showcase League title in the spring and summer AAU season with an all-star performance on that level.
Back with her new combination at Riverside, Lavelle has continued to show off a variety of skills why trying to help her teammates shine.
"This year's team is a lot faster," Lavelle said, "so I feel like getting the ball right off the rebound and then going in transition is a big part of our team's game this year.
"Me getting the rebound and throwing it up to all of them for fastbreak layups is just an easy way to score."
Mekilo said it was clear Lavelle was a special player the moment she arrived in seventh grade and he can't wait to see what she does next.
For now, he's making the most of her ability to handle the challenges of her senior high school season.
"Every night, Kylie goes against a team and coaching staff trying to take her away and she still gets 25 points and 15 rebounds," he said. "And, like our entire team, she's getting better every day.
"Her outside shooting is becoming a strength and she adds to her game every day."
It is just one of the ways Lavelle is hard to stop.
"Kylie continues to improve in areas that can't be defended," Mekilo said. "For example, her physical strength has allowed her to continue to put up monster numbers on both ends of the floor.
"Mentally, she's just cool and tough and that's allowed her to overcome the constant physical pounding."
Kylie is the daughter of Timothy and Tara Lavelle of Moosic.
OTHER WEEKLY HONOREES
Honor Roll: https://nepasportsnation.com/district-2-honor-roll-17/.
Key Contributors: https://nepasportsnation.com/key-contributors-17/.
PREVIOUS WINTER ATHLETES
Dec. 10-12, Austin Finarelli, Dallas boys basketball: https://nepasportsnation.com/finarellis-career-best-effort-cited/.
Dec. 13-19: Deegan Ross, Lackawanna Trail wrestling: https://nepasportsnation.com/quick-pins-by-ross-fuel-title-push/.